Luxury bathroom case study
If you don't have a clear vision, trustworthy suppliers and a realistic budget, it's easy for a dream bathroom design renovation to turn into full-blown nightmare. Fortunately, when Mandy Downham decided to redesign her bedroom and en-suite bathroom, she knew exactly what she wanted and where to get it. And she also knew how to keep costs from spiralling out of control.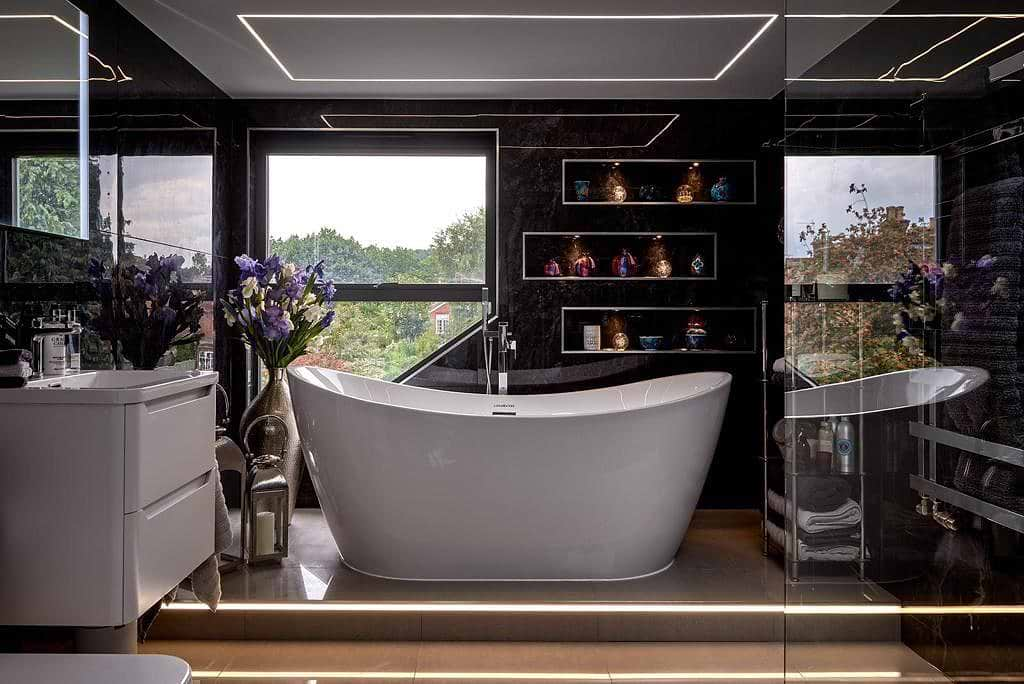 Mandy's dream bathroom design in all its glory, featuring a show-stopping spa bath and matching white sanitaryware. These are offset with dramatic deep blue marble wall tiles and a complementary light grey porcelain floor
Improve not move
Mandy's new bathroom installation was a labour of love that took place as part of a comprehensive loft conversion project. "I've always wanted an en-suite bathroom," she confides. "I hadn't had a bath in my house since I first moved in and replaced the existing compact size tub with a large shower. When I decided I wanted my bath back, I calculated that building into the loft was a better and cheaper option than moving to a new house. After all, this would have involved significant expense – and a lot of hassle."
From the very start of the renovation, Mandy was determined to make her new en-suite the main feature of her L-shaped dormer loft conversion. "I knew I wanted everything designed around that bathroom," she cheerfully admits. "And I knew I wanted a spa bath to be the highlight of the revamp. I had lots of options to add complementary lighting too, through roof-lights, windows and a selection of specialist light fixtures."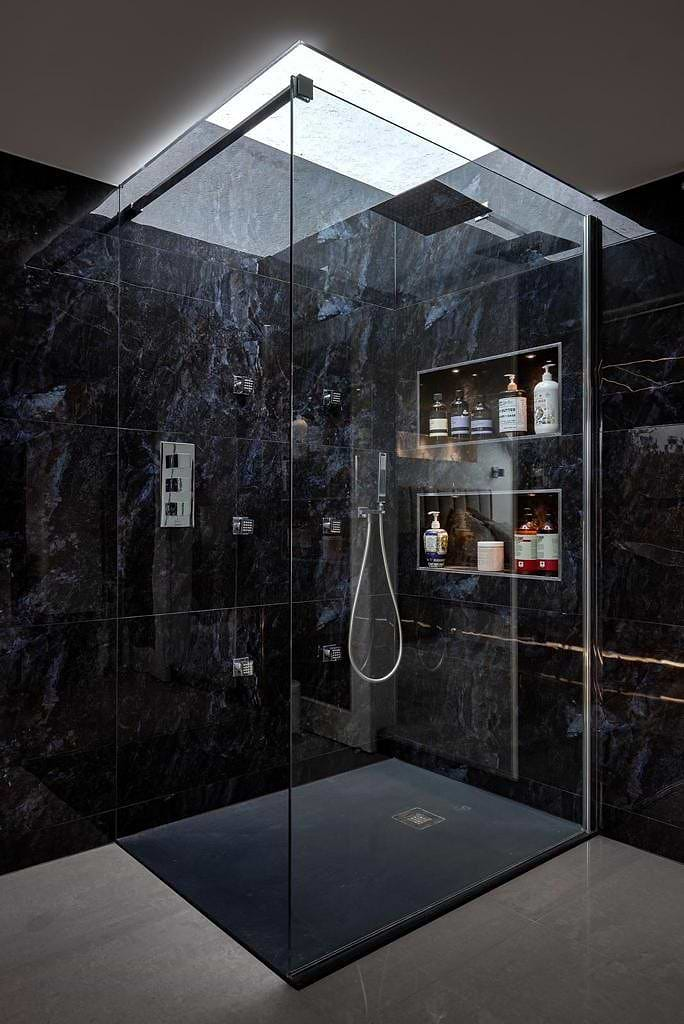 In addition to a freestanding spa bath, the new en-suite also includes a separate shower, for speed and practicality
The bathroom design brief
Despite the scale of such an ambitious project, Mandy's bathroom makeover took just three months to complete. Mandy collaborated with Teddington-based The Loft Room Company – a family-run business that specialises in loft conversions – for the build.
Mandy knew that she wanted a crisp, clean look for her new, dream bathroom design. And she conducted plenty of research via Instagram, Pinterest, websites and bricks-and-mortar bathroom stores for design inspiration. "The initial brief specified a spacious bathroom, featuring a step-up spa bath, a large separate shower, a rainfall waterhead, and lots of shelving indents complete with lights," Mandy recalls. "My list of must-haves included lots of light, lots of space, and lots of storage – both concealed and display."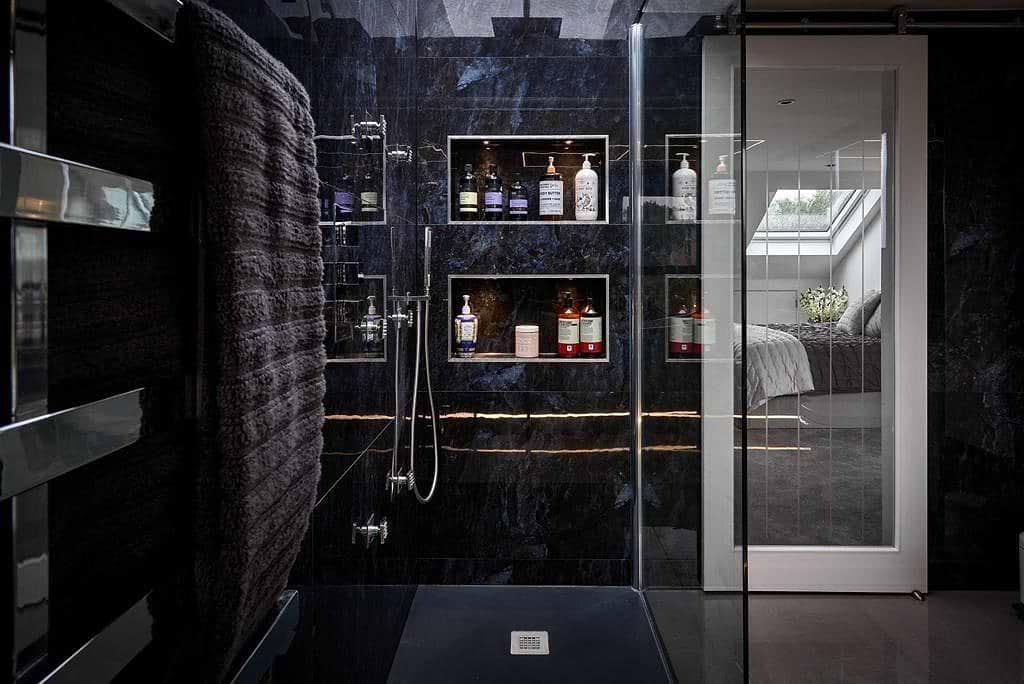 Mandy's new en-suite bathroom incorporates a glazed door through to the bedroom. This helps to enhance the sense of openness, light and space, but delivers practical privacy when needed
She continues: "I wanted ambient lighting, lights in the shelves, lights in the ceiling and also on the step edge. Originally I wanted a starry ceiling too. But this proved difficult, given the waterproof elements needed, and the corresponding safety aspects."
The sanitaryware selection process
The two main elements of any major bathroom design makeover are the sanitaryware and the tiles. The latter were purchased at Hyperion Tiles; the former were sourced from Easy Bathrooms, except for the spa bath, which came from JT Spas.
Mandy's bathroom design makeover was very much a family affair. In fact, she chose everything along with her brother, who works in construction and project management. "We went to several bathroom showrooms, including some very fancy exclusive ones," Mandy relates. "I knew I wanted a spa bath, but most of the ones on display were really lavish, and made of stone or other heavy materials. I just knew these wouldn't be practical for my project." She continues: "I knew I wanted an elliptical shape, with jets and lights. In the end, I found what I wanted and ordered it from an online retailer."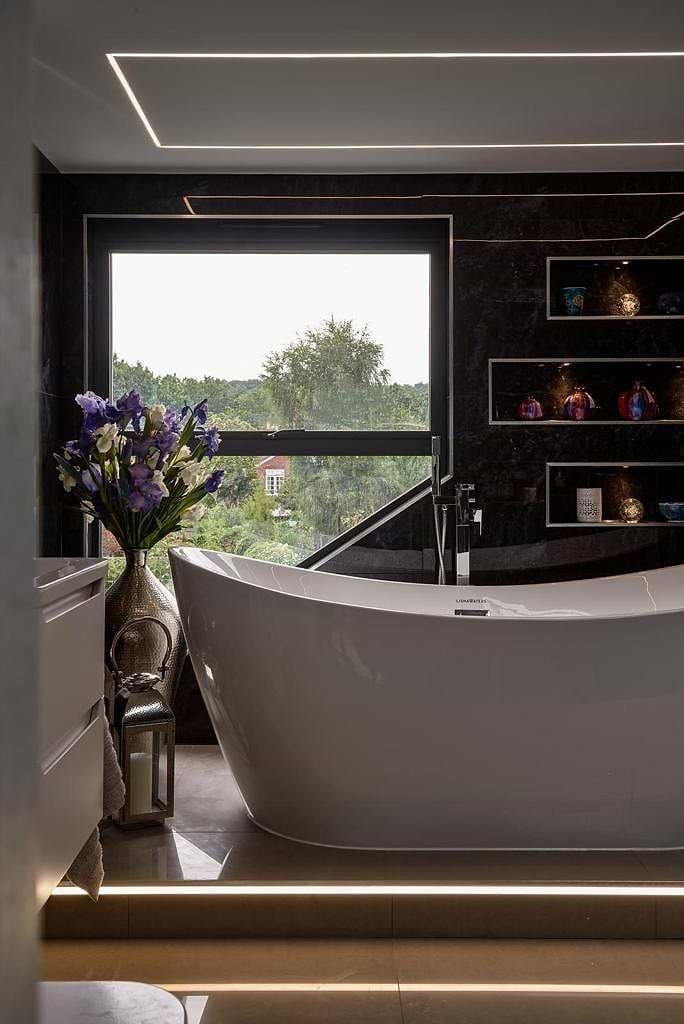 Mandy knew that choosing white for her sanitaryware would allow her to go big, bold and colourful with both her wall and floor tiles
Shopping around really did pay dividends for Mandy, both in terms of choice and cost-effectiveness. "I saw some amazing sinks and taps in a wonderful bathroom store in Sunningdale, but the designer price tags were beyond my budget," she admits. "So then I looked more closely in the high street superstores and online."
Choosing the right tiles
The right tiles really can make or break a bathroom design. Mandy had already chosen both wall and floor tiles for her bathroom when she visited Hyperion Tiles' Ascot showroom for a separate kitchen project. Whilst there, she got talking to our director Richard Skeoch – and fell in love with the retailer's extensive tile selection.
"I went to Hyperion to buy some sparkly granite tile to use as large statement pieces in my kitchen: chopping blocks and coasters," Mandy explains. "When I went back to collect them, I saw a new Italian tile display being set up, and fell in love with a striking blue geode design. It was, however, more expensive than I had anticipated. Richard, unfazed, found me a similar design – an amazing darker, more regal blue. He also helped me to find a complimentary floor tile."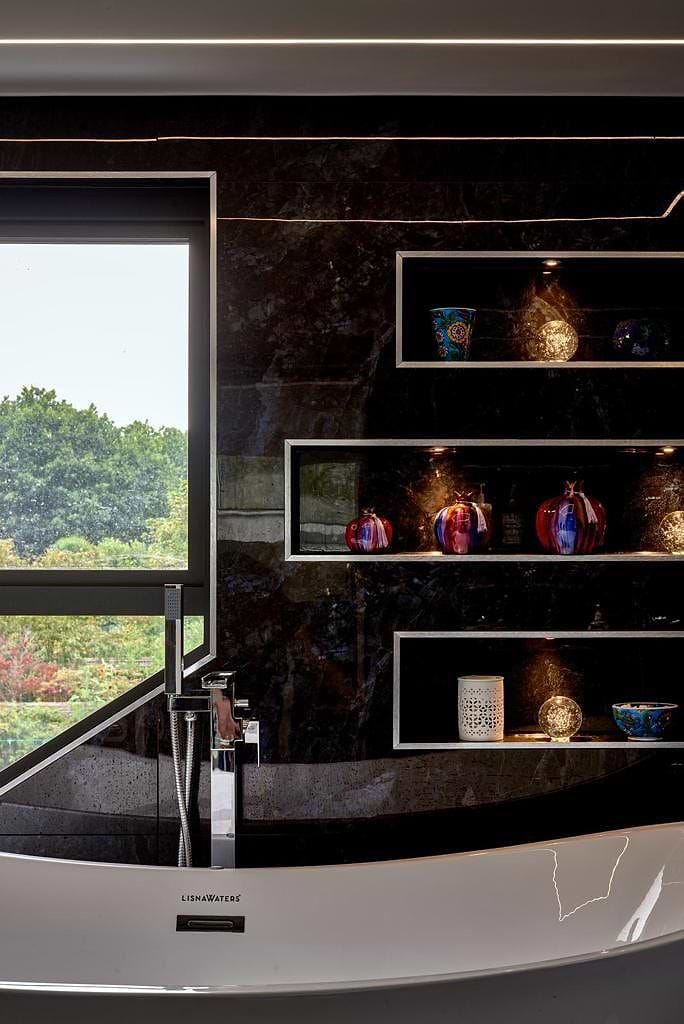 The inclusion of recessed shelving has allowed Mandy to display an eye-catching range of toiletries and accessories, adding interest and personality to her bathroom's interior decor
Mandy continues: "I had always thought that Hyperion's prices were too high-end for my budget, but Richard gave me an excellent quote, so I took both samples home to view in my bathroom, which was at the plasterboard stage. In situ they looked even more amazing. I called Hyperion back straightaway, and placed the order. That very same afternoon I returned my original choice of tiles to the store."
Bathroom design expert knowledge
Mandy knew from the start that she wanted tiles that were big, bold and different. Yet they were also the element she was most nervous of. Happily, Richard's eye and expertise gave her the confidence to make the right choice for her dream bathroom design.
"It's always a pleasure to showcase our extensive tile collections," notes Richard. "We strive to make sure each and every customer manages to find exactly what they are looking for. We work closely with some of the UK's most discerning tile manufacturers. So, we are in a position to offer an unrivalled range of high-quality outdoor and indoor porcelain, ceramic, natural stone and mosaic tiles. We're confident that we can always suggest appropriate materials and combinations, whether our clients already have a strong idea of what they are looking for – or whether they are undecided and are seeking suitable suggestions."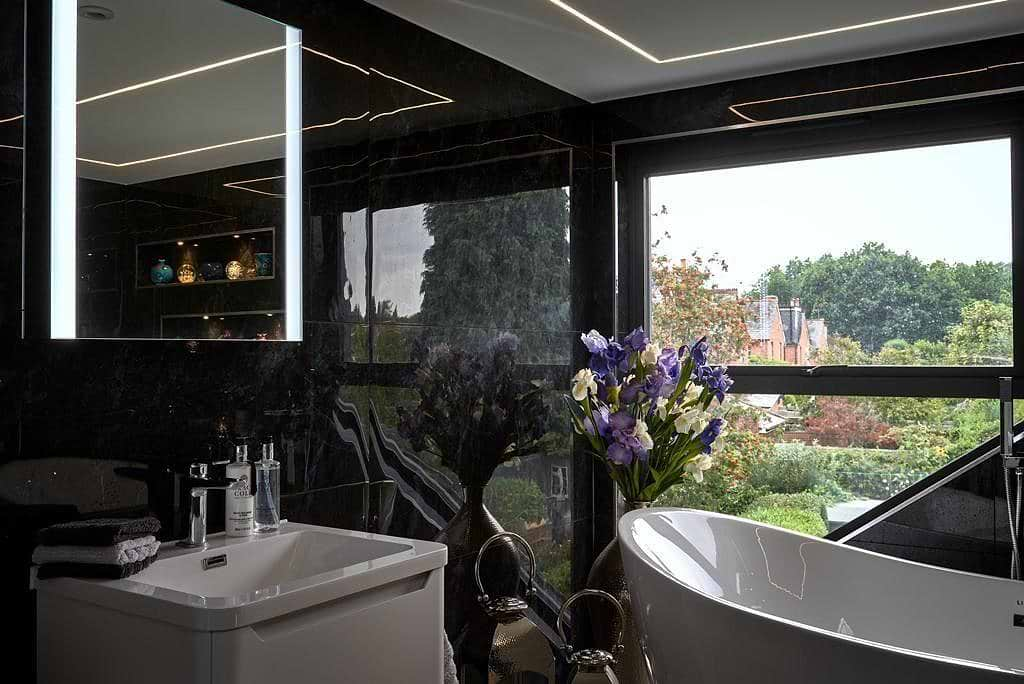 In addition to maximising the amount of natural light available, Mandy's bathroom build incorporates a wide range of interior lighting, within the ceiling, the shelves and even the edge of the bath step
Richard continues: "It was a real pleasure to assist Mandy, who wasn't sure her budget would accommodate anything in our portfolio. For her bathroom design, she wanted glossy, classy-looking tiles that wouldn't break the bank. We were happy to show her a range of different colours, patterns, styles and price points. After careful deliberation, Mandy chose Lounge Light Grey Polished Porcelain Tiles for her bathroom floor. These cost £54 per sq m in a 60cm x 60cm format. Porcelain is ultra-durable and therefore ideal for flooring. And I think this light grey colour really helped to lift the look of her bathroom.
"For her bathroom walls, Mandy chose Marble Ocean Rock Tiles, which offer a classic marble finish with a bespoke modern twist. These are available in 60cm x 60cm and 120cm x 60cm, and are priced at £65 per sq m."
The finishing touches
Aside from the show-stopping tiles and tub, Mandy's new bathroom design incorporates several other statement elements. These include two eye-catching niches, which display ornaments, light-reflecting baubles, candles, a selection of attractive toiletries, and various pieces that Mandy has collected on her travels. The towel stand, shelving and accessories were purchased from John Lewis and House of Fraser, while Mandy sourced the silk flowers from specialist retailers. In addition, the lighting is courtesy of Philips Hue and Amazon.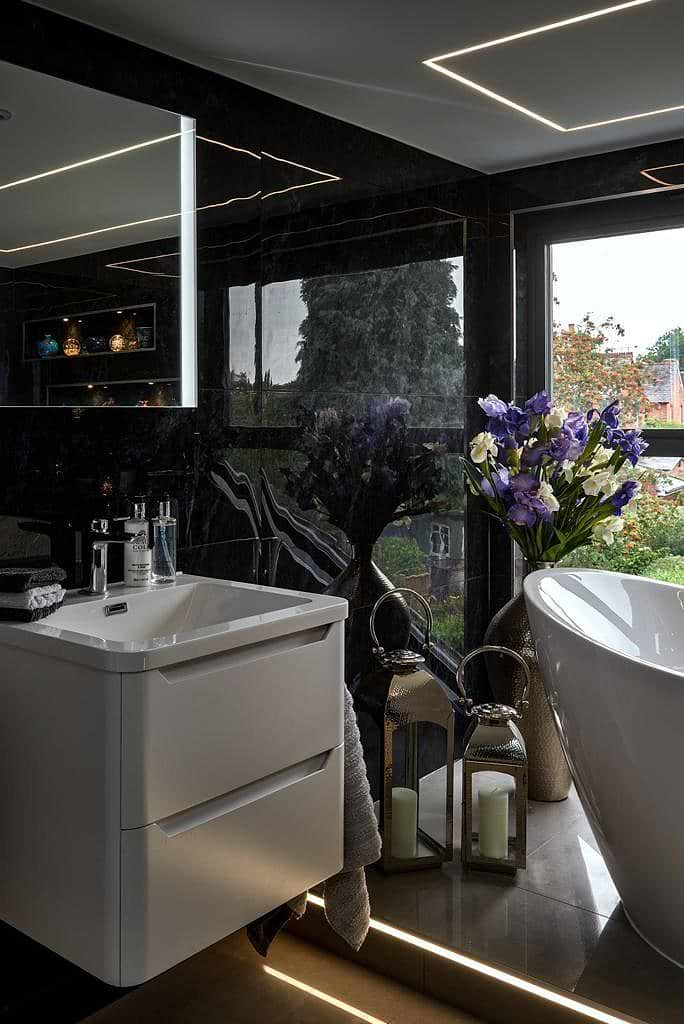 White hurricane candles and a colourful silk flower display perfectly complement the bathroom's dark, dramatic look
The cost of Mandy's bathroom was incorporated within her wider loft conversion project. However, her tips to stay within budget include negotiating well, stick with one main supplier for sanitaryware to access any discounts, and shop local wherever possible. "The bathroom cost was probably £35K for materials and £15K for the labour (electricians, plumbers, tilers and so on)," she reveals. "But it was worth every penny. I wouldn't change a thing – except I wish I'd done this years ago!"
Hyperiontiles.co.uk – Frequently Asked Questions (FAQ)
Can I update the look of my bathroom without a full makeover?
Yes, you can update your bathroom's appearance with changes like new tiles, updated fixtures and accessories without a full renovation. Browse our range of bathroom floor tiles to find the style that matches your aesthetic.