I reveal how interior design blogger Pia Orr transformed her pre-teen daughter's bedroom with our Ca' Pietra Proper Good Paint collection
We recently worked with Finnteriordesigner blogger Pia Orr to help her transform her ten-year-old daughter's bedroom with our premium paint collection. We are renowned first and foremost for our extensive range of luxury wall and floor tiles, both interior and exterior. But did you know that we also offer a premium paint portfolio: the Ca' Pietra Proper Good Paint™ collection? As the name suggests, this collection incorporates a range of high-quality paint colours that are easy to apply and deliver long-lasting results. And there's certainly no shortage of shades to select either. So whether your ideal bedroom design ideas feature bold brights, pretty pastels, or subtle neutrals, there's sure to be a paint colour that suits.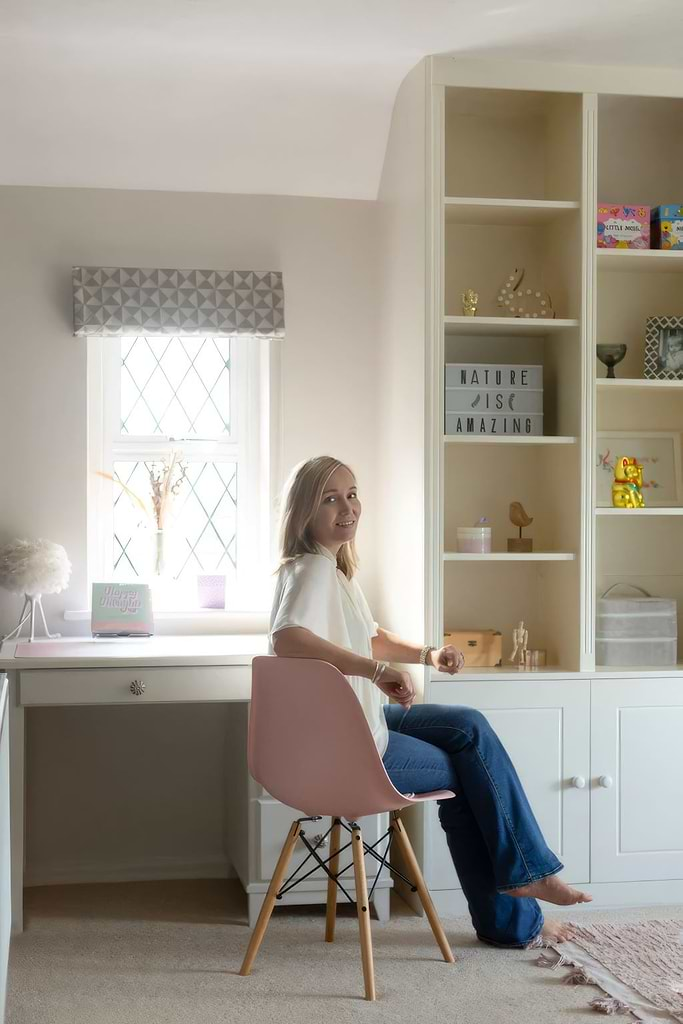 Originally from Finland, Pia Orr is the face behind Finnterior Design – one of the top 30 UK interior design blogs
When Pia, who runs one of the top 50 UK interior design blogs, got in touch with us to help us transform her daughter's bedroom, I knew our Ca' Pietra Proper Good Paint™ collection was the perfect paint solution. Pia, who's originally from Finland, moved into her new home in 2021, and has been busy renovating and redecorating ever since. She describes her decorating style as a mix of traditional and modern design, with a strong emphasis on natural materials, sustainability and investing in quality.
Shade selection

As you'd expect from such a talented interior design student, Pia had lots of bedroom design ideas for her eldest's daughter's room. A good-size space, with a great view, it primarily needed a different colour scheme to suit her daughter's taste and personality. That meant the pink walls had to go.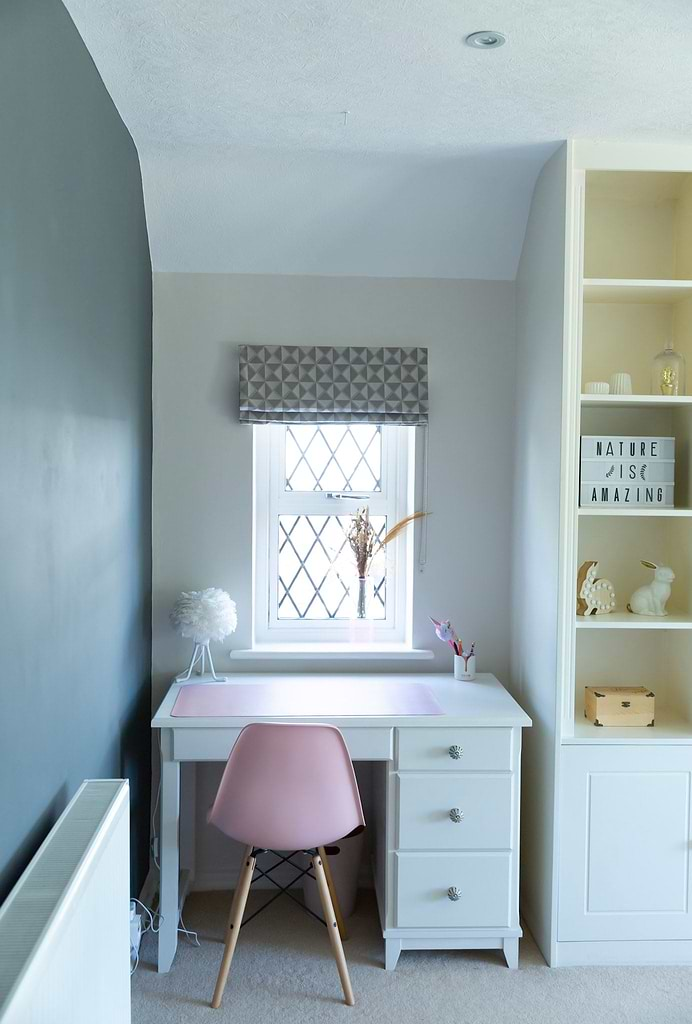 Worried that white will look too cold and clinical? Worry no more! Our Ca' Pietra Proper Good Paint™ Maple's Cloth Proper Matt Emulsion is a versatile off-white shade that's great for 'warming' up a north-facing room
Neutral tones were discussed and approved. Pia and her daughter decided on Ca' Pietra Proper Good Paint™ Maple's Cloth Proper Matt Emulsion for the main walls. Pia describes this as a "perfect off-white shade. Not too cold or warm, but enough to make a north-facing room feel warmer and cosier". They painted over the existing pink, and used the same paint as a primer. Just two coats delivered all the coverage needed!
Bedroom design ideas & positive feedback

It was wonderful to hear how complimentary Pia's decorator was about our Ca' Pietra Proper Good Paint™ collection. "Fabulous to work with" was the feedback. He noted that it didn't smell or drip, and was a pleasure to apply.Our Ca' Pietra Proper Good Paint™ is popular with customers and professional decorators, thanks to its high-quality colours that are easy to apply, and deliver long-lasting results. Another big advantage is our paint collection's staying power. As a general rule, Pia doesn't expect to repaint rooms for at least five years. Fortunately, Ca' Pietra Proper Good Paint™ is UV-resistant, fade-resistant and water-repellent. So it performs as good as it looks – even in a pre-teen's bedroom!
Feature focus

Pia and her daughter discussed a few key bedroom design ideas when finalising the room scheme. They decided to keep the old feature wall, but paint it slightly darker.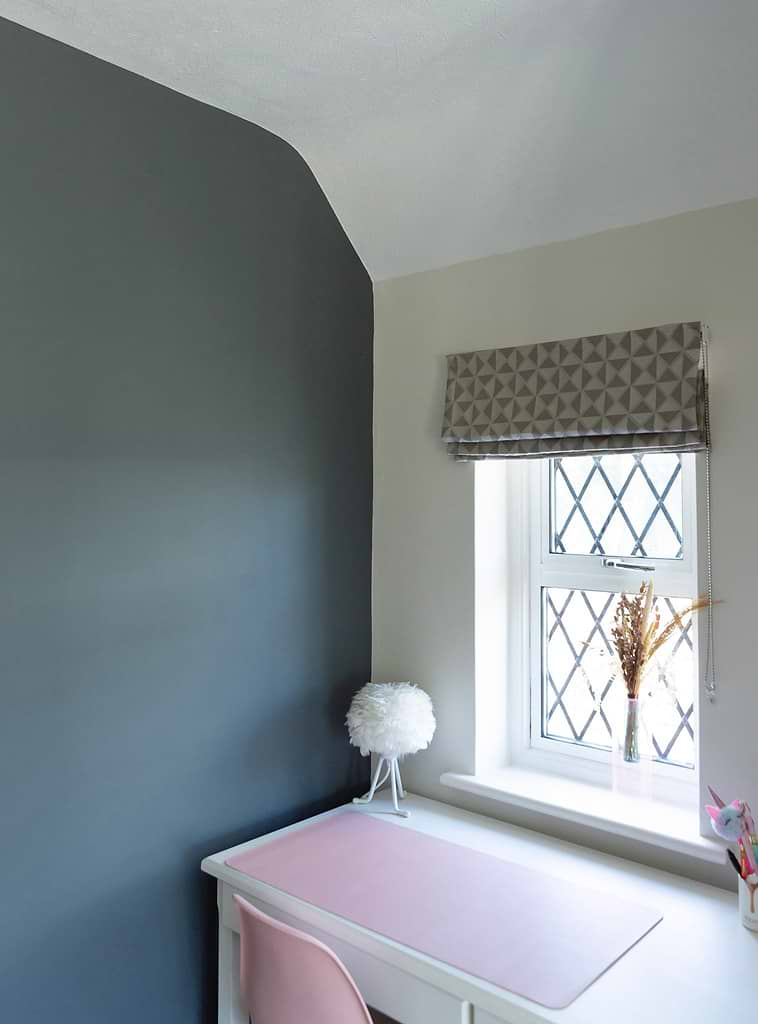 Pia and her daughter decided to add impact with dark grey feature wall, which really stands out against the rest of the room's neutral colour scheme
I must confess I like a feature wall myself, especially in contemporary interiors. I think they add colour, character and a dash of personality to both residential and commercial environments. Pia agrees. "I do love a feature wall," she confirms. "Whether it's painted or wallpapered, a feature wall can elevate any space. I usually stick to one, but sometimes it's fun to make an exception, don't you think? The great thing about decorating these days that there are no rules."
For her daughter's bedroom feature wall, Pia chose Ca' Pietra Proper Good Paint™ Apollo's Moonstone Proper Matt Emulsion. This is a stylish medium-grey shade, that works particularly well with the wall choice of Maple's Cloth. A lot of people are still cautious about dark walls, as they think they make a room seem smaller. Pia asserts that the opposite is true, and was very pleased with the coverage, depth and hint of blue this paint colour brought to the room.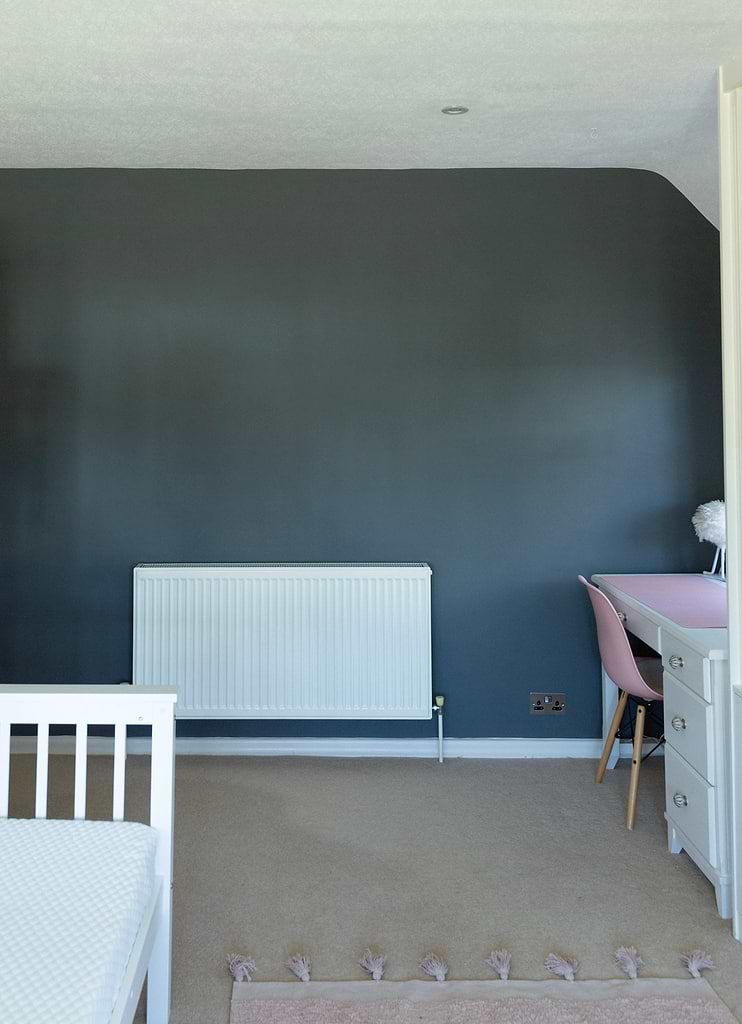 A brilliant partner for both muted neutrals and brighter pops of colour, our Apollo's Moonstone matt emulsion looks fantastic on this bedroom feature wall
Keeping things consistent with bedroom design ideas

Lots of bedroom design ideas advocate experimenting with woodwork shades. But for this makeover, Pia and her daughter decided to paint the woodwork the same colour as the white walls, using Ca' Pietra Proper Good Paint™ Maple's Cloth Proper Eggshell. Eggshell finish is a durable choice for skirting boards, especially in high-traffic areas. And it's a nice compromise between matte and satin/gloss paint.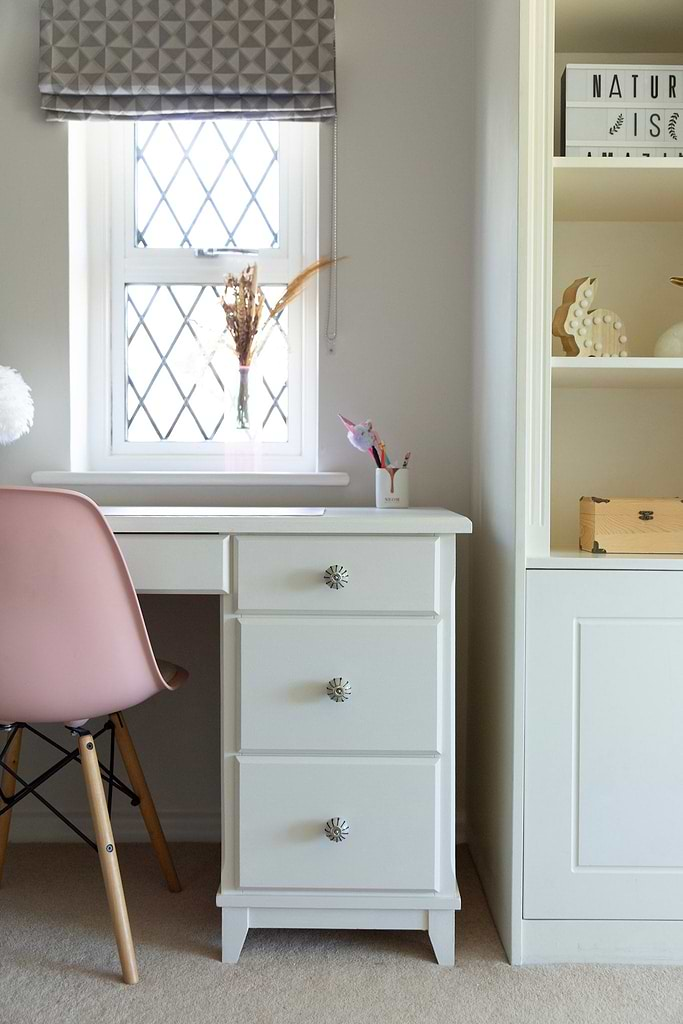 Pia sourced her daughter's Laura Ashley desk on Gumtree, and upcycled it using two coats of Ca' Pietra Proper Good Paint™ in Maple's Cloth eggshell
Painting walls and woodwork the same colour results in a strong, clean look. It can also make a room look larger, as there are no contrasts to draw the eye.
Ca' Pietra Proper Good Paint™'s eco credentials complement Pia's commitment to sustainability. The collection is environmentally responsible, and made in the UK. So not only is it non-hazardous, eco-friendly and low VOC, it doesn't rack up thousands of air miles en route to our customers. "I love that the paint we used is a non-toxic paint that's completely safe for children's rooms," Pia observed.
An eye for upcycling

Nowadays, upcycling plays an increasingly key role in bedroom design ideas. Pia was lucky enough to spot a Laura Ashley desk on Gumtree a while ago. She'd been on the look-out for a sturdy desk that would last her daughter through her teenage years. And she liked the idea of upcycling an old wooden desk. The desk already had a primer, so all that was needed to revamp it was two coats of Ca' Pietra Proper Good Paint™ Maple's Cloth Proper Eggshell. Now the desk matches the room's built-in cabinets, and the other woodwork.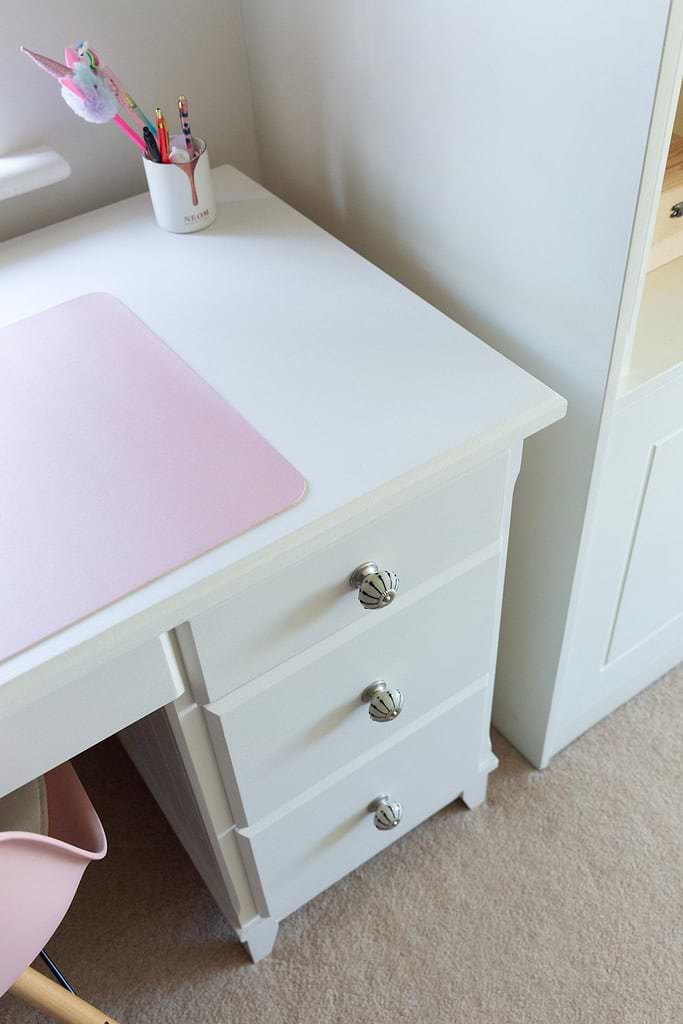 Little details can make a big difference. Pia swapped the original desk drawer pulls for these stylish Moroccan-inspired knobs, to complete her desk upcycling project
To complete the transformation, Pia swapped the original drawer pulls with Moroccan-inspired knobs. The best bedroom design ideas are all about the details. Changing small things, like handles, can make a really big difference.
AD: We provided gifted paint to blogger Pia Orr for her to produce her daughter's bedroom makeover. If you're keen to discover more interiors inspiration, click here for Mandy's bathroom design makeover.
Hyperiontiles.co.uk – Frequently Asked Questions (FAQ)
What are some common mistakes to avoid when choosing paint for a teenager's bedroom?
Common mistakes include not involving your teenager in the decision-making process, selecting a colour that's too trendy or extreme, ignoring the room's lighting conditions, and neglecting to test paint samples on the wall before committing to a colour. Browse our range of Ca' Pietra Proper Good Paint to find the one that matches your interior design style.