Patterned tiles to spruce up your bathing haven
We all know how much fun it is to use colour in our homes, whether neutral, bright, or pastel. But when it comes to pattern, many of us can feel a little overwhelmed. Thankfully, there are plenty of helpful guides to adding pattern to your home. But what about when it comes to the bathroom and, in particular, tiles? From creating a standout golden bathtub to playing with floral and geometric designs, I've got everything you need when using high-quality patterned tiles in your bathroom:
Go for a tonal colour palette
If pattern is new to you, a simple trick is to choose tiles in a subtle colour palette, which work in harmony with each other. This way, the pattern won't overwhelm the space, or you. Another tip is to choose one or two arrangements in colours that enhance one another.
Our beautiful Bert & May speckled blue terrazzo patterned tiles, paired with clean lines of pale cream porcelain tiles, for example, could be perfect. This terrazzo collection is handmade in Turkey and features a clever combination of ground minerals, such as marble, quartz and granite. Due to the manufacturing process, you can expect each tile to be truly bespoke. These tiles are so versatile, as you can see they can look just as striking in a kitchen, too - take your pick!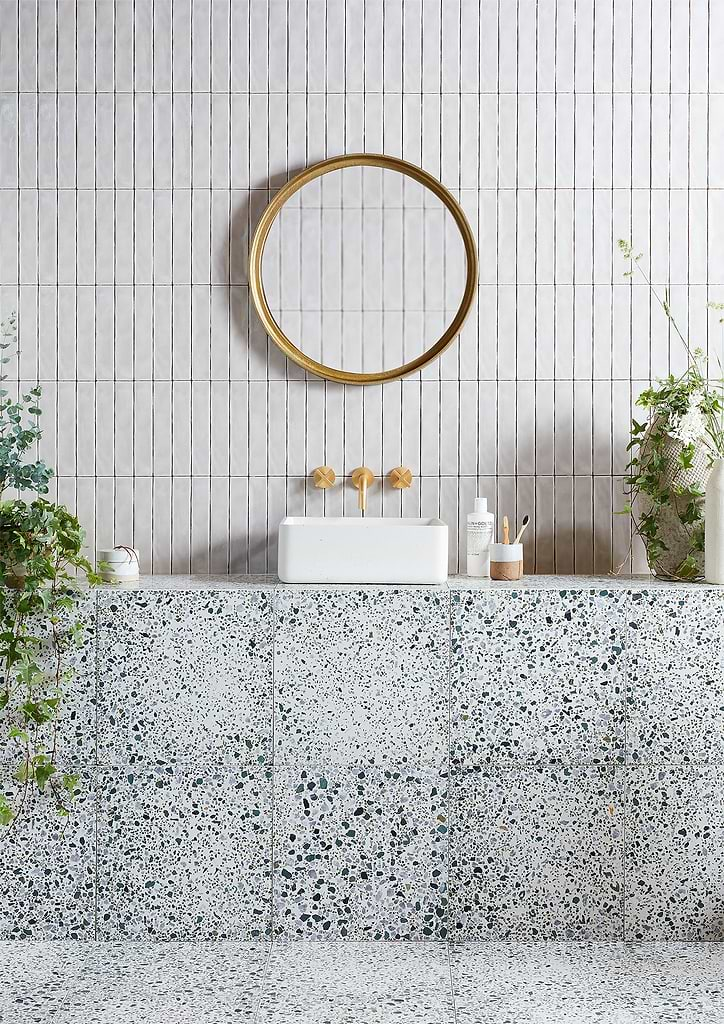 Our Bert & May tiles in Fennel Terrazzo, £308 per sq m, showcased here in a kitchen, are the perfect way to gently introduce pattern to a variety of rooms in your home. Each tile measures 40x40x2.5cm
Create a standout element
Patterned tiles can really stand out, especially if you use them to highlight one element in your bathroom, such as a statement bath. Covering your tub in a distinctive pattern is a bathroom tile idea, which may not be for the faint hearted. However, if your bathing haven is your favourite place to be, featuring this style will instantly add impact.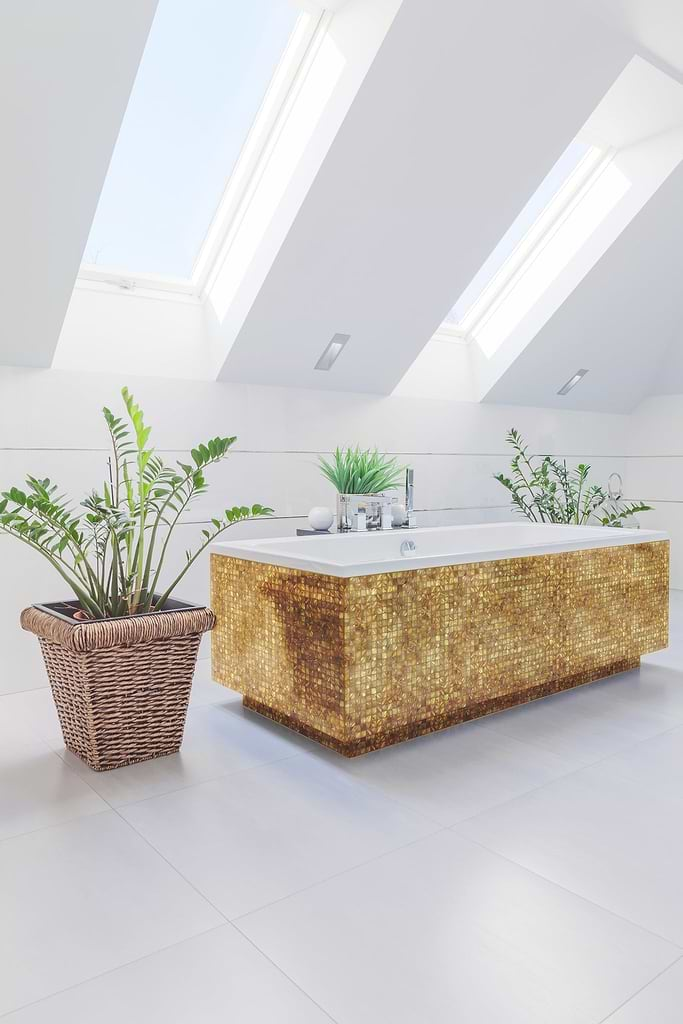 For a bathroom King Midas would envy, try our Siminetti Freshwater Emerald Gold Square Mosaic tiles, 25mm. These will make an instant luxury addition to your bathroom with POA
Don't be frightened to use pattern in a small space
Patterned tiles can look incredible, even in the smallest bathroom. Think lighter shades and larger scale designs, which can both help give the illusion of more space. However, smaller tiles such as mosaics can still add the wow factor, if you pick them in the perfect shade. In smaller bathrooms, a clever trick is to lay your tiles in diagonal patterns. After all, this tricks the eye into seeing a space, which is bigger than it really is.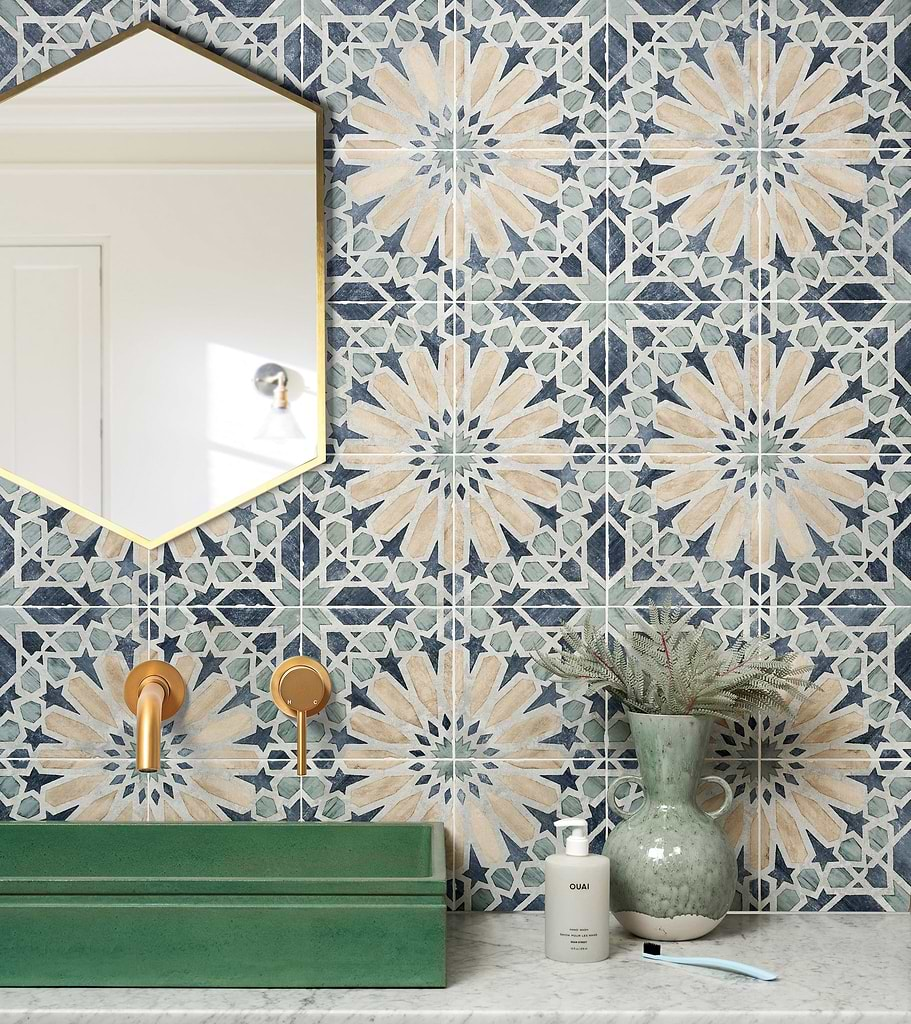 Lighter tile shades can help you introduce a larger pattern, such as this pretty Ca' Pietra flower motif. And if you're looking for a beautiful handmade effect with artisanal touches, our Cuba Marla Porcelain Tiles, 20x20x1cm, which cost £64.80 per sq m could be ideal
Using patterned tiles for your backsplash
Using patterned tiles to 'zone' an area in the bathroom looks incredibly chic. In fact, a backsplash is the perfect area to show this off. Whether you want to create harmony within your decor or create a striking feature, patterned tiles are an ideal choice. Pick a colour theme or mix and match patterns to add drama to your space.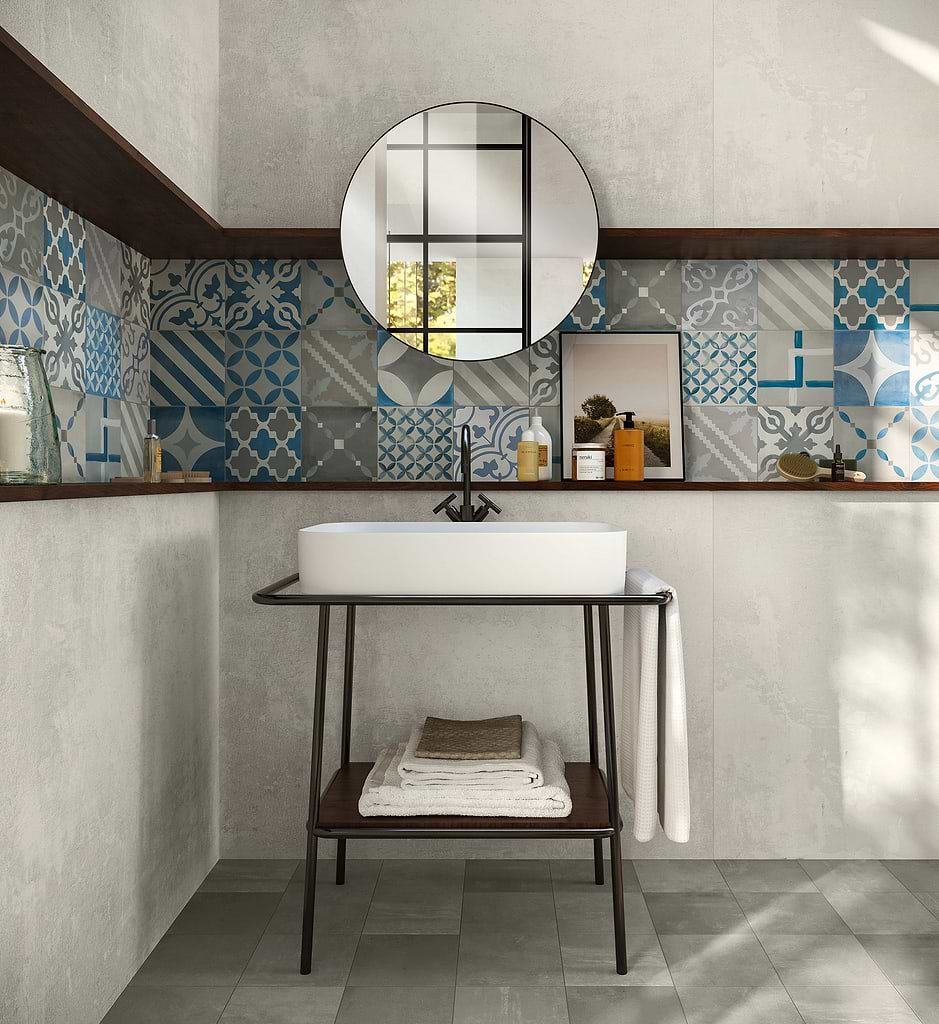 Check out our opulent Minoli Venti Blue Mix Porcelain Tiles from its Contemporary Collection available in cool grey and blue tones. What makes them even more special is that you can mix the various patterns to create an utterly unique design. Measuring 20x20x0.9cm, POA
Choose a tile pattern that complements your home
Are you struggling to pick a patterned tile for your bathroom? If so, you could perhaps complement the age of your property or the style of an era you are trying to achieve. If you have swinging 60s décor in various rooms, for example, why not include the bathroom? And for maximum impact, you could choose just one patterned tile design and cover both your walls and floors in your bathroom. If you are drawn to contemporary styling, why not pick geometric tiles in a monochrome scheme?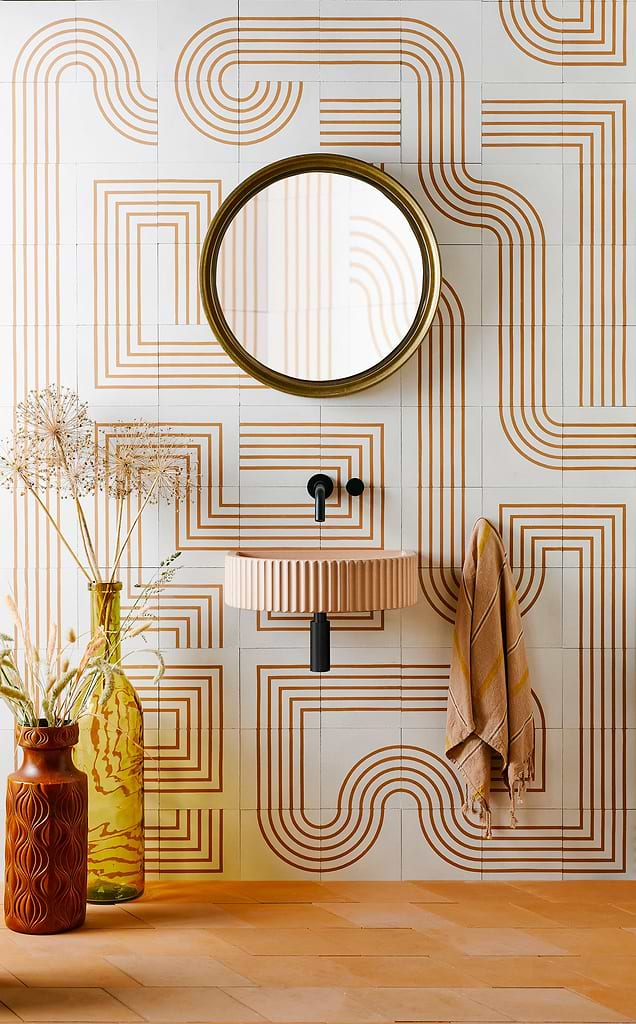 Mid-century and Art Deco are huge trends right now and our Bert & May encaustic tiles from the Mazes collection lean into both styles. Here, Marigold Maze 01, 02, and 03 patterned tiles have been combined beautifully to create a new design. Measuring 20x20x1.8cm, these cost £201.60 per sq m
Use patterned tiles to create a luxury feel
Pattern can elevate any interior design depending on how you use it and the materials involved. In a luxury bathroom, you could use patterned tiles to create a border or bespoke focal point. You could also opt for luxury materials, such as Mother-of-Pearl or quartz. Our book-matched tiles, where a mirroring effect makes a striking statement, could make another wonderful choice. These showcase a distinctive, yet practical solution, where the porcelain tiles combine durability with sophistication.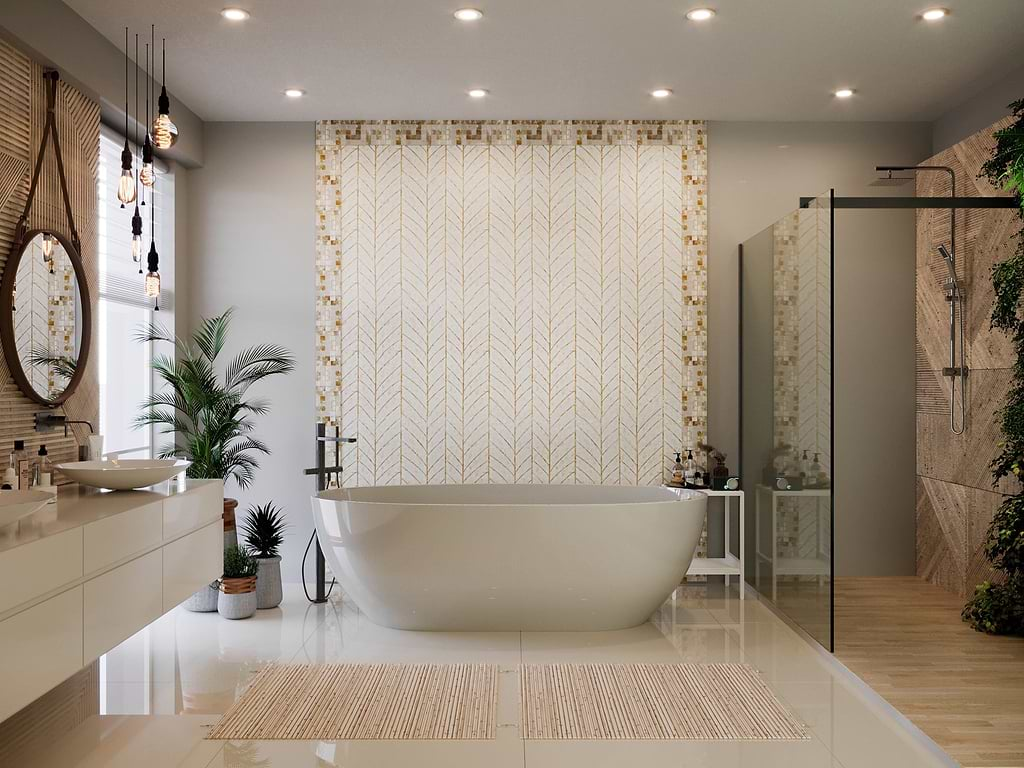 Check out this perfect use of pattern pairing with our Siminetti Natures Herringbone in Golden Promise with Bianco from the Seasons Collection. These tiles measure 240x120cm with 25mm Grecian Key Mother-of-Pearl mosaic tiles to frame a luxury tub. POA
Be bold with patterned tiles
Of course, patterned tiles can be used to be as bold as you dare in the bathroom. This cascade of our Ca' Pietra Mermaid's Garden porcelain tiles creates an incredible shower space, but you could use a softer palette. That's the gift when it comes to pattern. In fact, you can create new shapes and designs and show off your style, however you choose.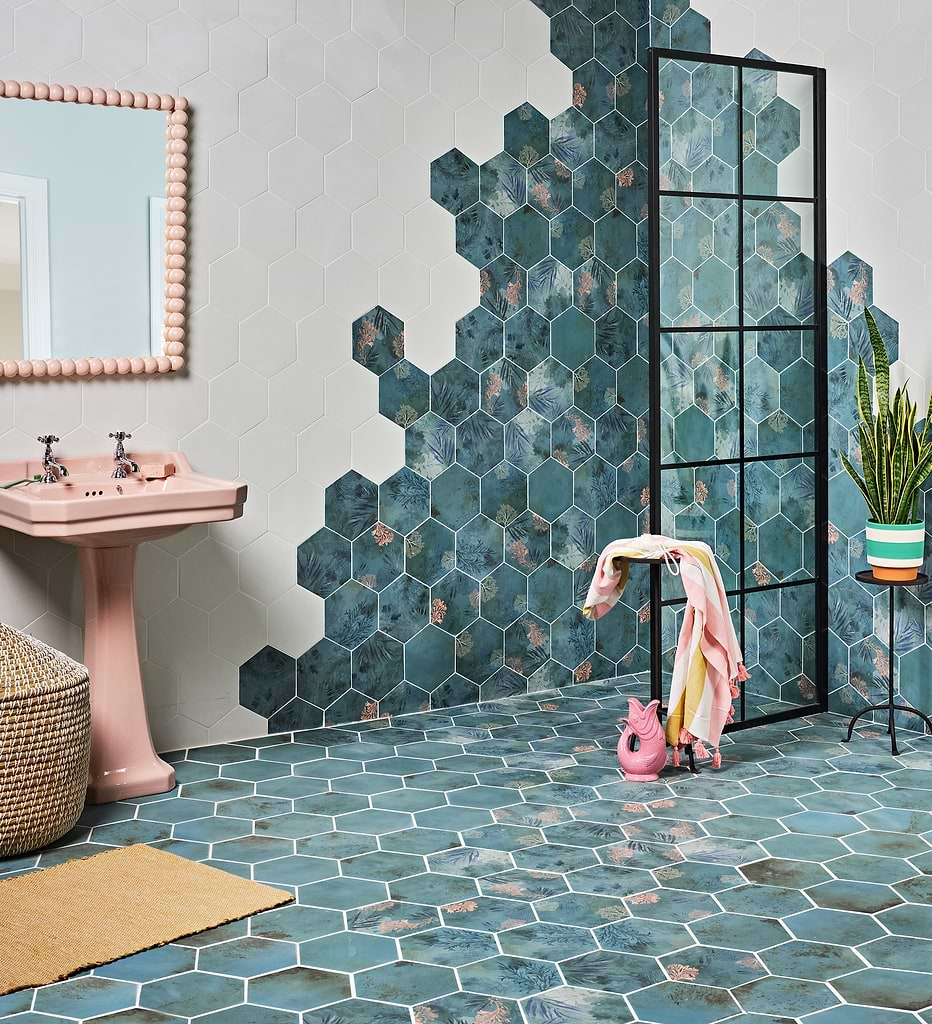 Step into an underwater haven with our Ca' Pietra Mermaid's Garden Hexagon Porcelain Tiles. The striking patterns feature plants, seaweeds, and corals, which lay on a rich emerald green backdrop emulating the deep blue sea. Measuring 20x23x0.8cm, these cost £69.36 per sq m
Play with texture
You don't have to limit your patterned tiles to one type; you can mix texture, too. Travertine, marble, limestone, slate, and granite are all natural stone options for patterned bathroom tiles, each with their own properties. Slate is fabulous for bathrooms or wet rooms, for example, This material has low porosity and it's non-slip, while marble, travertine and limestone can be polished to a high shine (but need to be sealed). Ceramic and porcelain tiles come in a huge range of finishes too, so the world really is your oyster.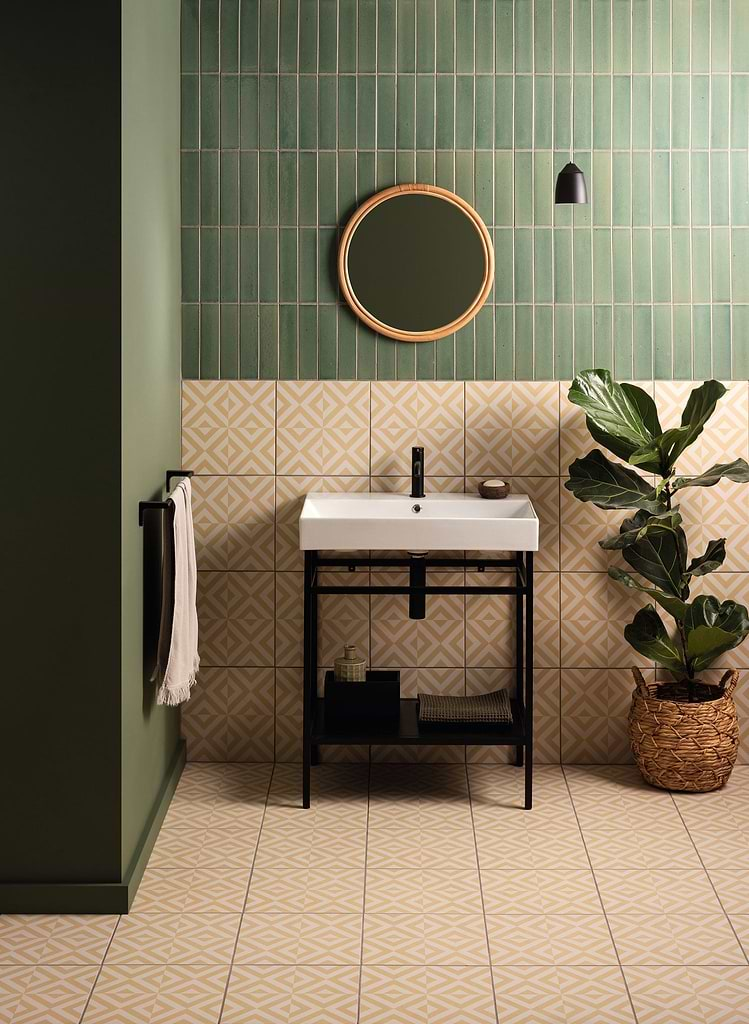 Introduce a sense of calm to your bathroom sanctuary with our Original Style Penshaw Yellow on Chalk Tiles from the Odyssey Collection. These feature a diamond pattern in soft buttery tones, complemented with a jade hue tile to complete the room. Measuring 300x300x9mm, these cost £89.94 per sq m
Looking for more ways to use tiles in your bathroom? Try our guide to transforming the space into a luxurious spa-like haven.
Hyperiontiles.co.uk – Frequently Asked Questions (FAQ)
What types of patterns are available for bathroom tiles?
There's a wide variety of patterns available, including geometric shapes, floral motifs, Moroccan, Mediterranean, and more. You can choose from modern, traditional, or vintage styles. Shop from our range of bathroom floor tiles to find the one that matches your interior design style.