Bathroom wall tiles ideas for a super-stylish home
One of the spaces I often find most alluring in a celebrity home is the master bathroom. In fact, one look at any of these striking spaces and you'll see how seriously superstars take their pampering. You may also notice how bathroom wall tiles play a key part in some of these luxurious bathing sanctuaries.
It seems bathrooms everywhere are getting an upgrade as we are taking self-care more seriously than ever. What was once a place to get clean is transforming into a retreat in which to relax and unwind after a busy day. So, if you're looking to achieve a bathroom that evokes a tranquil spa-style atmosphere, I have just the thing. I've pulled together some of my favourite ways to transform this room into a bathing haven using high-quality bathroom wall tiles: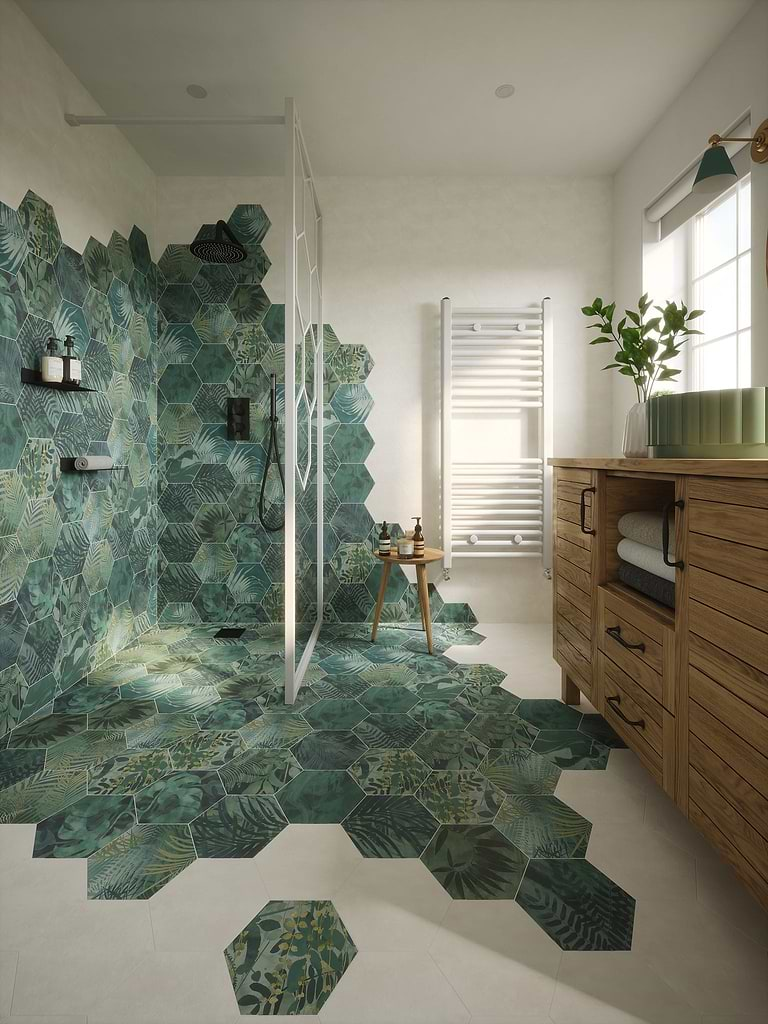 This exciting new botanical collection by Ca' Pietra in collaboration with artist Clarissa Hulse launches this autumn. Inspired by Costa Rica, this verdant tile is Jungle Hexagon. Each tile measures 245mm by 215mm by 8mm deep and is available in a palette of Jungle Leaf Green, Midnight Blue, and Spring Leaf Green. Perfect for a nature-inspired bathroom, these cost £89.12 per sq m
Take it to the ceiling

Tiling all the way to the ceiling may seem dramatic, but the visual benefits are definitely worth it. After all, this will make a shower or bathing space instantly feel larger. What's more, some experts agree that shower tiles, in particular, should go to the ceiling. This way, you can keep your surrounding areas clean and dry. I suggest picking durable Porcelain or high-quality ceramic tiles for this purpose. Both types can withstand all sorts of wet, humid conditions and they should stand the test of time.
Play with scale
Bathroom wall tiles come in a multitude of shapes and sizes, from tiny mosaics to large format versions. You don't have to stick with one size throughout your bathroom as you can play around with this to create depth and add interest. Also, the bigger the tile, the easier it will be to clean with less grout lines and a smoother finish.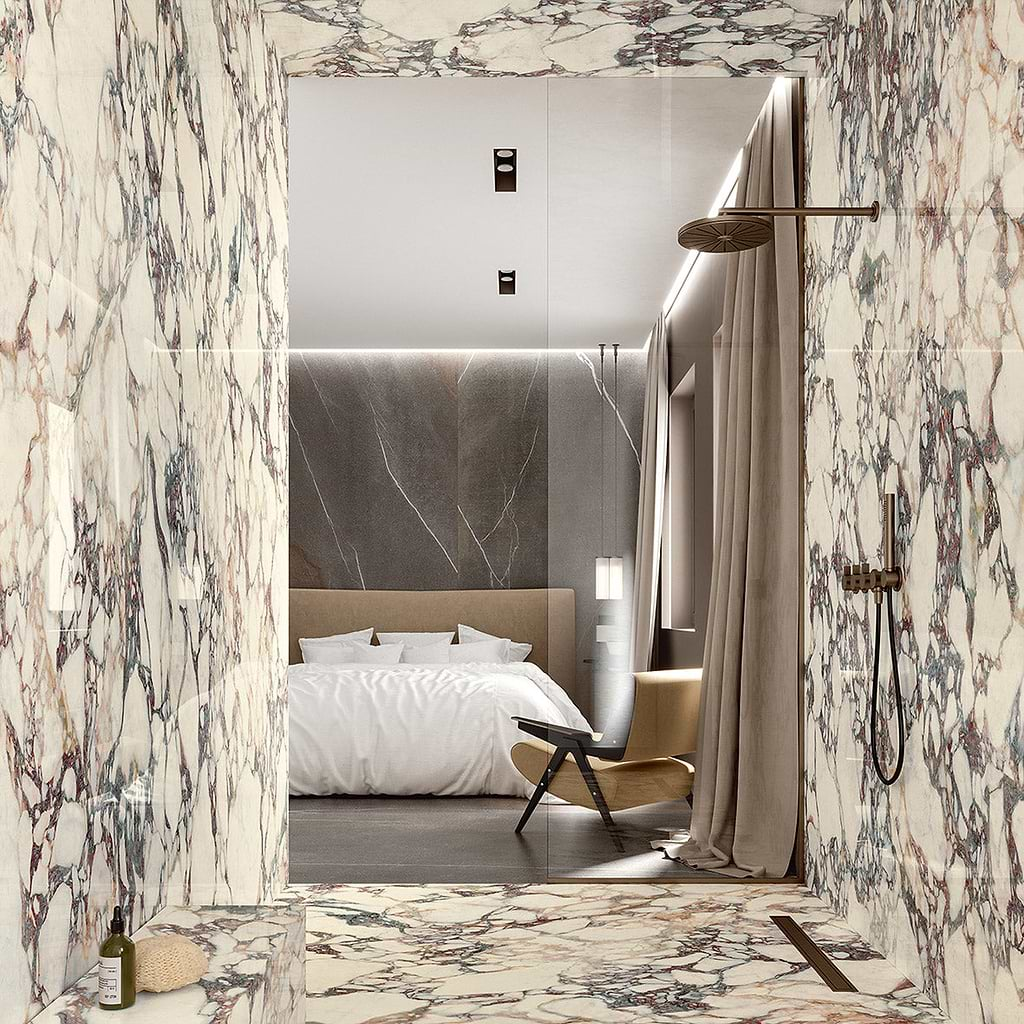 This unique marble tile is from our Iris Ceramica Group Novelties collection by Platform Plus. Calacatta Viola takes its name from the Italian for purple, which can be seen in the veining on the pure white backdrop of the tile. Available in a variety of sizes starting from £226.80 per sq m
Creating harmony with bathroom wall tiles
Using the same tiles on the floors and walls is one of the more distinctive ways to create an individual bathroom design. This will, after all, instantly create a sense of harmony and cohesion. However, it can also be impactful if you select a unique tile, in a bold colour, vivid pattern, or striking material. I love the elevated effect that our book-matched tiles have when used throughout an entire room.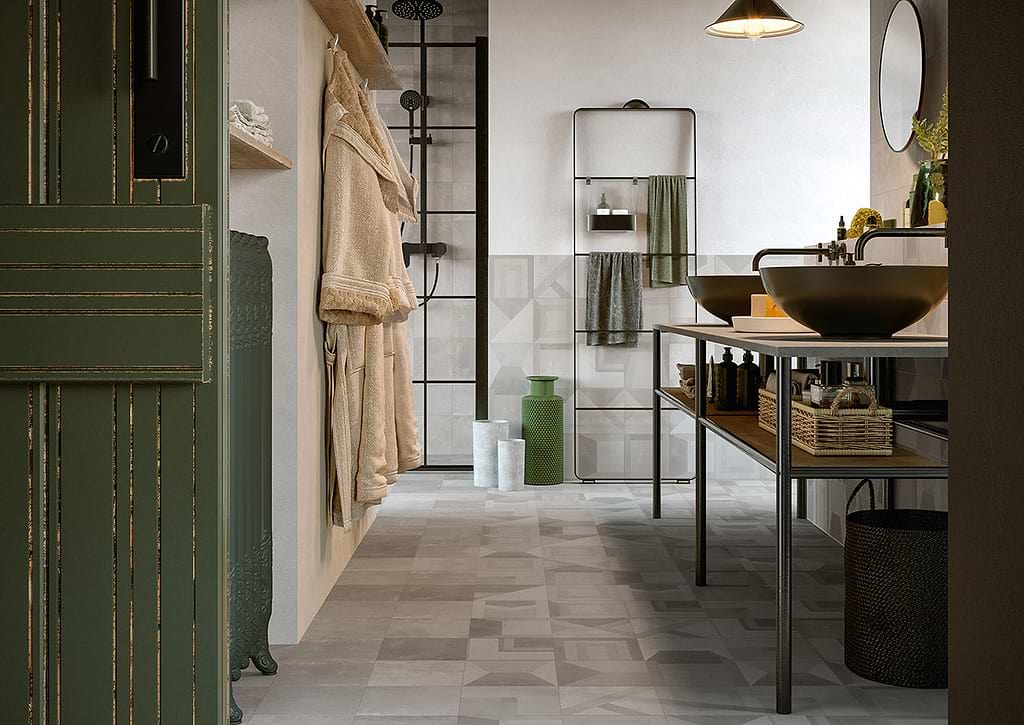 One of my favourite Minoli Tiles collections is the impressive Venti Boost Cold Mix, a porcelain stoneware tile replicating traditional encaustic tiles. Evoking the majestic floors of palaces, these tiles measure 20 sq cm and are decorated with patterns and intricate markings, to provide eye-catching details over floors and walls. Please ask us for more details
Get creative with pattern & colour
Pairing patterned and plain bathroom wall tiles in the same colour-way can look incredibly striking in this setting. Or you can try various texture or pattern combinations to create your preferred design or style. Either way, the bathroom should create a calming space after a long day. If you're looking to create a modern, elegant bathroom with a fresh, crisp finish, perhaps move away from bold or bright options; after all, there's refinement in simplicity.
Celosia Calacata (left) from the Marmorea series of wall tiles by Grespania is our fabulous textured tile made from high-quality marble. Paired here with the smooth Marmorea Calacata tile (splashback and wall), the collection is available in 31.5cm by 100cm tiles. Please get in touch for more details
Take a shelfie
For the ultimate bathroom retreat, you have probably already hand-picked luxury bath foam, oils, gels or salts . After all, these could provide you with the perfect complements to your soak or shower. So why not tile a shelf area to display them? Perfect for hiding unsightly boxing for plumbing, this will add depth to your design and also create more storage space.
Make a statement with bathroom wall tiles
I think using statement tiles in high-end materials will elevate your bathroom to the ultimate pampering space. Bathroom wall tiles that feature gemstones or mother-of-pearl are a great option. But you can also use your tiles to create areas that will stand out in colour, pattern or texture.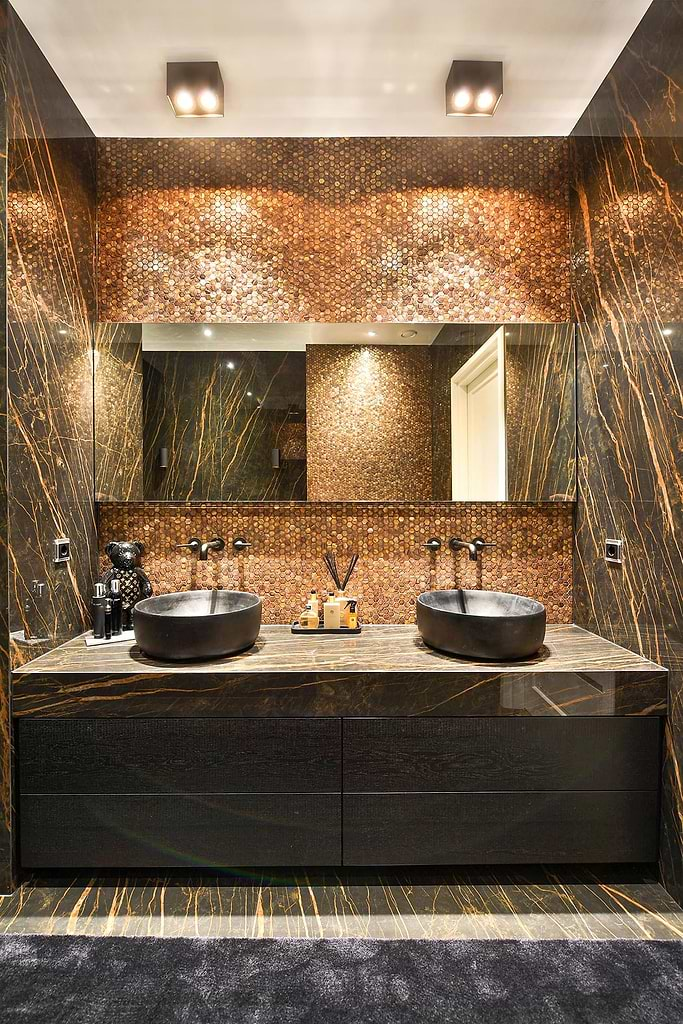 Our striking Gentle Earth Hexagon Mosaic Tiles by Siminetti are designed for the ultimate bathroom luxury, as showcased here in this beautiful bespoke project by bathroom designers SJARTEC. POA
Zone in
Why not create zones such as a shower backdrop, bath area, or splashback with decorative bathroom wall tiles or panels? If you're working with a theme, certain patterns can help tie this together. Otherwise, mix and match finishes, such as matt and high-shine tiles, to show off areas of your bathroom haven.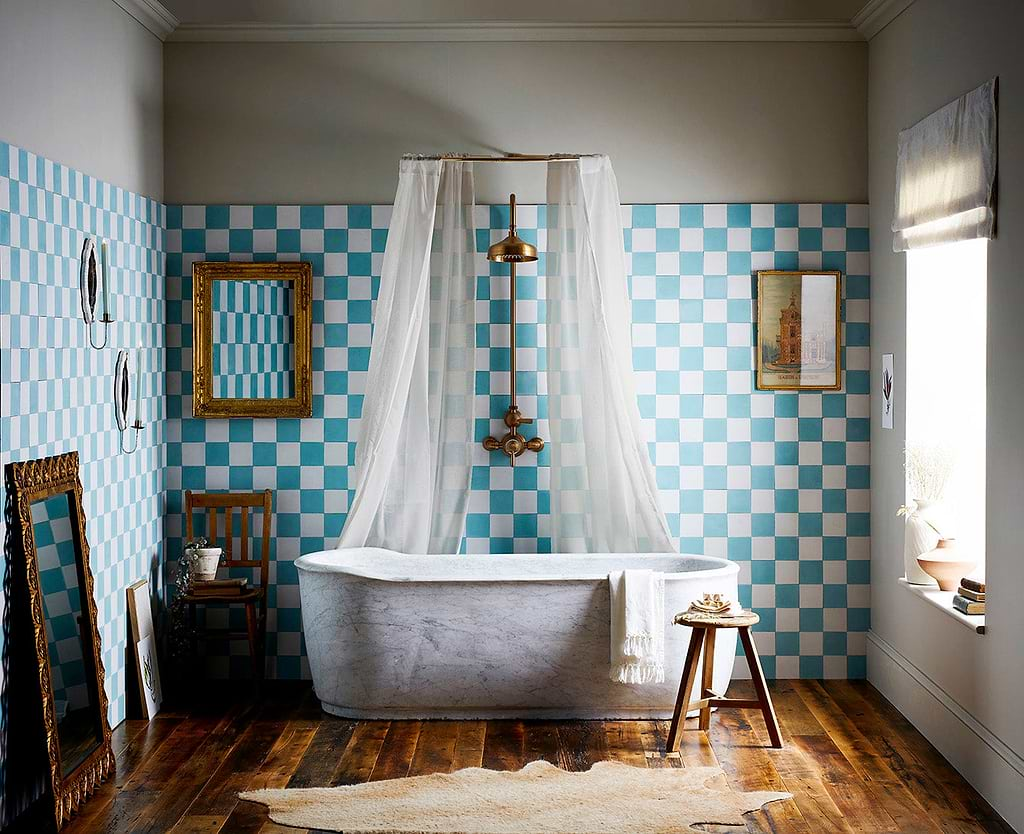 Paired here with Brighton Stone Square, these new impactful blue wall tiles are Jade from our Bert & May collection. Inspired by Cornwall, Jade is available as a plain cement tile in Square 10 sq cm and 20 sq cm, Herringbone, and Hexagon and Skirting tiles, priced at £216 per sq m
Be cost-effective with your bathroom wall tiles
Luxury bathroom tiles don't have to mean blowing you budget, especially as the cost of living is rising. So, you can still be cost-effective and creative by choosing to only tile certain areas. You can still demonstrate your individual style by selecting colours or patterns, which really appeal to you. I suggest you carry out plenty of research into what to look for when buying tiles, to pick up as many cost-saving tips as possible.
At Hyperion Tiles you should be able to find a tile that suits your taste and style. After all, we have more than 15,000 different designs available on our website, from leading brands including Minoli, Ca' Pietra and Bert & May.
If you need help deciding what colour or design is right for your space, don't hesitate to call our team today. And, for more inspiration and products, head to our bathroom tile ideas blog.
Hyperiontiles.co.uk – Frequently Asked Questions (FAQ)
What are the most common types of bathroom wall tiles?
Ceramic, porcelain, and glass tiles are among the most common choices for bathroom walls due to their durability and water-resistant properties. Shop from our range of bathroom floor tiles to find the one that matches your interior design style.