Create a bathing haven with the ultimate bathroom tiles ideas
If you're planning to decorate your bathroom, you'll need to balance practicality with style. After all, this is an area with high humidity, which is where tiles may provide a perfect solution. However, these days, the bathroom is so much more than a place for washing - it has also become a sanctuary, where you can cut yourself off from the rest of the world, whether you're enjoying an invigorating shower or a relaxing, pampering session in the tub.
So, read our latest blog where we reveal five new tile launches and we provide you with a whole host of stylish bathroom tiles ideas:
Consider durability
There's no doubt that some tiles are ideal for walls and floors in a bathroom because they can be water resistant. Porcelain, in particular, and ceramic versions, are ultra-durable, and they can withstand all sorts of wet, humid conditions. When it comes to materials, these make up some of our most favourite bathroom tiles ideas. They are highly likely to last and shouldn't get damaged through general wear and tear. And, if you find you have to replace one tile, it also tends to be an easy process for a professional installer, rather than having to replace the entire floor.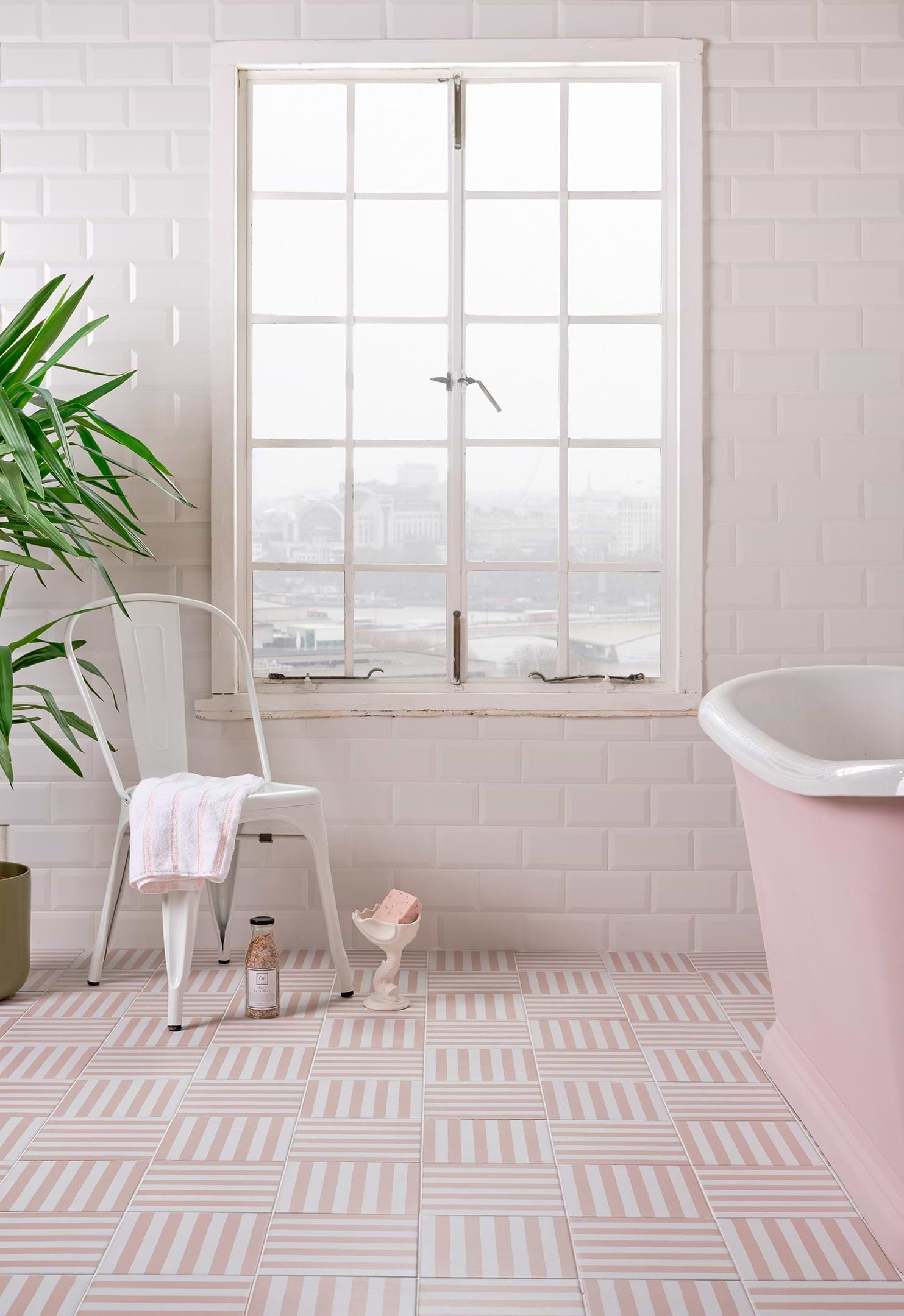 If you're looking for fun bathroom tiles ideas, our new Ca' Pietra Deck Chair porcelain versions in rose not only look super-stylish with a stripe design, but they are suitable for floors and walls. You can even use them for a garden patio! In sunny, vibrant shades, they are so versatile, you can lay them in stripes or a basket weave - the choice is yours! Sold in boxes of 15 tiles (0.6sqm) in a variety of colours, these measure 20 x 20 x 1cm per tile and cost £40.80 per box. Buy them now!
Feature walls
This is one of our favourite bathroom tile ideas. After all, a feature wall will instantly bring personality to your bathing haven. You can create an interesting backdrop while you soak in the tub and this style can help to define different areas in the same room.
If you use the same tile size, this will help to give you the illusion of more space, especially in a compact bathroom or wet room. Large format tiles instantly create a contemporary look. However, these also make a great choice if you're looking for something, which is easy to clean.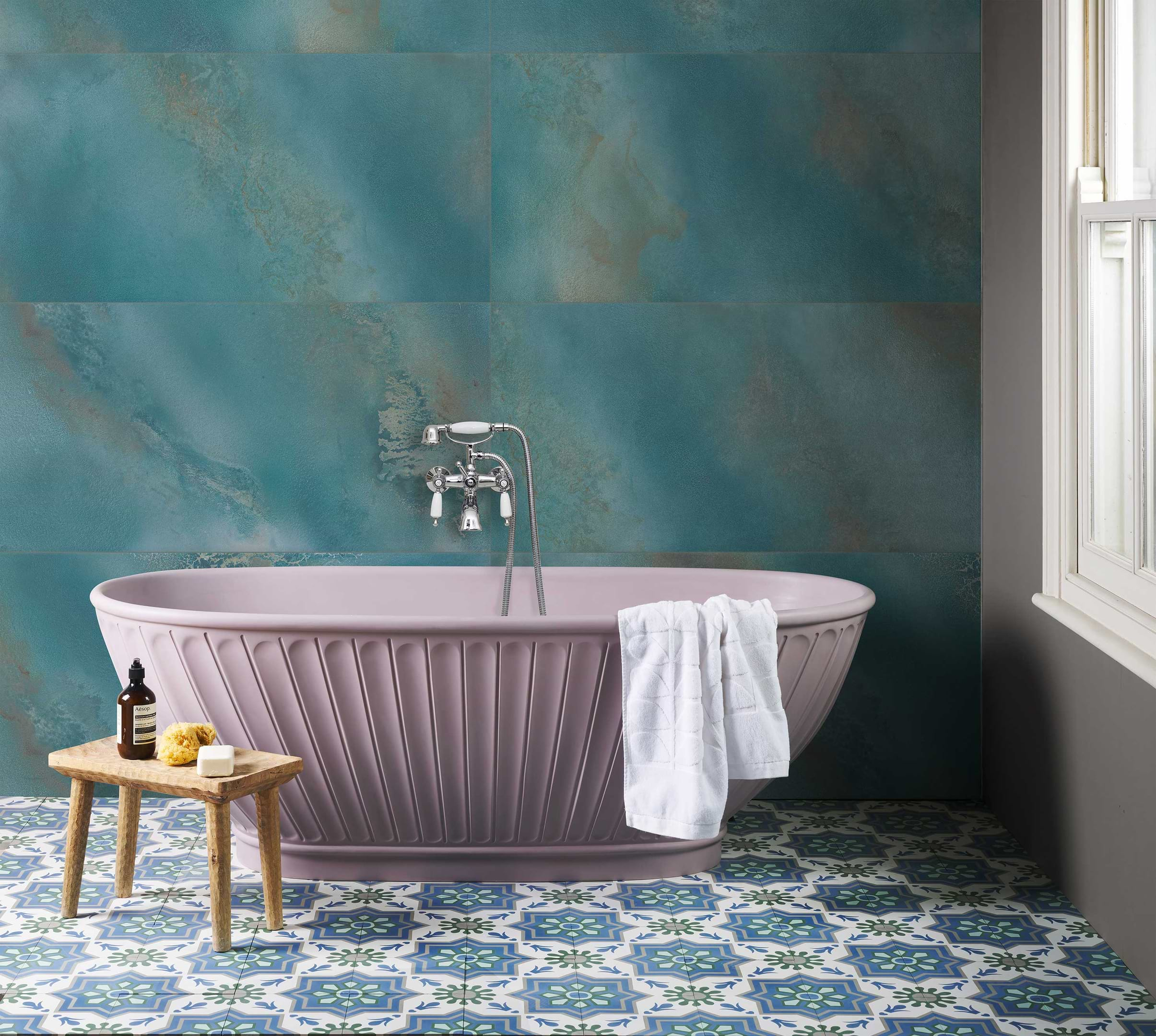 Replicate the look of the ocean with our striking new Ca' Pietra Maldives Porcelain Lagoon tiles. With a cerulean blue Lagoon combining with a foamy white colour way, pick these if you're looking for statement bathroom tile ideas. Suitable for both walls and floors, these tiles are sold in boxes of two (1.44sq m), measure 69 x 120 x 1cm per tile and cost £129.60 per box. Buy them now.
Bathroom Tiles; Ideas for floors & walls
To get more versatility from your tiles and to create continuity in your design, choose a version which is suitable for both floors and walls. Using the same pattern will instantly create a more seamless look. However, you can also add more personality to your design. especially if you team a strong pattern on the floor with one feature wall. Simply contrast the look with a chic white finish, featuring tiles or paint, on the remaining walls. We love our new Ca' Pietra Mermaid's Garden porcelain hexagon tiles, which will enable you to be more adventurous in the bathroom and push design boundaries. Specifically designed for those who want to create a bespoke look, Mermaid's Garden comes pre-packed as a random mix of several designs. Plants, seaweeds and corals add a sense of depth to this design.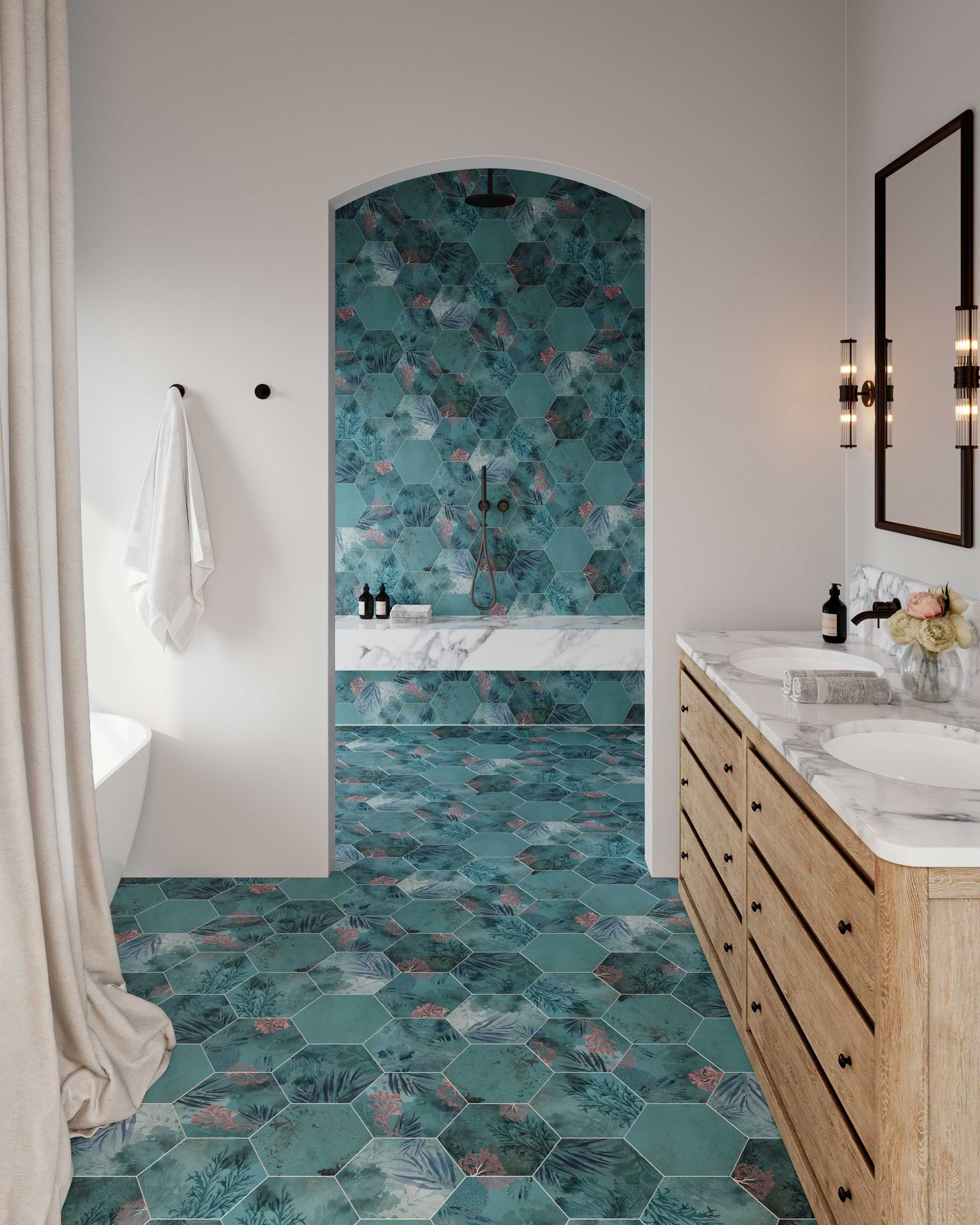 Here, our new Mermaid's Garden porcelain tiles look gorgeous, teamed with our Ca' Pietra Signature Hexagons. As you can see, these create a cascading effect for a striking finish in the bathroom. Sold in boxes of 10 tiles (0.33sqm), these measure 201.5 x 24.5 x 0.8cm per tile. They cost £23.76 per box and we'll let you into a little secret. You can use these outdoors too - just imagine this effect as a garden patio. Buy them now.
Material matters
There's something so luxurious about marble, especially when it comes to the bathroom. So, it should be no surprise that this look is included as one of our key bathroom tile ideas. Marble can be porous so this needs to be treated. However, if you're looking for something with less maintenance and more hard-wearing, a marble-effect tile should suit you perfectly. You can still create the look, but a porcelain tile will be extremely easy to maintain.
If you choose porcelain flooring, with a marble effect, you'll find it's not so cold when you set foot outside your tub. Also, this will be a more affordable option when it comes to the price tag for buying and installing. These are all things worth considering if you're looking for a complete bathroom refit.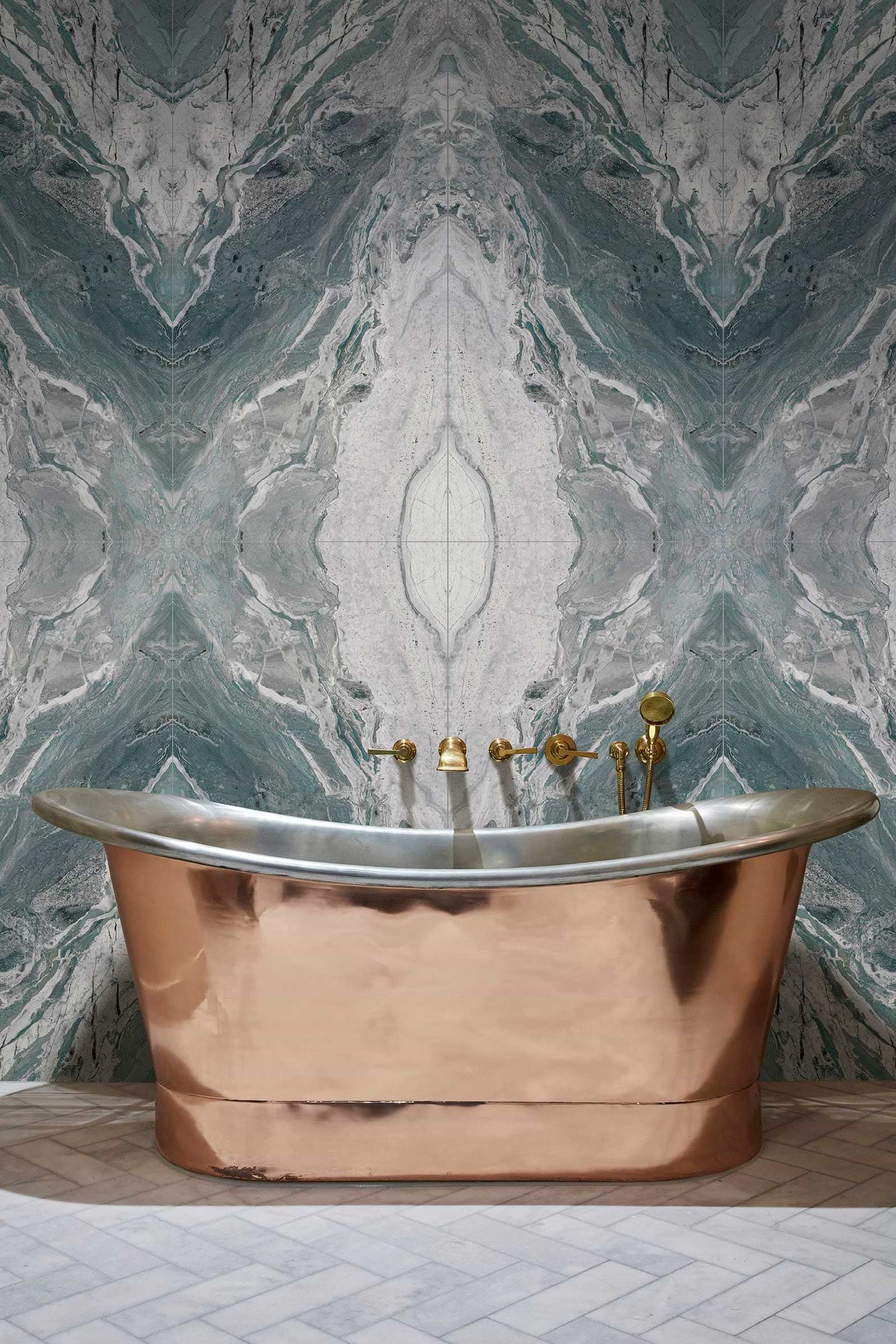 Suitable for interior walls and floors, our new Ca' Pietra Magnifique Polished Ocean porcelain tile features a timeless, luxurious look. These premium, high-gloss marble effect tiles come in four colour ways and you can showcase one of four quarter book-matched sets. Sold in boxes of two tiles (1.44sqm), tile sizes vary and cost from £115.20 per box. Buy them now.
Pearlcore perfection
Have you heard of the rising Pearlcore trend in interiors (and fashion)? If so, you may want to add this to the bathroom to create a serious style statement. This is one of our bathroom tile ideas, which is perfectly suited to those who want to embrace a luxury look. This finish tends to work especially well on tiles. But you can incorporate this onto other decorative accents in a bathroom, too. Wall tiles, which feature a reactive metallic glazing, are definitely making their mark in interiors now. Choose versions with a textured effect and iridescent variations (Pearlcore trend) to add more depth to your design.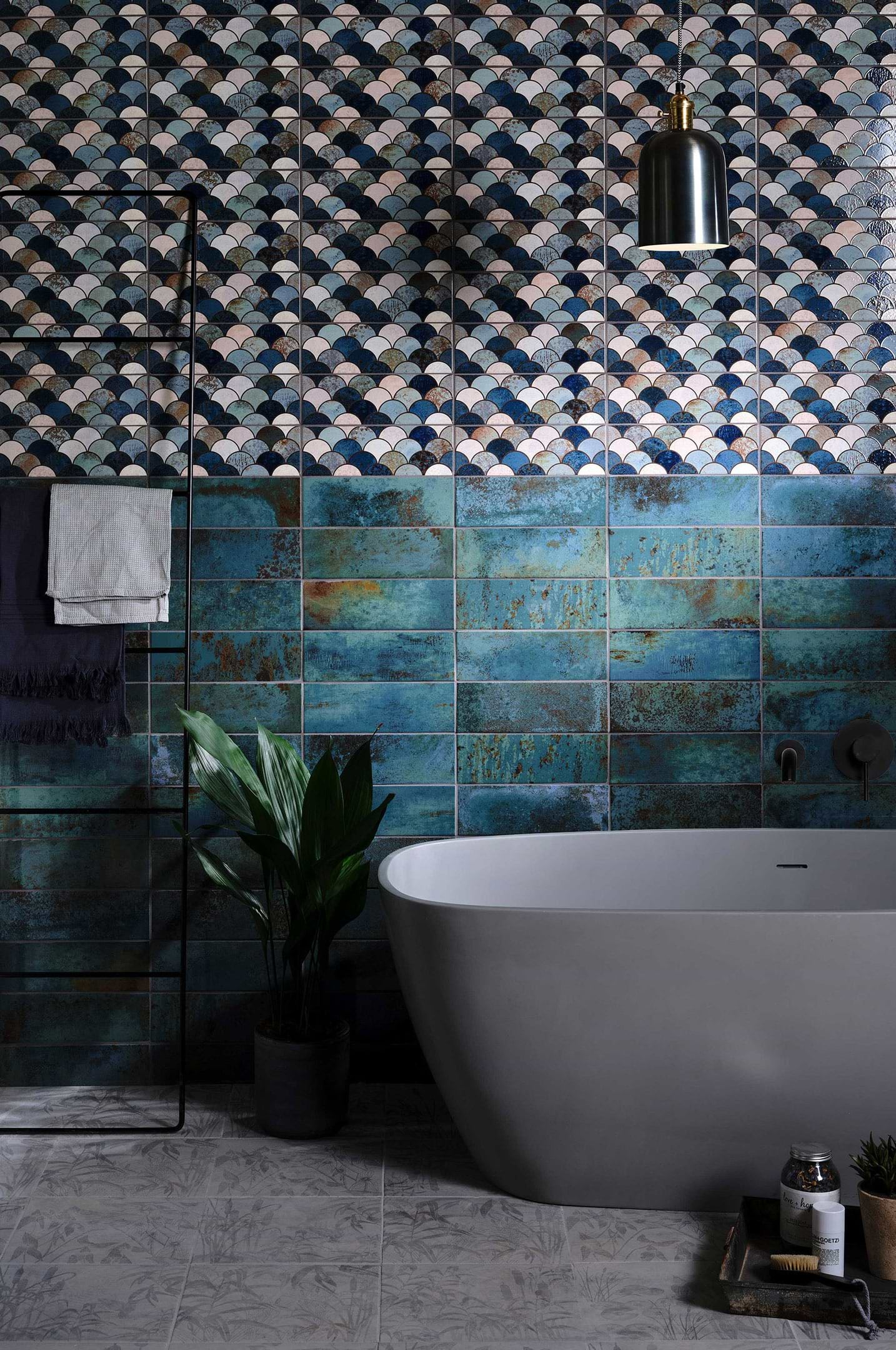 Our new Ca' Pietra Wightwick Emerald ceramic tiles are bang-on-trend with a textured gloss finish and iridescent variations. However, these actually originate from the work of a 19th Century potter and tile designer, William Frend de Morgan. This match-made-in-heaven, where the old embraces the new, has created this stunning collection. It comes in six shades and is sold in boxes of 34 tiles (1.02sqm). Tile sizes vary and cost from £68.34 per box. Buy them now.
Are you looking for a chance to add a distinctly bespoke, modern element to your project? Then you might be interested in our new panels called Design Your Slabs. You can use them on walls, floors and even furniture however what really sets them apart is their creation. Simply choose any image and we can apply this to large-format MaxFine ceramic panels.
Speak to our team today for more bathroom tiles; Ideas, designs and much more are available! 
Hyperiontiles.co.uk – Frequently Asked Questions (FAQ)
What are the best types of tiles for a bathroom?
The best types of tiles for a bathroom are typically ceramic, porcelain, or natural stone tiles like marble. They are water-resistant and durable. Browse our range of Ca' Pietra bathroom tiles to find the one that matches your interior design style.