Designer kitchen floor tiles carefully curated for you
If you're currently looking for kitchen flooring ideas, tiles could be the perfect answer. After all, they tend to be more durable than other materials, such as vinyl, hardwood and laminate. There also seems to be endless design possibilities for kitchen floor tiles, ranging from the classic charm of terracotta to ultra-modern terrazzo styles. This room continues to be the heart of every home, which means it's likely to be the place where friends and family will congregate. So, it makes sense to create a stylish option underfoot, which is easy to keep clean and will look good for years to come.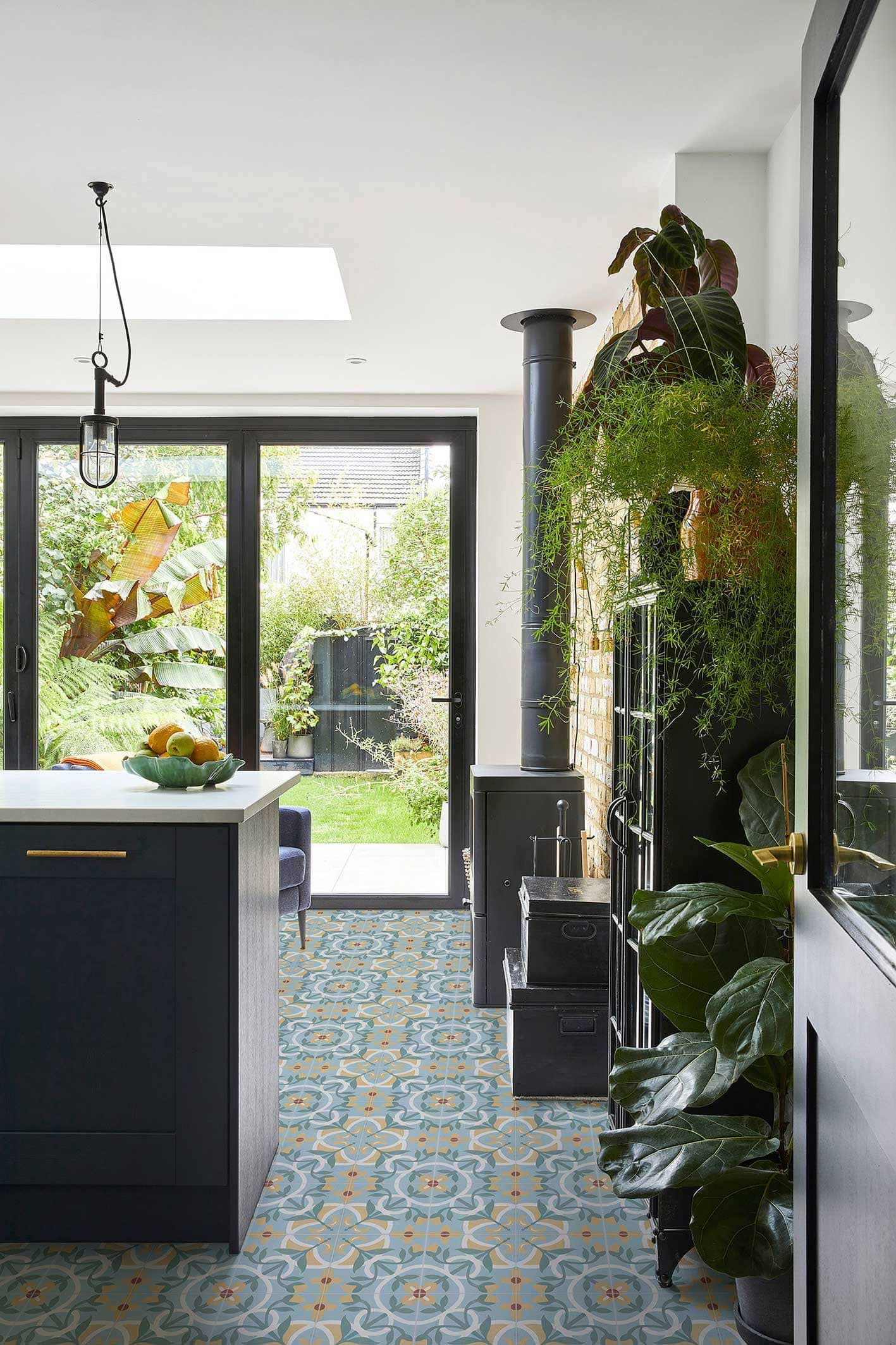 Our new Ca' Pietra Cabana Porcelain Sicily tiles have been designed for those who want to make a strong style statement underfoot. You can even follow this design through to the garden. Sold in boxes of 15 tiles, (0.6 sq m), these interior/exterior tiles cost £43.20
Material matters
When considering kitchen floor tile ideas, why not make the flooring a key feature in this space? Look for something, which is going to stand the test of time, and will suit your cabinetry, too. Kitchen flooring needs to stand up to the job in hand, especially if you have children, pets and regular guests. Porcelain, terracotta or stone flooring could be among your best options as these materials are durable so you can feel confident that they will last.
Porcelain kitchen floor tiles
These tiles are made from a variety of natural materials, including very dense clay. Fired in a furnace together, porcelain is non-porous, making it a perfect addition to a kitchen. It's highly resistant to wear too, when compared to other materials. These kitchen floor tiles are easy to clean and can withstand moisture. You won't need to maintain them per se - a simple clean should keep them in top condition. Style-wise, you'll find there is a huge variety in terms of colours and patterns. You can even replicate the look of other materials, such as marble.
If you're looking for a pretty addition to your kitchen, our Ca' Pietra Mono Hex Porcelain Daisy Mosaic tiles, £8.55 per sheet (12.82 sheets per sq m), could add the perfect finish
Terracotta kitchen floor tiles
The word terracotta, when translated from Italian, means 'baked earth'. This type of clay is built to last and can withstand a lot of wear and tear, making it a great choice underfoot for the heart of your home. These kitchen floor tiles tend to feature a warm, earthy feel and, once sealed, they should be resistant to water, too.
Stone kitchen floor tiles
Natural stone is highly durable and it looks beautiful too, so this material makes a great choice for kitchen floor tiles. Both versatile and practical, it's seen as a traditional form of flooring, however you can choose classic or modern design styles to create an individual look. Stone also tends to improve with age for a more distinctive design. Some versions are available for you to extend your kitchen flooring outdoors for a natural flow and a seamless finish.
An interior stone floor can be cold, however underfloor heating can solve any issues. Once this natural material warms up, it tends to retain the heat well too. You will need to keep these kitchen floor tiles clean and don't forget to seal them. They may then need re-sealing every four or so years. However, this doesn't seem too much of a price to pay, in return for experiencing the inherent beauty of natural stone on your kitchen floor.
Kitchen floor tiles with pattern perfection
There's no doubt that a patterned tile can make a real impact in a kitchen. Cabinetry tends to come in blocks of colour, so colourful kitchen floor tiles in a distinct pattern will create added interest. They are also practical and can offer some intricate detailing, which will liven up any floor. If you're not sure whether to fill an entire room with a patterned design, you can instead choose to define a specific area with kitchen floor tiles, such as an island unit or dining space.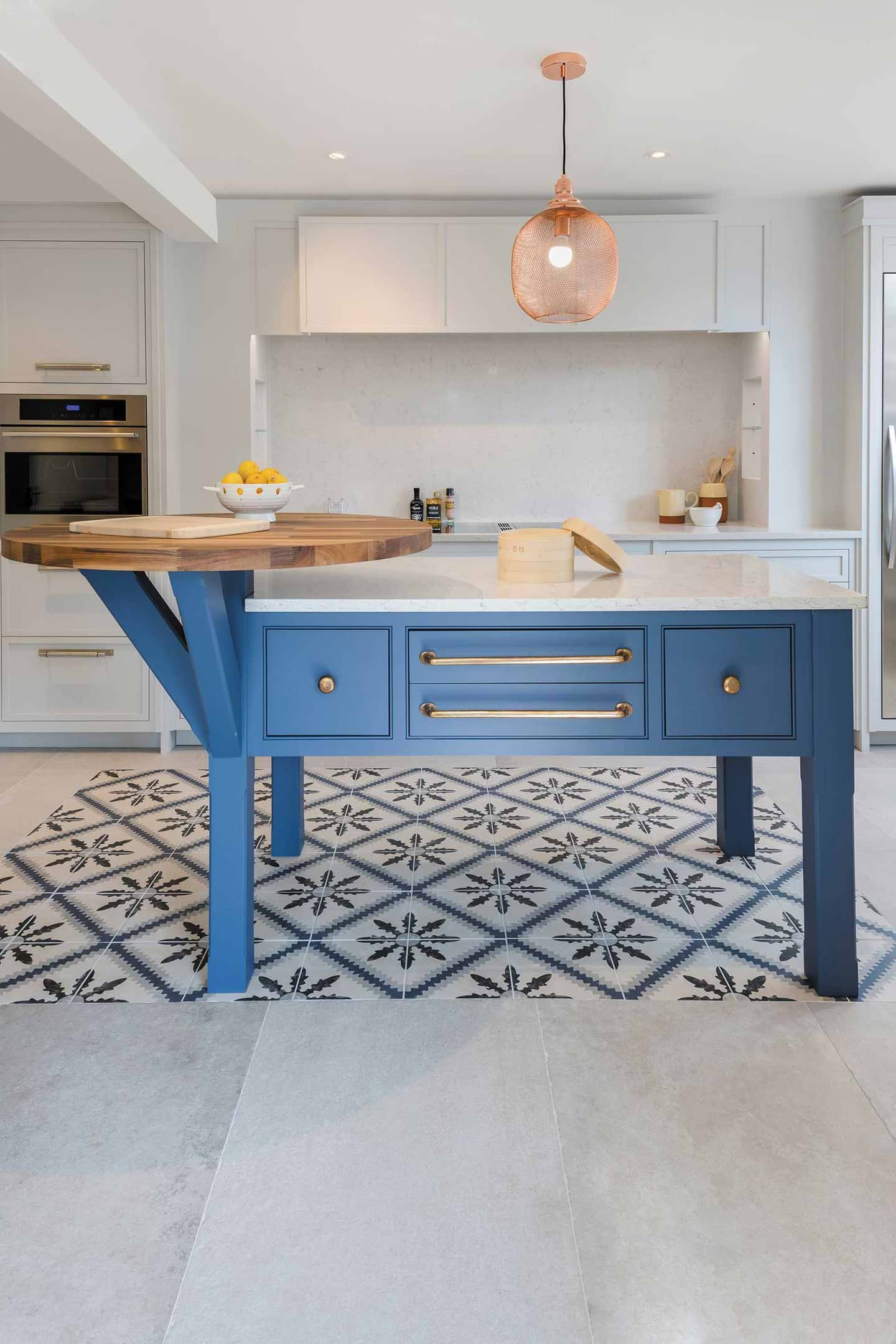 Printed and fired onto a glazed porcelain base, our Ca' Pietra Moroccan Impressions Porcelain Monastery tiles look incredibly stylish under the island unit in this classic kitchen. They come in boxes of 16 tiles, which are priced at £58.80
You could instantly create a more co-ordinated look by matching your kitchen floor tiles with your splashback. Then choose blocks of colour for your walls and cabinetry in the rest of the room so the floor takes centre stage. If you worry that pattern may make the space feel more confined, choose pale shades for a light, airy feel.
Terracotta tiles
If you're looking for a timeless classic, terracotta tiles should tick all the boxes. Whether you choose a square or parquet design, these kitchen floor tiles have enduring appeal and will help you create a luxury farmhouse-style kitchen with a traditional feel. Handmade versions will also give you a more authentic look.
The parquet look is bang-on-trend so we think you'll love our Ca' Pietra Marlborough terracotta tiles, £63 per sq m. These are handmade and require sealing for a super-stylish, ultra-durable finish
Square kitchen floor tiles look particularly gorgeous if you choose a light grey grout. Meanwhile, rectangular versions look stunning, if you place them in a geometric (parquet) pattern. Pick a light-coloured grout, too, for more classic appeal which will also give your flooring a lighter look.
Slate tile style
If you're looking for a stain-resistant floor, which is waterproof too, why not add slate to your wish-list? This stone harnesses an essence of natural beauty, which looks so special in a country farmhouse kitchen. However, this natural material can work just as well in a modern space, too. It's a timeless flooring option, which tends to showcase beautiful grey hues.
With striking riven detailing, our Ca' Pietra Metropolitan Slate Parquet tiles are adding the perfect finishing touch to this classic luxury kitchen. They are priced at £61.20 per sq m
If you're concerned slate kitchen floor tiles may feel cold underfoot, think again as these retain heat beautifully. Slate will also complement underfloor heating, which can provide a modern touch to a home. Choose parquet style to add an extra dimension to your floor design.
Limestone luxury kitchen floor tiles
This can be a great choice for your kitchen floor. Like slate, this stone works well with underfloor heating. If you're looking for an aged look, tumbled tiles should add that special finishing touch. They tend to soften the stone's colour tone and feature a slightly textured surface. This flooring needs to be sealed and you'll discover it's highly durable, whether you're looking for kitchen floor tiles which are stain or chip-resistant. You'll also find every slab will be unique, which will instantly provide you with a bespoke floor design.
Interesting fossil detailing instantly adds plenty of character to our Ca' Pietra Calcot Limestone tumbled finish tiles. Perfect for the kitchen, you can use them on walls too, throughout the home. Choose from a random or Spanish pattern, from £67.50 per sq m
Get the terrazzo look
The terrazzo trend continues to be hugely popular for modern kitchen floor tiles and it's easy to see why. This style features a continental look, which originated in Italy in the 16th Century, hence the name derives from the Latin word 'terra' which means ground. In the past, fragments of marble chippings were set into cement. However, these days, you can pick up porcelain versions, which look just as good. As a result, you'll find you'll benefit from a smoother finish, which is water-resistant and highly resistant to scratches, too.
Our Ca' Pietra Geo Antricita Porcelain tiles, in the on-trend terrazzo style, can be used inside and out if you who are looking for a seamless flow from your kitchen to your garden. Measuring 80 x 80cm, these large format tiles come in four options - two patterned and two field tiles. Light and dark hues with colourful terrazzo speckles help to pick up the light. Sold in packs of 2, these cost £92.60 for 1.28 sq m
If you're planning to decorate your bathroom, check out our striking bathroom tile ideas blog, which will instantly add pizzazz to your project.
Hyperiontiles.co.uk – Frequently Asked Questions (FAQ)
What are the best materials for kitchen floor tiles?
Common materials for kitchen floor tiles include porcelain, ceramic, natural stone (like slate or travertine), and luxury vinyl. Porcelain is a popular choice for its durability and water resistance. Browse our range of kitchen floor tiles to find the style that matches your aesthetic.