It's time to update your home with distinctive, long-lasting tile floors! Your floor will look fantastic anywhere thanks to these top tile flooring ideas, especially in bathrooms, kitchens, and other wet spaces.
With the most innovative designs, textures, and patterns in the flooring industry, tile has exploded in popularity over the past ten or so years, expertly emulating the latest wood looks.
Things are about to get much more interesting in 2023, and this trend info will give you all the specifics. Be prepared to see a focus on enormous wood-like planks, striking patterns, forms, and decorations, as well as many fresh, youthful looks.
Hot New Trends
The most interesting aspect of this year's tile flooring trends, as already indicated, is how realistic they can be made to look. One of the hottest options on the flooring market for contemporary tile appearances is the amazing intricacy with textures and colour variance.
There will be a lot of classic wood and stone tile designs available in 2023, along with a few exciting new possibilities.
Wood looks are still strong, although concrete styles have gained popularity. The benefits of porcelain tiles' longevity and ease of care are combined with inkjet technology to produce remarkably lifelike wood, stone, or concrete effects on the tiles.
Ceramic tile flooring used to be well-known for closely resembling genuine stone. As you can see, tile was a master of disguising even before it was considered hip or fashionable for flooring.
That their present natural wood varieties are pretty much the hottest thing in the flooring industry is no surprise. Manufacturers can now replicate all the most popular wood flooring designs, complete with textured appearances.
In 2023, wire brushed, hand scraped, and distressed wood surfaces will be the hottest texture trends in both solid hardwood and wood replicas. They are all comparable and frequently mistaken for one another.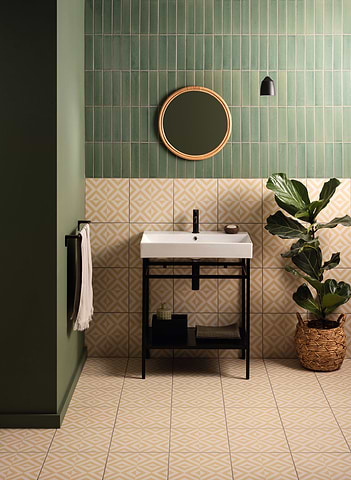 Get The Wood Look
Each textured wood finish has its own distinct style and personality. Each of these three possibilities has a distinctive quality, and no two textured wood planks should ever be identical.
The surface of wire brushed wood-look tile appears to have been intentionally and subtly scratched by wires, exposing the "wood's" inside. Compared to the aesthetics of hand scraped or distressed wood, these flaws are smoother and more uniform.
The appearance of long, ingrained scrapes with significant variance across planks can be seen in rustic, hand scraped wood-look tile, giving each plank the appearance of being handcrafted, one-of-a-kind, and uncommon.
Distressed wood-look tile frequently seems hand-scraped. However, distressed appearances give the impression that they have seen significant wear and tear. Expect to find scratches, burns, knots, wormholes, and other imperfections that give it an old-fashioned appearance.
These wood-textured tile flooring give your house a pleasant, modern, and costly appearance. If you choose ultra-durable tile versus finicky hardwood, you will get an equally elegant look with far less anxiety and upkeep.
Stone Tiles
Tiles that resemble stone are very popular in bathrooms and kitchens. Manufacturers are beginning to go above and beyond by delivering stunningly realistic stone effects in slate, travertine, limestone, and other materials due to the persistent demand for these natural looks in inexpensive tile.
We recommend sticking with marble, limestone, or slate to achieve the most classic stone appearance. They will both withstand the rise in wood-look competitors and have a clean, beautiful appearance.
Marble-Look Tiled Surfaces
Has the marble appearance ever gone out of vogue, really?
Marble floors are one of the most sought-after diamonds on the market for flooring because of their brightness, cleanliness, and elegance. Unfortunately, the majority of people cannot afford to have kitchen floors made entirely of marble.
The truth is that there is a good reason why marble aesthetics are instantly connected to sophisticated elegance. They are extremely expensive when you first get them.
Fear not, there's good news! Manufacturers of ceramic tiles have perfected the marble appearance and provide it to you in a less porous, more robust, less expensive, and more readily available material. The best of both worlds exists here.
Bathrooms are where marble aesthetics are most popular right now. They transform your master bathroom into something out of a palace or a posh hotel, and you can buy them for a lot less money than you would have to pay for the genuine thing.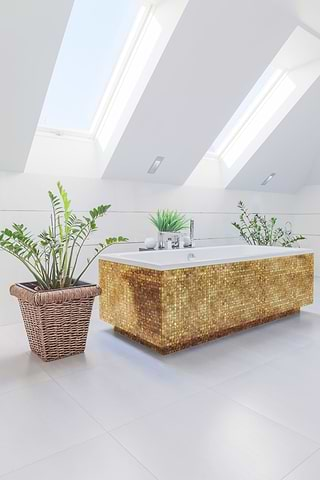 Concrete-Look Tiled Surfaces
Contemporary interior design is incorporating concrete looks! Concrete countertops, large concrete tile slabs, you name it. This sleek, contemporary style is trendy.
Despite the popularity of warm, rustic designs in 2022, there is still a market for a more chilly, distant appearance for 2023. A concrete-look tile is a great addition to a fashionable apartment, while a rustic wood floor is ideal for your family home.
Will The Trend Of Concrete-Look Tiles Continue Past 2022?
Maybe, maybe not. It just goes against all the other cosy, organic trends we're noticing. The industrial concrete style is predicted to remain popular for the foreseeable future before fading away as soon as anything fresh emerges.
Flooring Made Of Decorative Tile
Nothing makes a statement like a decorative tile, which is why more and more individuals are utilising their floors to showcase their unique personalities. This is your chance to use innovative graphic designs to transform your floor into a work of art. You may find decorative tile flooring in a variety of looks to go with the rest of your room. 
More and more people are using their flooring to create a certain mood or feel in their homes. Therefore, we require more possibilities and in response, designers are offering more exquisite colours than ever before. We hope this article has helped you decide which floor tiles to choose. For further information about our fantastic range, get in touch today.
Hyperiontiles.co.uk – Frequently Asked Questions (FAQ)
Do floor tiles require special maintenance or sealing?
Porcelain and ceramic tiles are generally low maintenance and don't require sealing. Natural stone tiles may need sealing to prevent staining. Vinyl is low-maintenance as well. Browse our range of floor tiles to find the style that matches your aesthetic.