Find out why you should use glass mosaic tiles to create a striking effect in your home
Whether building your first home or considering remodelling your property, decorating your home is an excellent opportunity to personalise your space. A home improvement project lets you create a comfortable and welcoming area for everyone. It can also be a rewarding endeavour that will eventually improve your mood and well-being. 
If you want to customise a unique space, you can give your interior design the wow factor by using glass mosaic tiles. They can help to beautifying kitchens, for example, where homeowners can use them between their base and wall units and so much more. 
What are glass mosaic tiles?
Original Style Aqua Scale Frosted Tiles
Glass mosaic tiles comprise small pieces of glass connected with a fibreglass mesh. They're available in different colours and sizes and are ideal for interior decoration design, especially in cabinets and kitchens. Also, glass and ceramic tiles are the new and popular wall covering types in the construction industry. 
What are the advantages of using glass tiles?
Contractors recommend installing glass and ceramic tiles for kitchen flooring as they can enhance your home's aesthetic appeal. Glass tiles are beautiful due to their durability and low upkeep requirements. You can also use glass mosaic tiles to get a glossy finish. Moreover, you can customise glass tiles to your favourite colours and designs.  
These materials also have a straightforward installation process and don't require advanced skills or experience. Moreover, glass tiles are waterproof and highly fire-resistant, making them a practical choice for kitchen flooring. 
What are the disadvantages of using glass tiles?
Although glass tiles, whether newly manufactured or recycled, are beautiful home options, remember that they have unique drawbacks. They're costly, making them unsuitable for homeowners decorating their houses on a budget. These materials are also time-consuming to install and are prone to scratches and damage from sharp objects. 
Moreover, if you plan to use glass tiles for flooring, you must be cautious about their susceptibility to damage. It's always best to carefully evaluate all factors before purchasing glass mosaic tiles. 
Three common uses of glass mosaic tiles in the house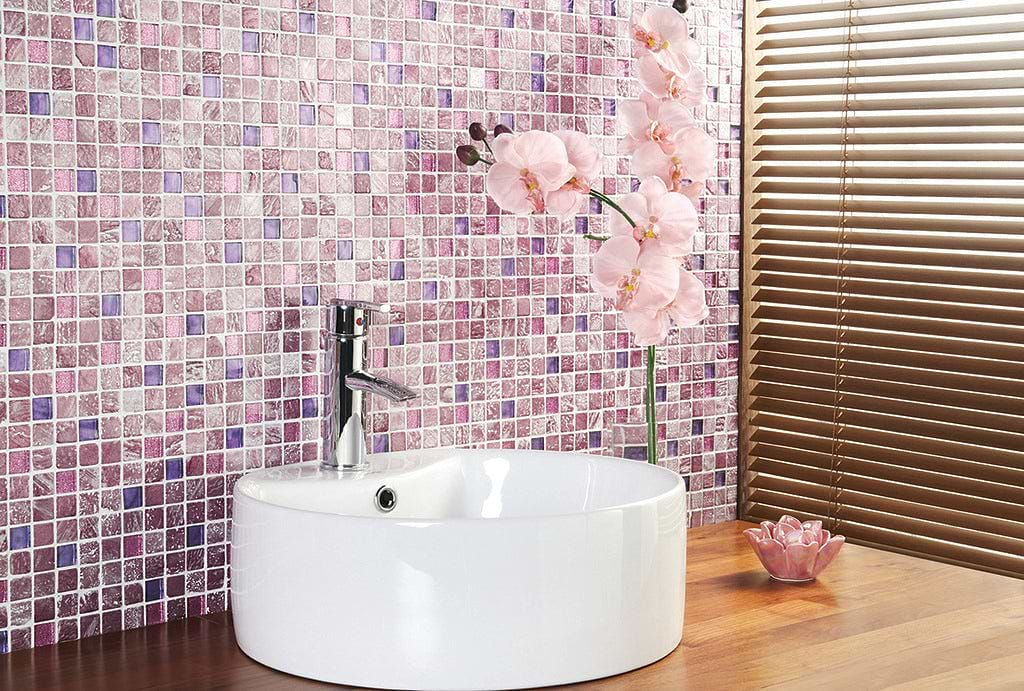 Original Style Actimira Glass & Stone Mosaic Tiles
From being attractive wall decor to provide a decorative element above an appliance, here are the three daily applications of glass mosaic tiles in your precious space:
For home decoration 
Your home deserves a makeover every once in a while. Adding glass mosaic tiles as decorations is the best way to transform your ordinary cooking space into something more captivating. 
Other homeowners hesitate to use glass tiles, whether recycled or new, for decorating their houses because they assume it's only for the cabinets and kitchen. However, that's not the case, as they have numerous home decor and kitchen design applications. They're also ideal for flooring.
Behind the dishwasher 
 Home interior designers highly recommend glass tiles for the area behind the sink, especially the wall behind the dishwasher that constantly faces splashes and unsightly grime. Besides adding a unique look to your kitchen's overall look, it's also easy to clean. 
Between your cabinets 
Contractors commonly use coloured glass tiles in the space between cabinets, earning their nickname "inter-cabinet glass tile." Before installation, your contractor will accurately measure the area using metres and laser levels. They'll also consider the appliances or fixtures in the space, like switches and towel dryers. They'll then laminate the glass tiles and glue them. 
Moreover, the surface must be smooth but doesn't usually need polishing. Contractors can also install stained glass on tiles, ceramics, plaster, and Medium-density fibreboard (MDF). 
Three other uses of glass tiles
Many people in the market usually call glass-ceramic tiles kitchen glass or inter-cabinet. However, that's mainly due to the sellers' insufficient knowledge, where they assume they're only suitable for those specific applications. Besides the kitchen, here are the three other common uses of glass tiles. 
Luxury bathrooms  
Many homeowners use glass mosaic tiles in bathrooms and baths or combine them with other tiles like ceramic stone. They may also opt for recycled glass tiles for a more sustainable option. Thanks to the vast designs available, they've become essential in creating luxurious bathroom decor. You only need a creative vision and artistic flair to envision and realise your desired layout.
Pools and jacuzzis
Glass tiles and clear glass mosaic tiles can significantly improve the appearance of pools, saunas, and jacuzzis in commercial or personal environments. This material is also commonly used in massage parlours. 
Lobbies in residential complexes and hotels
Using glass tiles in high-end areas like hotels and residential lobbies can be beneficial if you choose the colours and designs carefully and professionally. When the space's colour space complements the glass mosaic tiles, it creates a luxurious and enjoyable atmosphere for a commercial or residential setting. 
How much does a glass tile cost?
The glass mosaic tiles' prices can fluctuate depending on their dimensions and size. You can determine the cost of glass tiles by looking at their size and shape. You should also know that the tile's colour and pattern can impact its price. Moreover, glass tiles are available in sizes ranging from five-by-five centimetres to 60 by 60 cm, or larger or smaller. 
How do people make glass mosaics and tiles? 
Also called glass mosaic tiles by manufacturers, glass and ceramic tiles require careful handling during production. Workers cut the glass to the desired size and heat treat it to create crystal pieces. They'll then apply ceramic paints before baking the tiles at high temperatures. Once finished, workers will sort, arrange, and package the materials for shipping or purchase. 
What you should know when using glass tiles in the kitchen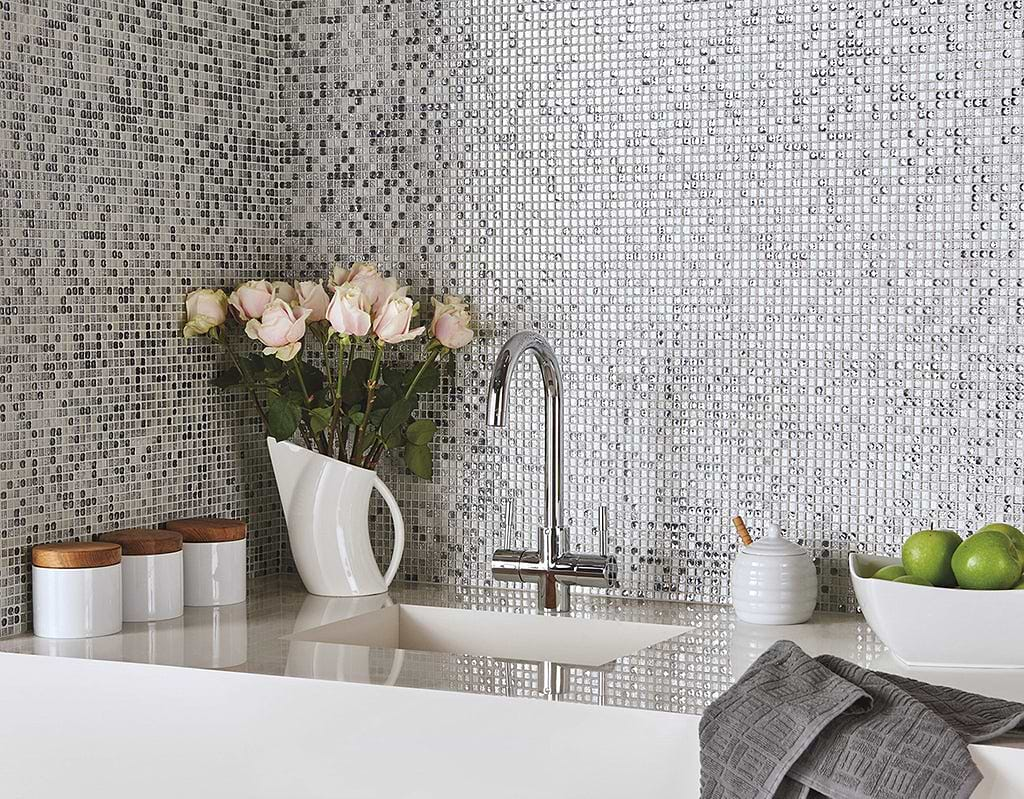 Original Style Agra Sparkling Mosaic Tiles
Glass tiles are durable and come in different colours and sizes, but you can use recycled ones for a more sustainable choice. Before installing, you must also test the colours and designs to avoid wasting time and money. Moreover, use strong adhesives when you want a permanent look. 
Use a faded or combination wall cabinet for monochrome kitchens. Use a variety of tile designs on the main wall behind your stove, and add a copper foil border. 
Tiling an attractive space
While glass mosaic tiles are initially expensive, they will be worth the cost once you see the beautiful outcome. You can enhance your room's appearance by considering your needs, choosing the right colours, and shopping from suppliers. You can also invest in recycled glass tiles to ensure sustainability. 
If you need quality
recycled glass tiles
in the UK, visit Hyperion Tiles! We're committed to helping property owners design more attractive buildings with our vast selection of durable finishes and materials. Shop now!
Hyperiontiles.co.uk – Frequently Asked Questions (FAQ)
What should I consider when installing glass mosaic tiles?
Proper installation is crucial for the longevity of glass mosaic tiles. Factors to consider include substrate preparation, adhesive selection, grout choice, and the use of appropriate tools. It's often advisable to hire a professional installer to ensure a successful and long-lasting installation. Browse our range of glass mosaic tiles to find the style that matches your aesthetic.