For years chrome, stainless steel and silver have been the default metals of choice in most modern bathrooms. But as metallic finishes in general have grown in popularity, warmer metals like brass and copper have started to make their mark too. Now, however, there's a new interiors trend in town – and it's time to be bold with gold. Expect to see this surprisingly versatile shade enjoying a moment in both domestic and commercial settings, with gold bathroom tiles set to take centre stage.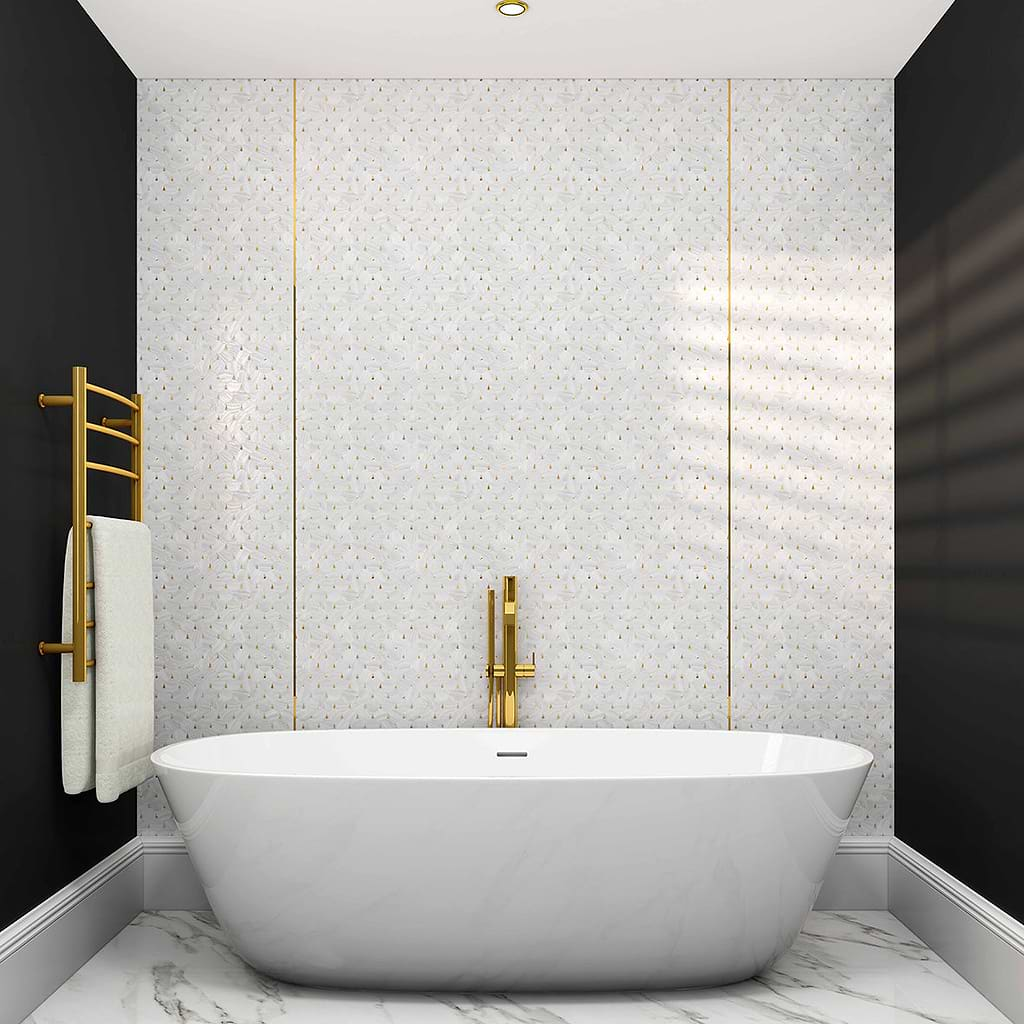 Our Siminetti Pearl Drop Feature Panel (£2,202 per sq m) offers endless statement wall tiles possibilities. It uses Siminetti's most exclusive saltwater mother of pearl to produce an intricate, hand-crafted design that adds a subtle but distinctive finishing touch to any discerning bathroom decor. Teamed here with a super-stylish marble floor, it creates a fantastic effect
New season, new shade
Many of our customers look to update their homes when the seasons change. Gold palettes are particularly popular in autumn and winter. This isn't surprising. Adding gold instantly changes the ambience of a room, making it look and feel instantly warmer – a big advantage as the mercury falls.
Versatility and harmony
There are other reasons why gold gets more attention at this time of the year. Gold is a classic autumn shade, associated with the turning of the leaves, harvest, and cosy cande-lit evenings. It pairs beautifully with other autumnal hues, but complements pale, minimalistic room schemes too. In addition, this tile tone works brilliantly with natural materials, such as marble and wood, for a clean yet elegant effect.
A new gold standard
Many people have concerns that gold tiles will be too brash and bright. And it's true that the 80s have a lot to answer for! But modern incarnations are nothing whatsoever like the garish, gaudy designs of the past. If you monitor this trend on Instagram, you'll find plenty of interior designers and homeowners are adding accents to projects on site. There are plenty of ways to use subtle, muted shades of gold, to create a chic, stylish interior.
Fans of mirror and metal-effect porcelain tiles are sure to love our Minoli Reflect Aurore Antique 20 x 60cm tiles (£518.40). The lustrous gold layers and subtle sparkles on these wall tiles are the result of a two-year research and development programme, and create a fabulous focal feature for any interior design scheme
The luxe look
Gold has always been associated with luxury and high-end style. Warm metallics are a fail-safe way to add opulent elements to any decor. You can use this tile hue sparingly, as an accent. Or you can make them a central feature of your interiors. The only limits are in your imagination. These days, everything is possible, and anything goes!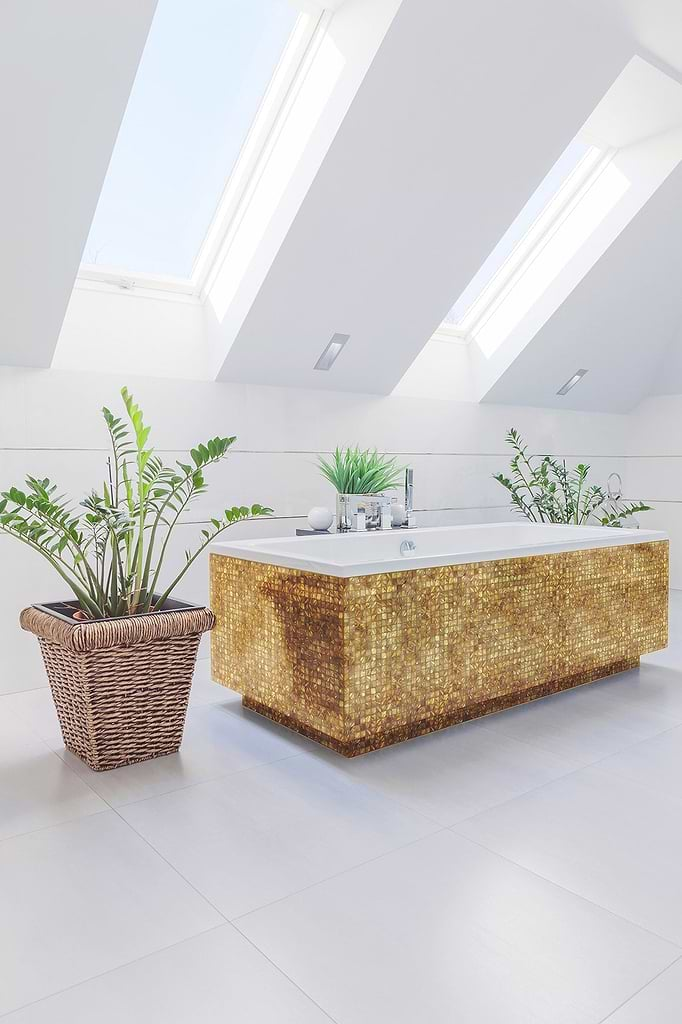 Get ready to take the statement bath concept to the next level with our Siminetti Emerald Gold 25mm Square tiles (£174.60 per sq m)
Different types of gold bathroom tiles
As you'd expect, we offer a wide selection of gold tiles, in all sorts of formats, in both matte and gloss finishes. Whether you pick a plain or patterned, small or large format, hexagonal or mosaic tile, we really do have something to offer every space and taste.
We have gold tiles for floors and walls, allowing you to mix and match accordingly, either with each other, or to complement other selected design highlights. And of course, we offer gold tile designs in a variety of different materials, including porcelain, glass and encaustic.
Using gold tiles for interior accents
There are lots of different ways to use gold tiles, especially within bathroom settings. If you've never used gold within your interiors before, start small with accents. When incorporated creatively, this sort of tile can add interest and individuality to any room. For example, gold accents look gorgeous in light, white settings, but they add a dramatic touch to dark interior design schemes too.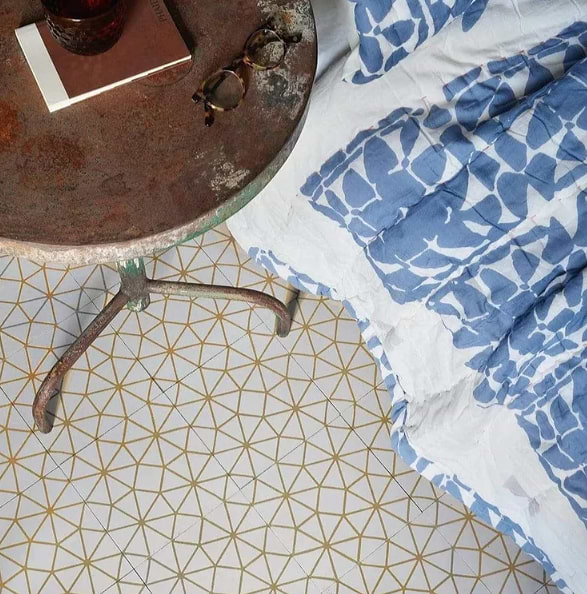 When less means more: Add a subtle gold accent to your bathroom decor with a tile. Check out our Bert & May Anthropologie Gold Tiles (£180 per sq m)
Classic colour combinations
Choosing gold bathroom tiles for your floor is a really effective way to introduce a metallic accent. A subtle gold patterned tile won't overwhelm the rest of your room. But it will complement any other gold elements, such as your taps, towel rails, mirrors, light fixtures and accessories.
 How to tile with gold and a contrasting shade
White and gold is a classic tile colour combination, especially for smaller bathrooms. White always creates feelings of space and tranquillity, while adding gold tiles brings warmth and depth to a design. But black and gold is becoming increasingly popular – especially for clients who prefer more dramatic interiors – as is black, white and gold! Gold bathroom tiles will soften a dark room scheme, and a glossy finish will help to reflect light around the space.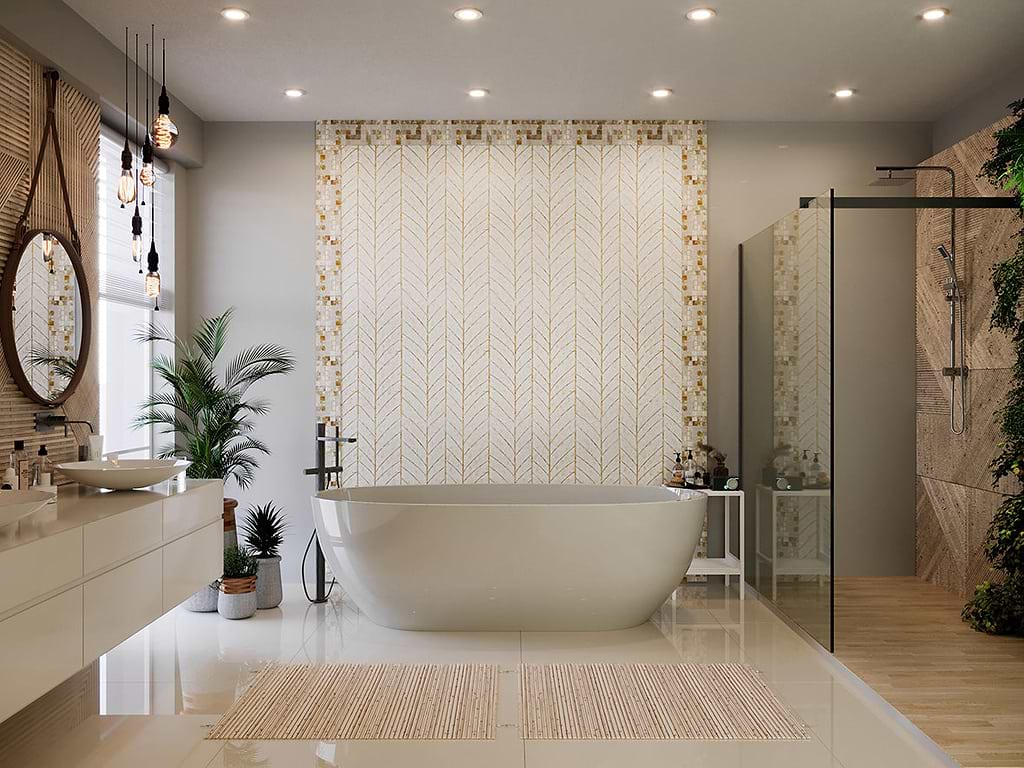 It's parquet – but not as you know it! Our Siminetti Natures Herringbone tile (£3,456 per sq m) uses a nature-inspired leaf motif to produce a herringbone pattern that's perfect for interior and exterior feature walls, backsplashes, shower walls and furnishings
Using gold tiles for feature walls
If you really want to make a style statement with perfect products, say it with a gilt tile. These tiles don't just work well as accents. You can use them to make a striking feature wall for a personalised approach. Cover an entire wall with gold tiles, or pair with another hue to really increase the wow factor. You can even include a border or 'column' accent to your feature wall, for maximum impact. If you feel an entire wall would be too overwhelming, why not introduce some gold bathroom tiles to a feature wall panel instead?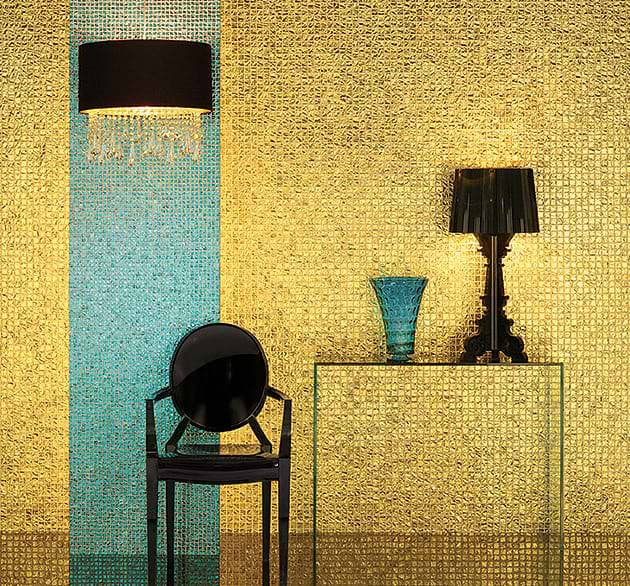 Now that's what we call a feature wall for luxury bathrooms! Unleash your imagination and elevate your room scheme with our stunning Original Style Byzantium Gem Gold Rush Glass Mosaic tiles (£26.95 per sheet)
However, feature walls aren't just about the shades you choose; they represent the perfect opportunity to experiment with texture and pattern too. A little sparkle will also maximise a room's natural light, and can help a room look and feel bigger. And there's no sign this hue is waning.
Gold baths and showers
Gold bathroom tiles aren't just ideal for feature walls. You can use them to create statement baths and eye-catching backsplashes, and to transform stand-alone shower areas.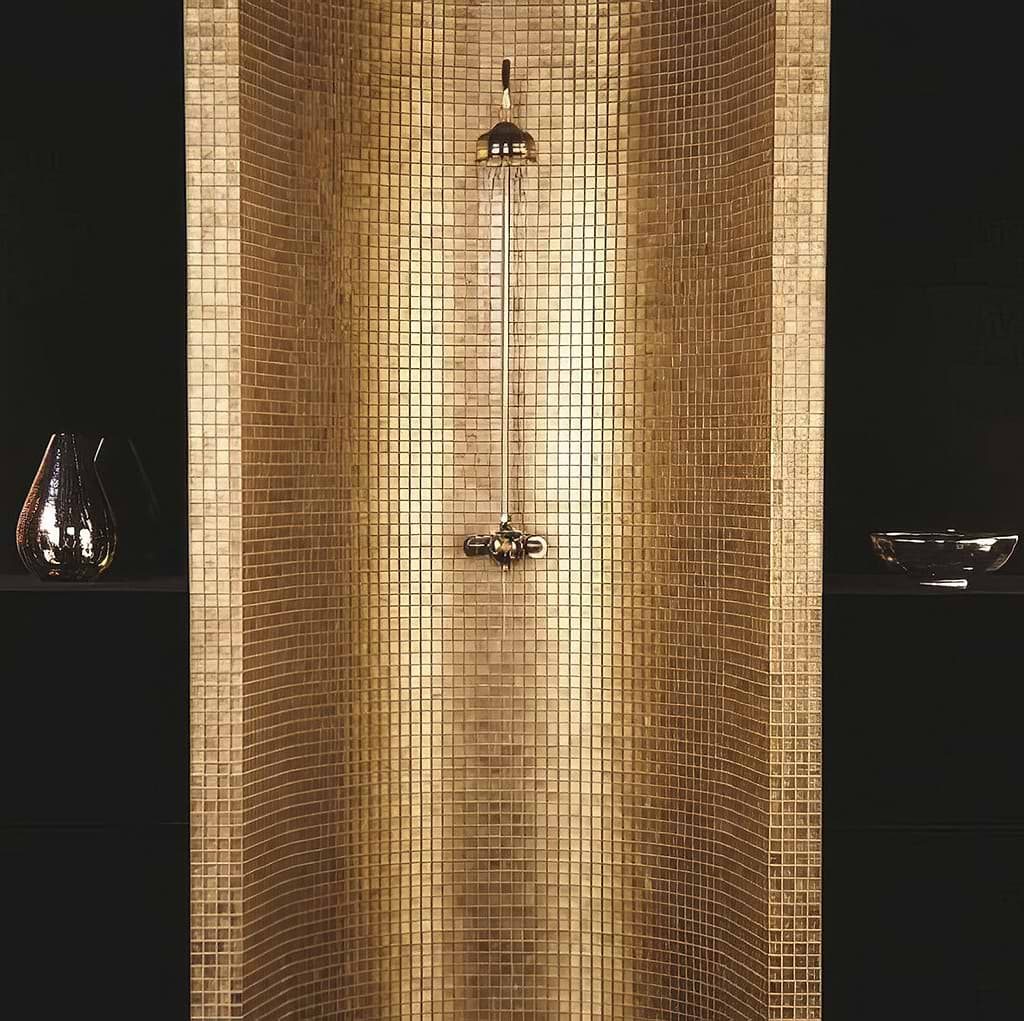 Bring on the bling with our Original Style Bullion Gold Rush Glass Mosaic wall tiles (£27.49 per sheet) – the perfect way to make your shower wall or splashback look a million dollars
Mosaic tiles work especially well in all of these scenarios. A stand-alone gold bath makes a fabulous focal point within a neutral all-white scheme. Or why not use this tile style to add the Midas touch to a contemporary shower stall? Pair with matching gold sanitaryware for unashamed, all-out luxurious opulence.
Gold too bold? If you're a fan of more minimalist palettes, click here to learn more about the trend for beige tiles for bathrooms
Hyperiontiles.co.uk – Frequently Asked Questions (FAQ)
How many tiles should I buy?
We recommend that you buy at least 10% more tiles than you require to allow for any damages during installation. Browse our range of gold mosaic tiles to find the style that matches your aesthetic.