How to bring instant character to your project with hexagonal tiles
There's a new tiles trend in town – and the smart money says it's here to stay. Hexagonal tiles have taken the interiors world by storm this year, and it's easy to understand why. There's no better way to introduce colour and a dash of originality to your home. Hexagonal tiles add personality and pattern to any interior. And they work equally well in both classic and contemporary settings.
Importantly, they aren't just for bathrooms and kitchens. Endlessly versatile, hexagonal tiles are perfect for making a statement in almost any room in your home. We've embraced the current vogue for all things geometric by sourcing a comprehensive selection, available in a wide range of sizes, shapes, textures and finishes, to suit all tastes, personal preferences, and budgets. Read on to discover the different ways to incorporate them in your room schemes, and get ready to rock the hex factor!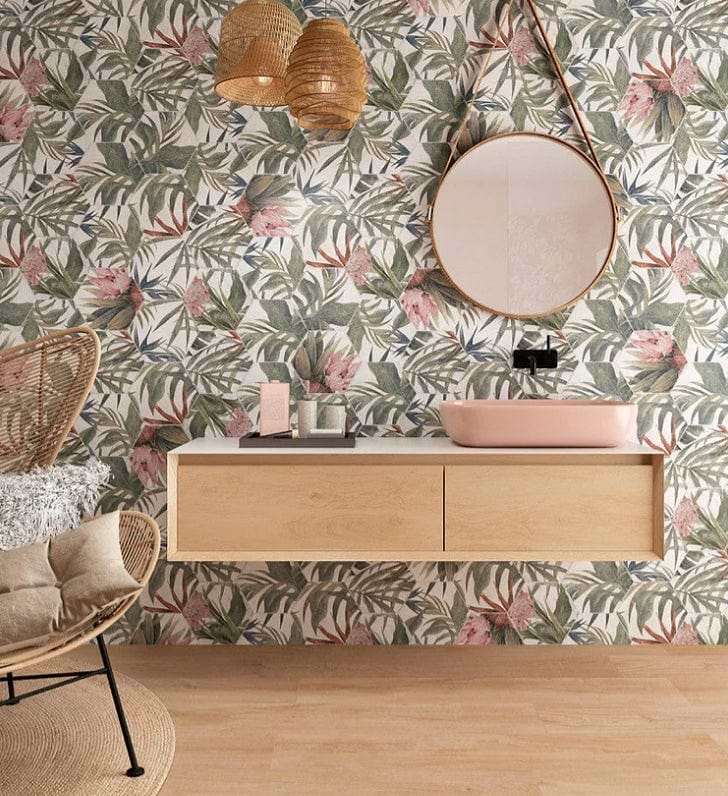 The Hex Factor: Unleash your imagination with our Botanical Hexagon White Floral Tiles (£52.20 per box). They are suitable for interior and exterior walls and floors, and add instant impact to both domestic and commercial settings
What are hexagonal tiles?
Hexagonal tiles are also known as honeycomb tiles. They are six-sided, tessellating tiles, which are laid to form a full or partial hexagonal grid. Usually, all six sides are the same length, although elongated versions are available. Their classic yet modern shape allows them to be easily repeated in a tile pattern. Hexagonal tiles offer pleasing visual precision, and create beautiful lines and angles.
Making a statement
Hexagonal tiles are most often used to add interest and impact to feature walls, floors and splashbacks. The same matching tiles can even be used on a room's walls and floor, to create an eye-catching, seamless flow.
One of the primary advantages of hexagonal tiles is their ability to create original patterns. In terms of aesthetics, they offer excellent creative opportunities. You can go big and bold with a bright wall-to-floor motif. More recently, floral patterns have proved popular for bathroom feature walls. But plain hexagonal tiles can still be transformative, especially when used to highlight panels, or for zoning. Combining different formats and finishes adds extra 'hex appeal'.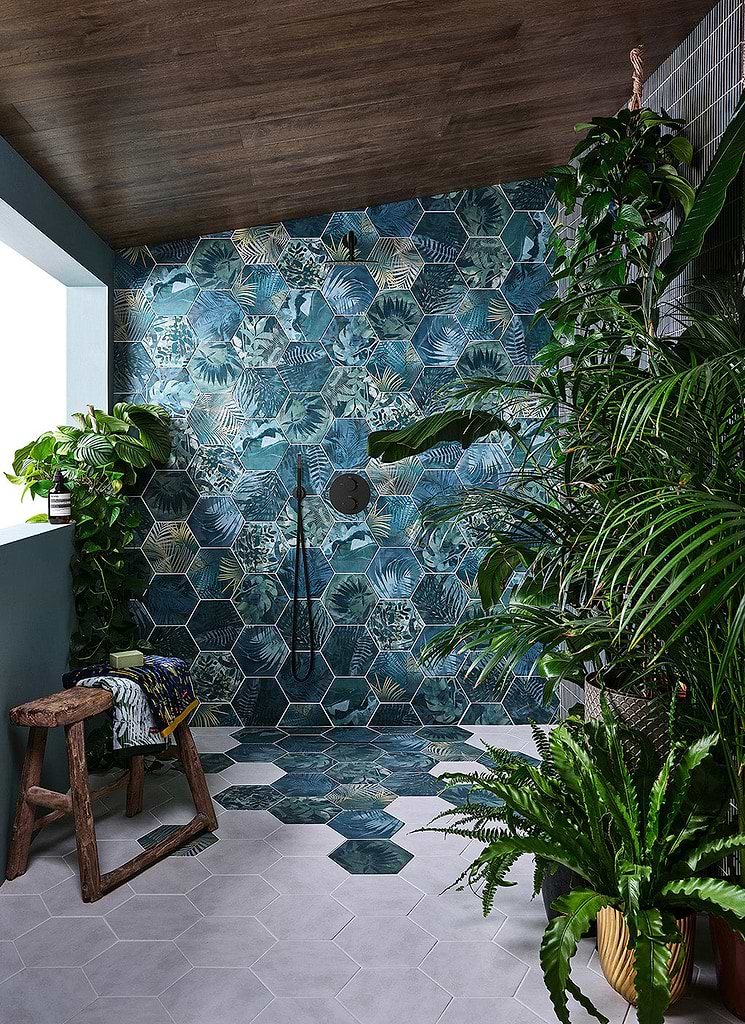 Succumb to Jungle Fever, with our Ca' Pietra Jungle Hexagon Porcelain by Clarissa Hulse collection (£82.42 per box) – perfect for bathrooms and statement wet rooms
Keeping things subtle
However, hexagonal tiles don't have to be flamboyant. You can still tap into the trend – but keep things more minimal – with a monochrome palette. If you prefer muted shades, consider encaustic hexagonal tiles. Our extensive collection includes limestone encaustic hexagonal tiles which are hand-crafted in Spain using cement, crushed marble and natural pigments to produce a beautiful raw, understated finish. Best of all, they are suitable for interior and exterior walls and floors, for maximum versatility. 
Looking for an alternative to the ubiquitous metro tile? White hexagonal tiles – regular or elongated – look great in kitchens, for a fresh twist on an enduring classic.
Keep things subtle with our Original Style White Pearl Hexagon Shell Mosaic tiles (£31.30 per sheet). Made from natural shell, they can be applied to both flat and curved surfaces


Mosaic hexagonal tiles
Many people associate hexagonal tiles with mosaics. A mosaic is simply a design or pattern made up of small pieces of coloured glass, ceramics or stone. In theory, they can be almost any shape. Hexagons have increased in popularity in recent years, especially in bathrooms. They often add a more contemporary/edgier feel than their round or square counterparts. Compared with large/patterned hexagonal tiles, small mosaics are less likely to overwhelm a compact space.
Mosaic hexagonal tiles can be used to fully cover walls and/or floors, or deploy them sparingly as an accent or border. They are an effective device for 'zoning' different areas, such as around a bath or basin, to create visual variety and separation. They also work well to create a feature backsplash, to highlight recessed shelving, or to frame a statement mirror.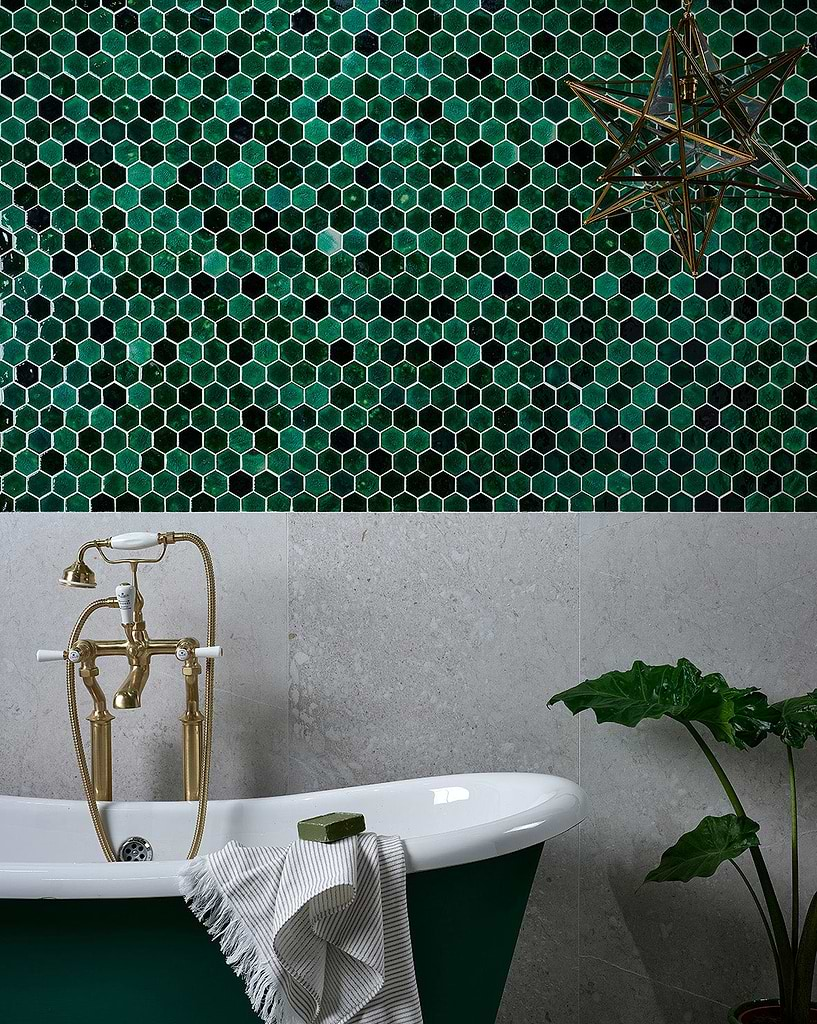 Perfect for zoning or creating contrasting bathroom accents, our Ca' Pietra Akazu Porcelain Emerald Mosaic tiles (£22.29 per sheet) incorporate two complementary jewel tones and feature a crackle glaze finish
Hexagonal floor tiles
Hexagonal tiles are increasingly being used on floors, both inside and outside the home. Their geometric shape is the ideal way to make any floor area stand out: think hallway, kitchen, bathroom, and even living rooms and bedrooms.
Larger hexagonal floor tiles work best in big spaces. Their size tends to look more proportionate, and there are fewer grout lines, which makes the overall effect less busy. Bright shades or interesting colour combinations make a great foil for pale walls and doors.
Large format hexagonal tiles can be used to create cohesion within an open-plan space, and even to connect different zones. Smaller hexagonal tiles can be used to create borders, or introduce complementary/contrasting patterns.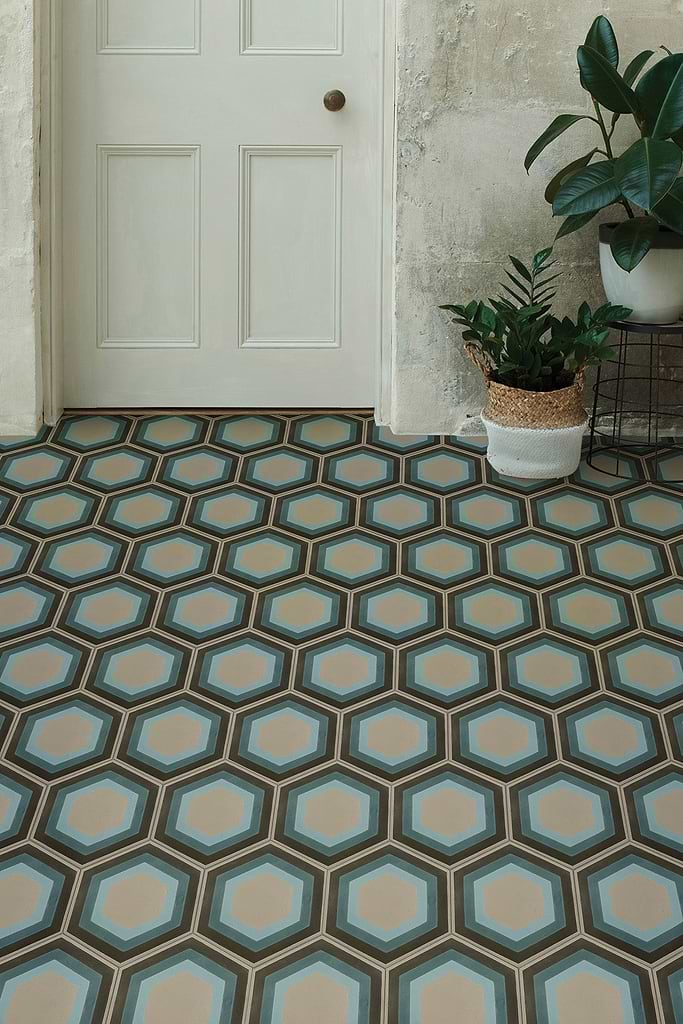 Make a stylish entrance – and exit – with these Ca' Pietra Patisserie Porcelain Blue tiles (£26.46 per box), featuring a chic hexagonal shape and an eye-catching colour combination
The art of camouflage
Yet another advantage of hexagonal tiles – especially when used outside – is camouflage. Their six-sided shape can help to mask uneven flooring and natural ground variations. Laid correctly, they can also help to disguise and re-balance irregularly shaped areas.
While squares and rectangles remain popular for outdoor spaces, hexagonal tiles are gaining popularity for patios and entertaining areas. Brighter patterns add pizzazz, or simply update things with some decorative edging. 
We're famous for our tiles – but did you know we offer a premium paint portfolio too? Click here to learn more about our Ca' Pietra Proper Good Paint™ collection, and how to choose the best paint colours for your home
Hyperiontiles.co.uk – Frequently Asked Questions (FAQ)
Do hexagonal tiles require special cutting tools?
Hexagonal tiles can be cut with standard tile-cutting tools, but it may be necessary to make precise cuts due to their shape. A wet saw or a tile nipper may be handy for intricate cuts. Browse our range of hexagonal tiles to find the style that matches your aesthetic.