Our sales manager Brandon delves into the wonderful world of wall murals to add instant glamour to your bathroom
The best bathroom renovations require some serious prep and planning. That's because for most of us, bathrooms have evolved from being a purely functional space. However, nowadays every single room in our home – including the bathroom – has the potential to be a bona fide living space. So that means colour, art, pattern and texture play an increasingly key role. And wall murals are one of the best ways to harness all of these different elements.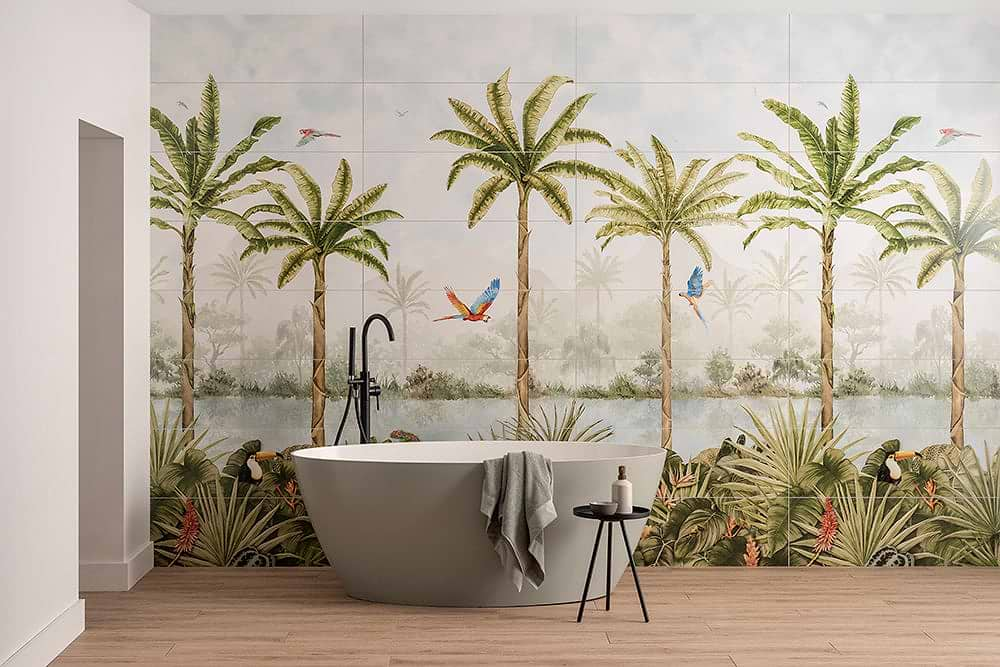 Our Original Style Living's Tropical Oasis Wall Mural incorporates three different panels – each made up of eight tiles (priced at £565.25 per 8 tile panel). These can be combined to create a full-wall bathroom mural. Or use a single panel to introduce a bold burst of lush foliage to a small en-suite or cloakroom
Express yourself
Big or small, your bathroom isn't just a place to get yourself clean. In fact, it's an important retreat, a haven where you can relax, recharge and rejuvenate. Think of it as a place where you can escape the stress and worry of the outside world. And this private, personal space should absolutely reflect your personality.
It looks like the trend for beige bathrooms is unlikely to go away any time soon. But if you're more of a maximalist, get ready to rejoice. Modern bathrooms especially can sometimes look and feel too cold and clinical. The solution? Bathroom wall murals add instant life, warmth and energy. In fact, there's no better way to create a unique interior that serves up style and pizzazz.
What are wall murals?
There are many different types of bathroom wall murals, all incorporating multiple colours, styles and textures. And while they're extremely popular at present, they aren't exactly a brand new design feature. After all, if you think about it, prehistoric cave paintings were probably the first ever interior wall murals!
Wall murals are a form of expression. They are a common interior design feature of many public buildings: think libraries, museums, churches, temples and other places of worship. However, you can use wall murals to decorate exterior spaces – and not just in an official capacity. Banksy is arguably the best known street artist, but wall murals increasingly adorn the outside of many public spaces. And their purpose is by no means solely decorative. Wall murals can tell stories, act as advertising, educate, inform, celebrate different cultures and culture, and even be harnessed to make a political statement.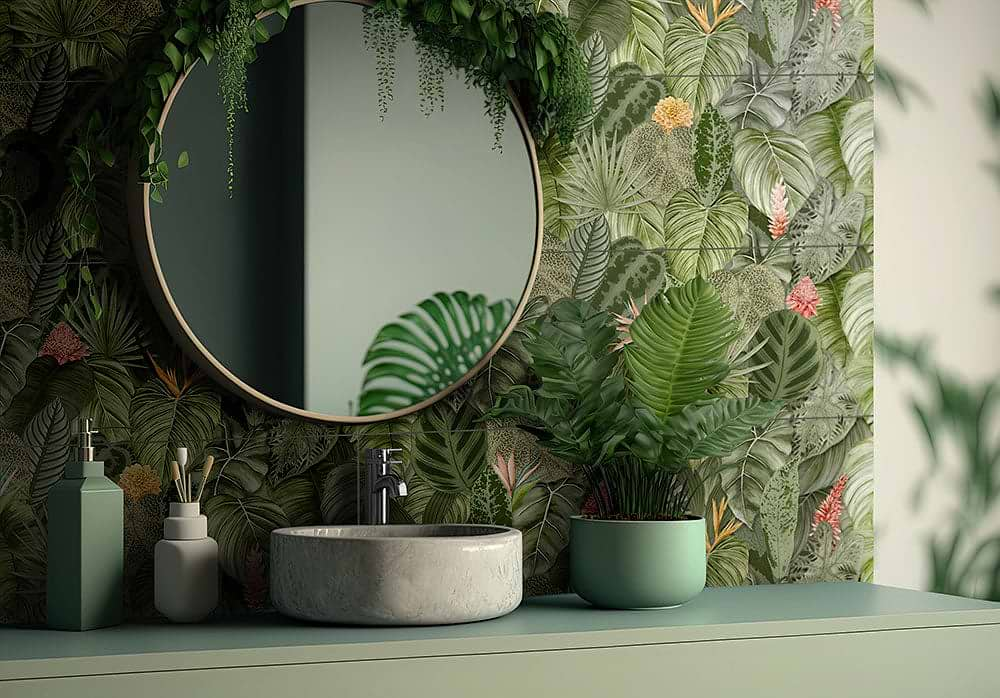 Perfect for backsplashes or smaller feature walls, our Original Style Living's Tropical Oasis Single Tiles (£105.30 per box of two) are patterned repeat tiles with three different faces, for maximum versatility
Why wall murals are having a moment
Back in the home, however, bathroom wall murals are growing in popularity for a number of reasons. As a nation, we are becoming more adventurous generally. More and more of us are looking for ways to make a statement, and differentiate our homes. So wall murals are a wonderful way to make a room truly bespoke, and bathrooms are no exception. Increasingly, in design terms, we want what everyone else doesn't. And wall art, in all its different forms, allows us to indulge our creative streak and express ourselves in different ways.
As interest rates continue to spiral upwards, and the housing market slows, many home owners are choosing to improve, rather than move. Consequently, bathroom renovations are most definitely on the rise. But revamping the walls with new tiles or wall murals is a far more cost-effective option than ripping out and replacing all the sanitaryware. Done properly, however, it's just as transformative.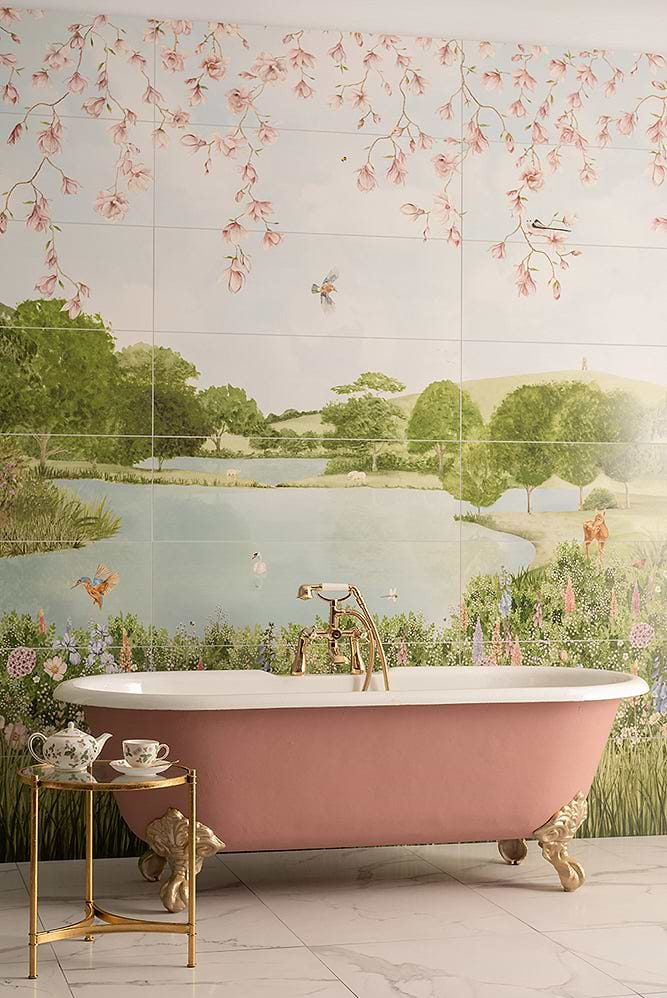 Our Original Style Living's English Garden Wall Mural (£568.25 per eight-tile panel) features three panels which you can use separately or together to create a serene countryside scene in bathrooms of all shapes and sizes
Why choose tiles for bathroom wall murals?
Wall murals tend to be associated with wallpaper or wall panels. But tiles make a fantastic alternative for any bathroom feature wall, for a number of different reasons. For a start, bathrooms and en-suites can be rather damp and humid. So that definitely makes them a no-go area for prized pieces of art. And even paint or wallpaper isn't always a great option, as heat and moisture could cause them to peel or fade.
Wall tiles are by far the most resilient option for bathroom wall murals, thanks to their durability, water resistance and low/easy maintenance. Best of all, they combine functionality and aesthetics. In fact, whichever material you favour – porcelain, ceramic or marble – our extensive tile portfolio is sure to have something that suits.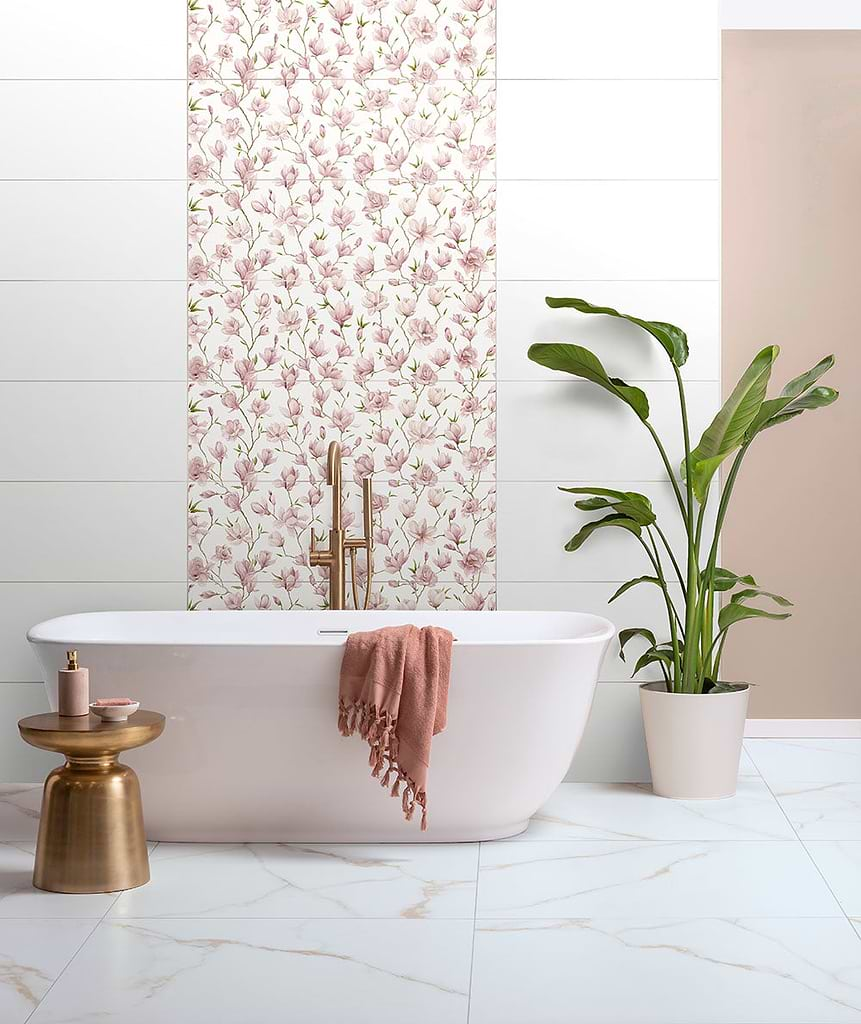 Our Original Style Living's English Garden Magnolia Single Tiles (£105.20 per box) sport a pretty pink floral motif that's perfect for bathroom wall murals, a feature panel, or to add interest and impact behind a bath or vanity
In praise of Original Style
For bathroom feature walls, we recommend our Original Style Living range of decorative waterproof wall tiles. This collection is a stunning yet practical alternative to wallpaper in any stylish bathroom, shower room or cloakroom. In fact, this capsule collection is suitable for use on any internal walls, so you can harness it to unleash your imagination in any room within your home.
Original Style's Living decorative tiles are endlessly versatile. Choose from extra-large format wall murals for maximum impact. Or create a smaller zone border or accent with your choice of pattern, perhaps paired with coordinating plain tiles for an eye-catching yet cohesive look.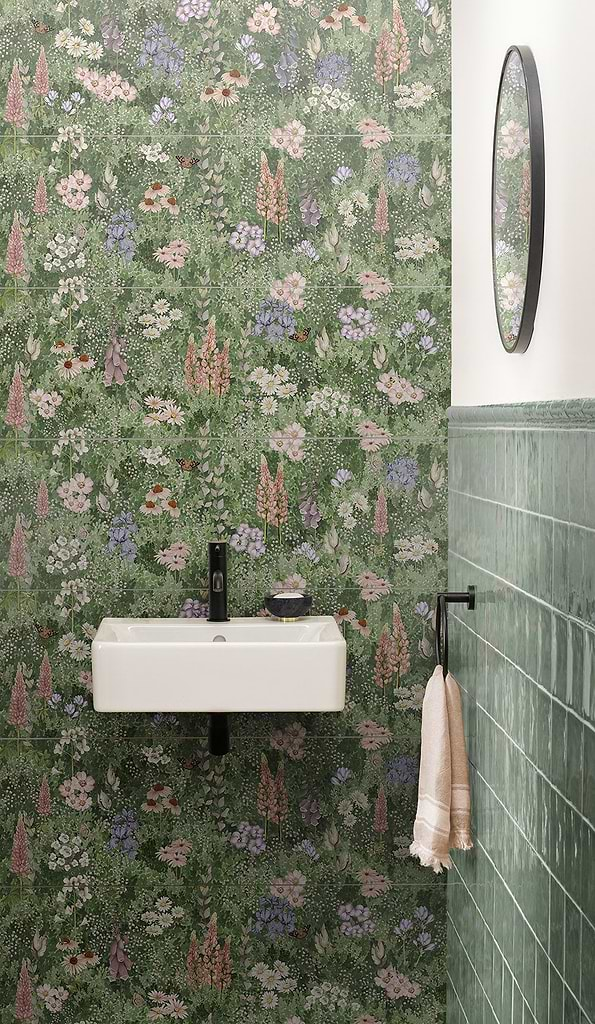 Blooming beautiful: Our Original Style Living's English Garden Floral Single Tiles (£105.20 per box of two) are bright, bold patterned repeat tiles with three different faces. They can used as a colourful accent or to create a smaller floral wall mural
Design ideas for bathroom feature walls
The design you choose for your bathroom wall murals should ideally reflect your personal tastes. What are you most drawn to? For example, do you enjoy looking at botanical scenes, animals, architecture or abstract prints? Browse artwork and images that complement your personal style, and the overall look and ambience you are trying to achieve. Colour too, is super important. Consider designs that incorporate the colours you enjoy, and which tie in with the key tones found elsewhere in your bathroom.
Interested in updating your home with hexagonal tiles? Click here to learn more about this up-and-coming trend
Hyperiontiles.co.uk – Frequently Asked Questions (FAQ)
How much do wall murals cost?
The cost of a wall mural can vary widely depending on factors like size, complexity of the design, materials used and the tile installer's fees. Shop from our range of feature wall tiles to find the one that matches your interior design style.