This post has been reproduced from the blog, Style & Decor, where journalist and blogger Sarah speaks to our director Richard in an exclusive interview on patterned floor tiles & wall tiles
Patterned floor tiles and wall tiles are having an interiors moment and there's no doubt in my mind that this trend looks set to stay. From intricately ornate mosaics to the inherent charm of natural stone, there seems to be a style for everyone. Patterned floor tiles and wall tiles can help you make an instant style statement and these could be perfect if you're craving an Insta-worthy look in your home. But do you know how to choose the right ones? With so many colours, shapes, designs and sizes to choose from, it can be tricky to find the best tiles. You'll also need to consider the material, because this can make them more suited to certain rooms, walls and floors in your home. So, follow Sarah's guide on how to make the right choices with the help of a leading tiles expert.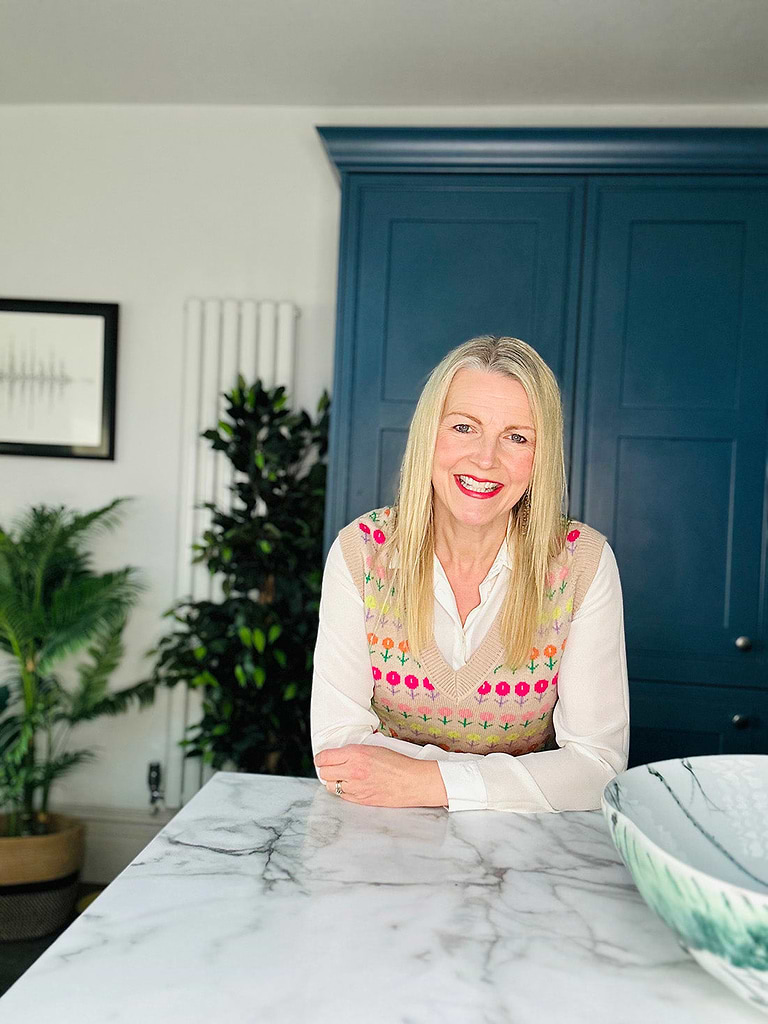 Blogger and Journalist Sarah runs the lifestyle blog, Style & Decor
Material matters
Finding the best material type for your tiles will depend on where you plan to use them. If these are for your floor, you'll need to consider their durability and slip-resistance so porcelain could be your preferred choice. If you're looking for wall tiles, your options will be greater and some patterned floor tiles may also be suitable for walls for continuous design appeal and a contemporary aesthetic. Richard Skeoch at leading independent tiles specialist Hyperion Tiles joins me to go through some of your material options to help you make the right decision.
Porcelain patterned floor tiles & wall tiles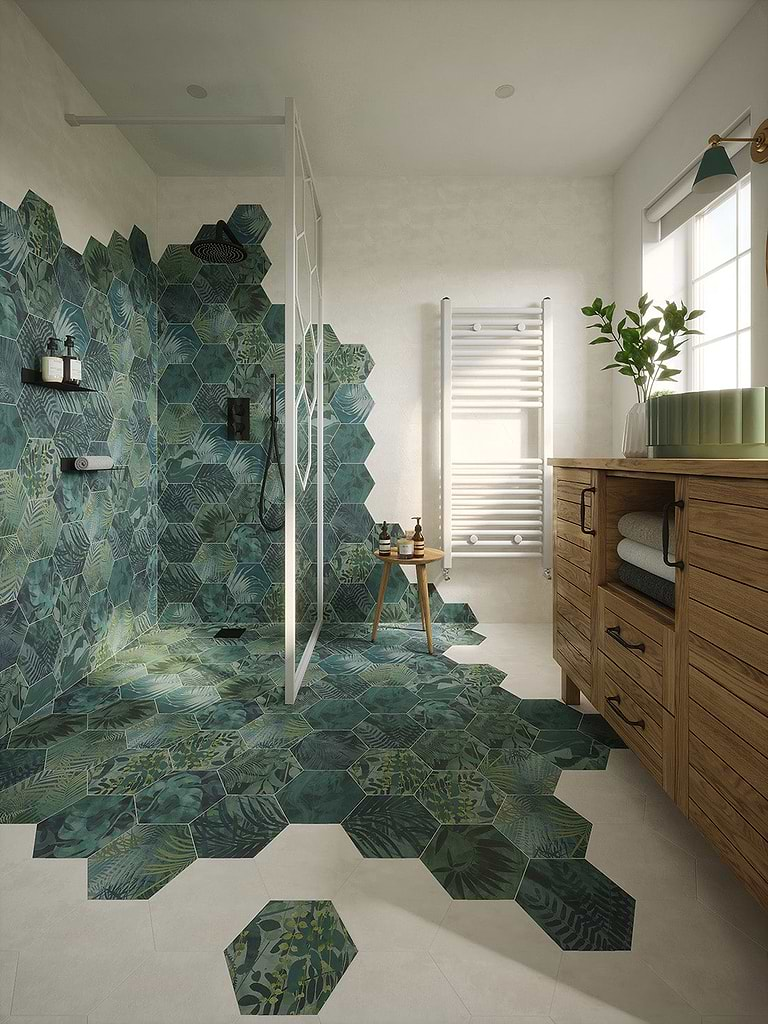 Instantly make a statement with these patterned floor tiles and wall tiles designed by artist Clarissa Hulse for Ca' Pietra. Available from Hyperion Tiles, buy these Jungle Hex Porcelain tiles here
Porcelain tiles are made from dense natural clay, which has been fired at extremely high temperatures, and they are renowned for their outstanding durability. Richard explains: "These tiles are less porous than ceramic versions, for example, so they will absorb less water, which makes them suitable for rooms with fluctuating temperatures. Kitchens and bathrooms are ideal as are other areas with high footfall, such as living rooms. This material can also make a great choice underfoot and even outdoors - the right tiles could be perfect for a garden patio or front path. Porcelain patterned floor tiles and wall tiles are also easy to maintain. You won't require any special sealing and they are simple to clean."
Are there any downsides? You probably won't be able to install these yourself. You'll need a professional to do the honours because they are difficult to cut through. They can also be tricky to lay out due to their weight and density. The good news is you can find experienced flooring professionals to install them. So you can feel confident that they will do a good job.
Ceramic tiles
Pretty in pink, this bathroom looks super-sweet with these Ca' Pietra Carter Ceramic Rose pink tiles arranged here in a herringbone pattern
This form of tile is made using a heated kiln - the firing of the tile draws out moisture and these tend to be light-weight. Whether you choose porcelain or ceramic, you'll find plenty of design options - some styles can also replicate the look of marble, wood and stone. Richard adds: "Ceramic versions can make fantastic wall tiles because they are softer and easier to cut. They tend to cost less than porcelain and will absorb more water than their porcelain counterparts. Ceramic patterned floor and wall tiles come in a variety of intricate patterns. However, they can be prone to cracking in extremely cold weather. So they may be less suited to patios or garden paths, for example."
Glass tiles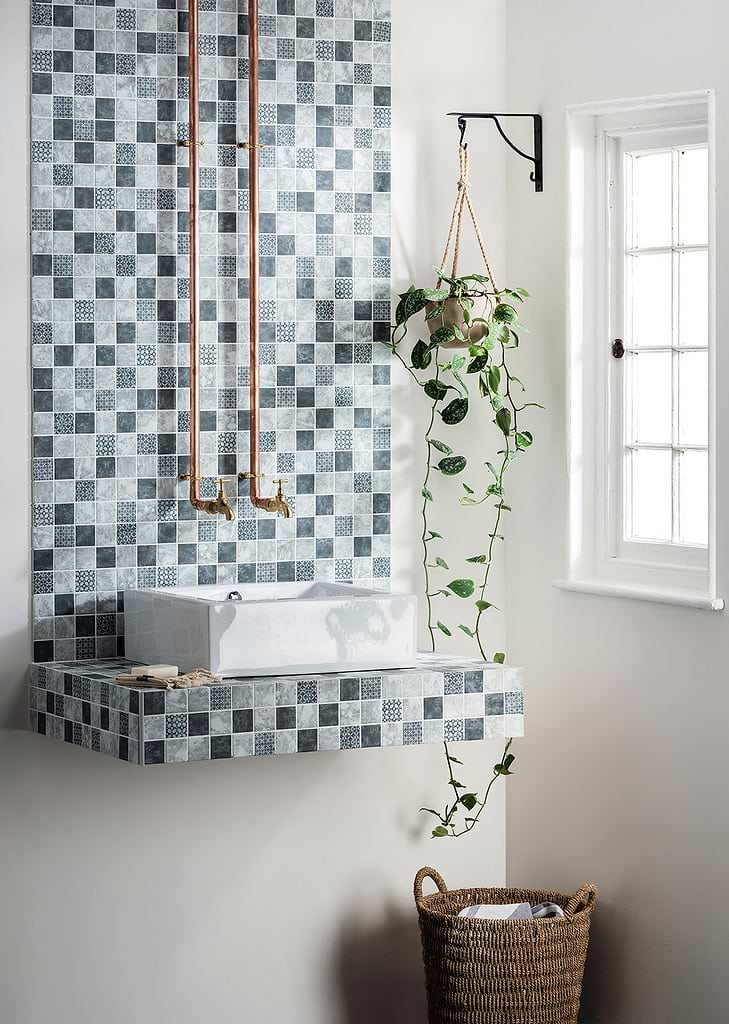 Define your basin area with patterned wall tiles. I think these Original Style Venetia Glass Mosaic Tiles provide the perfect backdrop to the copper taps in this bathroom
This material can make a great choice because they are recyclable making them a sustainable solution for the home. You can find some of these tiles are made from recycled materials, too. Richard comments: "The beauty of glass is its ability to make a space feel larger and lighter. In the form of patterned floor and wall tiles, these can help to bounce light around a room. You'll also find they're easy to maintain as you can keep them clean with soapy water. Their non-absorbent properties make them a great choice for a room with high humidity, such as a bathroom."
Natural stone patterned floor and wall tiles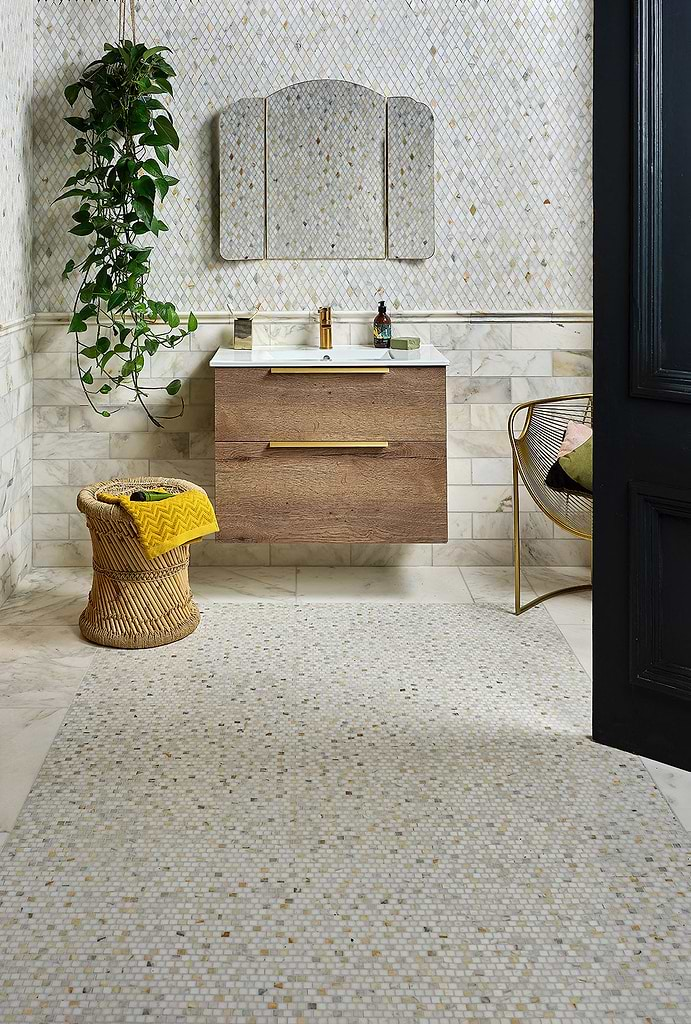 Bring spa-style sophistication to your bathroom floor with mosaic patterns and frame the look with the Ca' Pietra Palazzo Oro collection featuring Marble Honed Tiles. Complete the look with matching Palazzo Oro brick tiles, marble moulding and diamond mosaic patterned wall tiles
If you love natural stone, you may feel nothing can compare to the real thing. And this material can make a great choice for patterned floor tiles and wall tiles because it's incredibly dense and beautifully hardwearing. Natural stone also tends to age beautifully which gives it its innate charm and inherent beauty. From limestone to marble (one of my favourites!), you'll find there's plenty to choose from. Depending on the stone you choose, they will require some form of sealing. Marble, for example, is naturally porous and resealing with specialist products may be necessary from time to time.
Richard says natural stone tends to harness bespoke features, such as veining or shells, for a distinctive finish. He adds: "Every piece is unique so you can be guaranteed that each stone tile will be filled with character. It can also be used in a variety of settings, residential and commercial. Think floors, paving and even staircases. for example - natural stone will certainly stand the test of time."
Encaustic tiles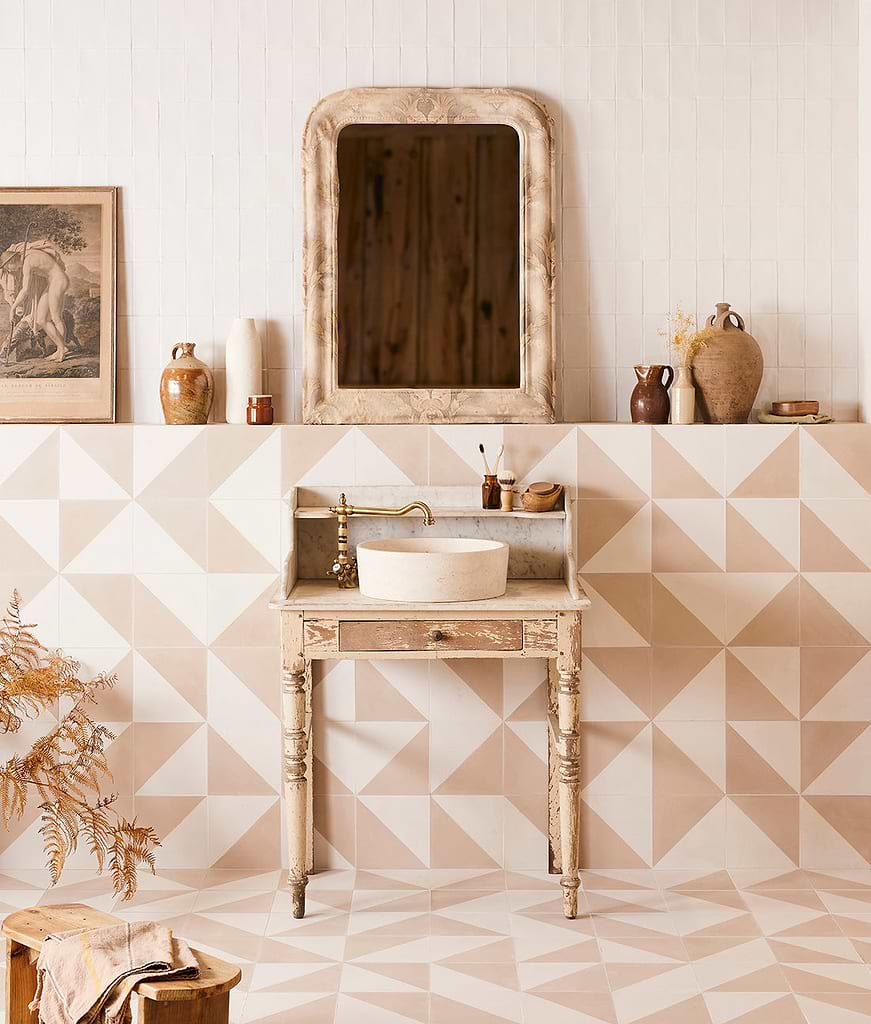 Tiling your bathroom in the same pattern from the floor to the walls helps to create a seamless finish and can help your bathroom appear bigger. These gorgeous Bert & May Pearl Alalpardo Encaustic tiles from Hyperion Tiles feature endless tessellations so you can create a truly unique design
Otherwise known as cement, you'll discover there are a whole host of colours and patterns available. Mineral pigments are mixed and poured into a mould and they are cured at room temperature with a coloured layer on top. As a result, you'll find a huge variety of colours and patterns available for your home. So, the patterned layer is inlaid into the body of the tile. Richard explains their benefits: "These tiles have a high thermal mass so they hold their temperature well. They are also highly versatile. So, you could install encaustic patterned floor tiles, which flow from indoors to outside living areas."
Choosing the rooms for your patterned floor tiles and wall tiles
Kitchen cool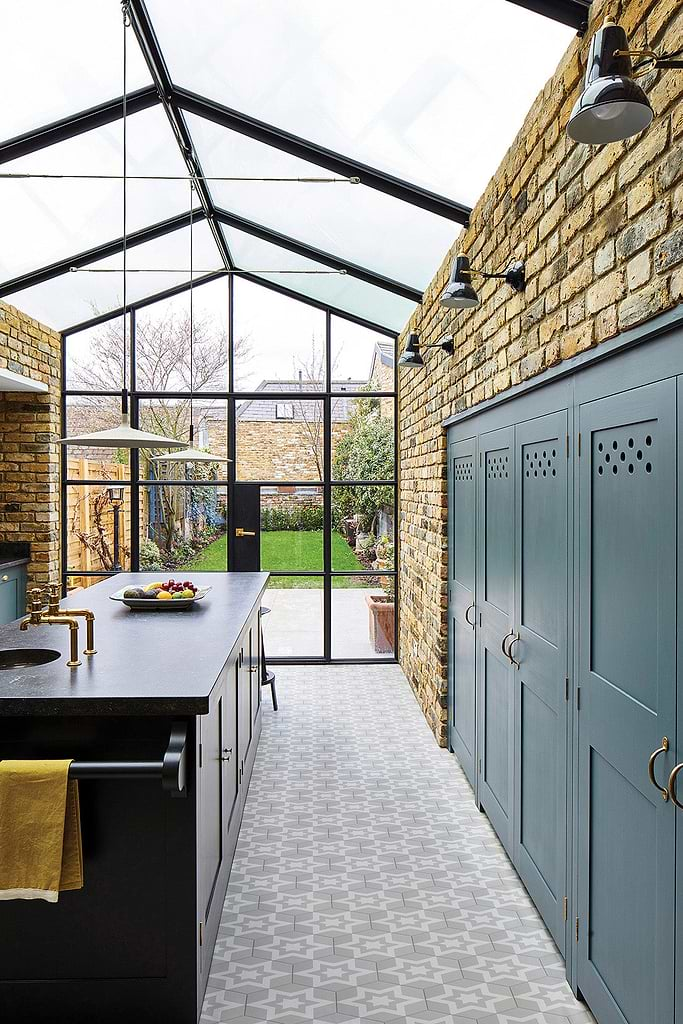 You can instantly add interest to classic kitchen design with patterned floor tiles. These Ca' Pietra Nova Porcelain Cloud tiles from Hyperion Tiles look perfect in this room
Patterned floor tiles and wall tiles can make a bold choice for the heart of your home. Choose whether to install them on the floor for instant impact and/or make a statement with a stylish splashback. If you've chosen plain kitchen cabinets, you can contrast these with a bold pattern underfoot. This will help to elevate the space, whether you're looking for classic or contemporary appeal. You could also try co-ordinating the look with matching splashback wall tiles and patterned floor tiles.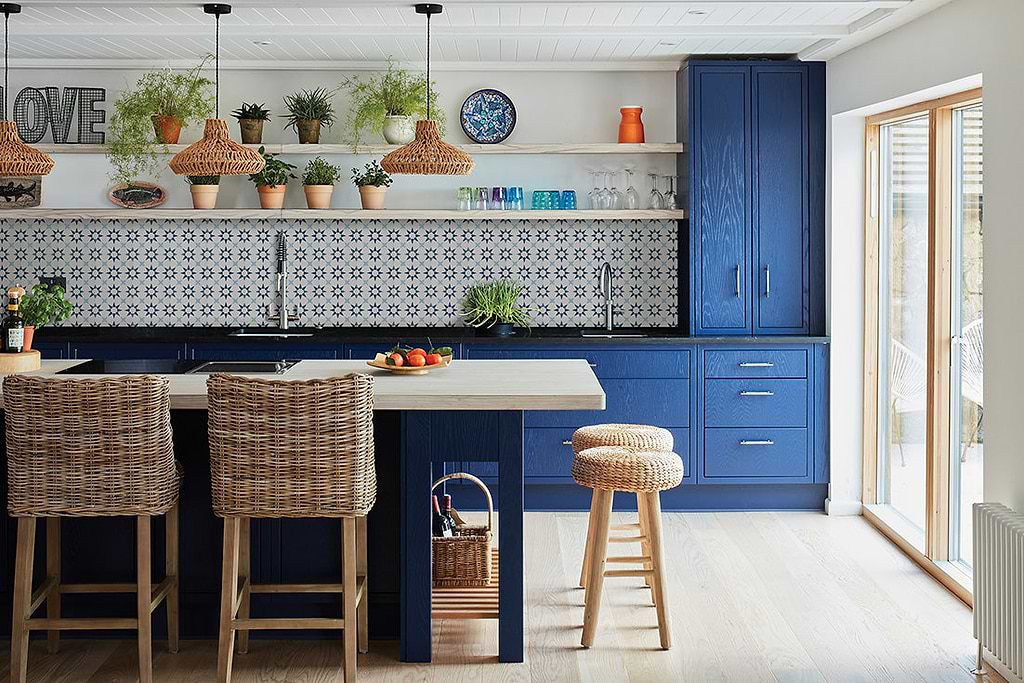 Be as creative as you want to be in your kitchen with pattern. Here, a splashback featuring a decorative starburst design adds more depth to this room design. The Ca' Pietra Atlas Porcelain Blue tiles are available from Hyperion Tiles
"If you're looking for a focal point in your kitchen, patterned floor tiles and wall tiles can instantly help you' "explains Richard. He adds: "A busy pattern will make your flooring and walls stand out whereas a more subtle style could enable these aspects in your kitchen to blend in. If you're looking for a cohesive design with depth, simply pick a central colour (your cabinets or perhaps the walls) with a few accent shades."
Living room luxe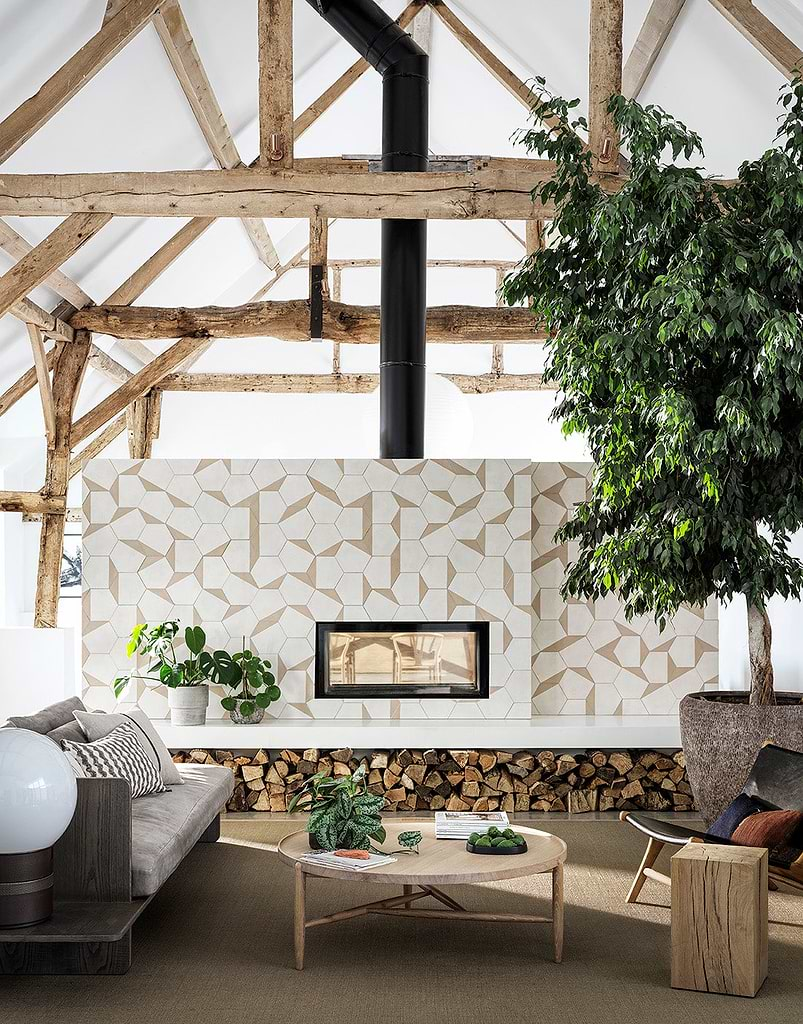 How to add living room luxe with feature wall tiles. These Bert & May Pearl & Brighton Stone Hexagonal Split tiles from Hyperion Tiles allow you to create a totally bespoke pattern when you lay them
You could consider choosing patterned floor tiles. These could be more cost-effective than alternative methods and they will be a lot easier to clean and more hygienic than carpet, especially if you have pets. Wall tiles can also work well in this room. Cladding a chimney breast is a wonderful way in which to use pattern and implement style. This can create an accent or feature wall where the fireplace takes centre stage. Even tiling the hearth can add instant depth to your design and create a cost-effective finish in a living room. Richard says: "Patterned tiles can highlight key architectural areas and this is no exception in a living room. They will instantly draw the eye. You can also use them with an accent colour, which will tie in with the rest of your room decor. "
Patterned floor tiles and wall tiles in the bathroom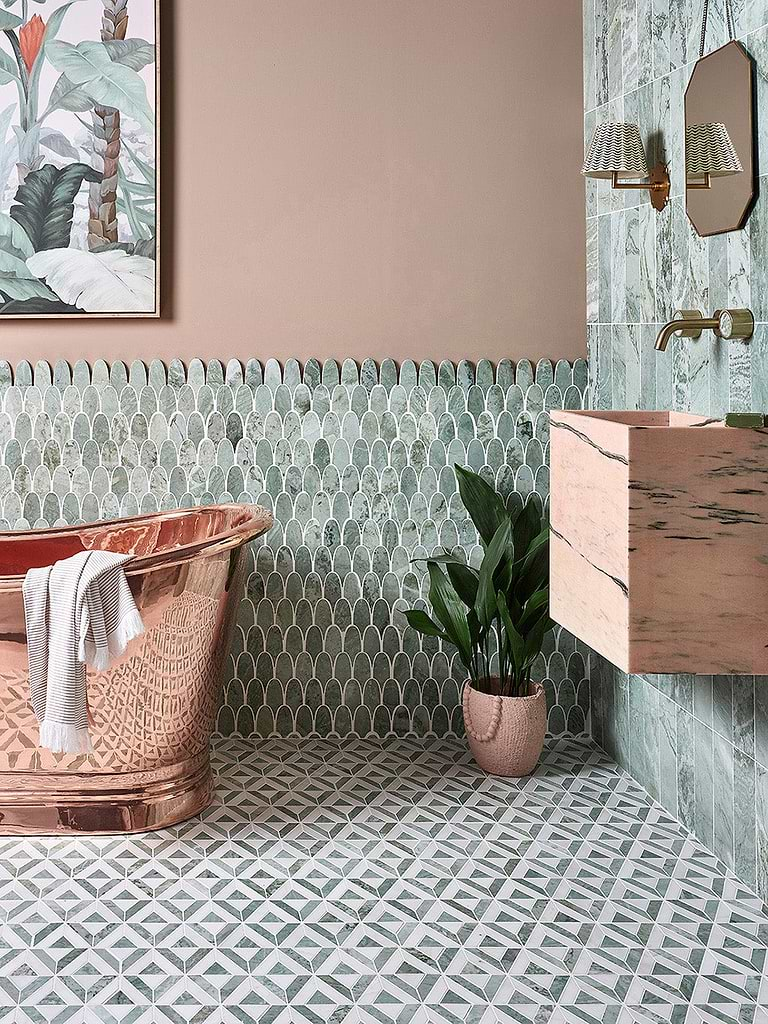 If you're looking for pattern perfection in a striking bathroom, I think this could be it! Featuring Ca' Pietra East Java Plume Hummingbird Marble Mosaic wall tiles with East Java Temple Hummingbird Marble Mosaic patterned floor tiles from Hyperion Tiles, I love this look. The bath and taps are from BC Designs
For maximum impact and creative flair in a bathroom or cloakroom, patterned tiles are perfect and there are plenty of ways in which to use them. Choosing one pattern to cover the floor or walls or even both will certainly pack a punch. Decide whether you're looking for a seamless flow in this room or you could try pattern clashing for an ultra-contemporary, maximalist finish. A feature wall can look extra special if you pick the right pattern and I think mosaics will instantly add drama.
Richard adds: "In a bathroom or cloakroom, your patterned tiling options are almost endless. From tiling in a shower area to define that space to creating a dedicated splashback about your basin, the choice is yours. From a practical perspective, they are easy to clean and the right tiles will be slip and water-resistant."
Bedroom bliss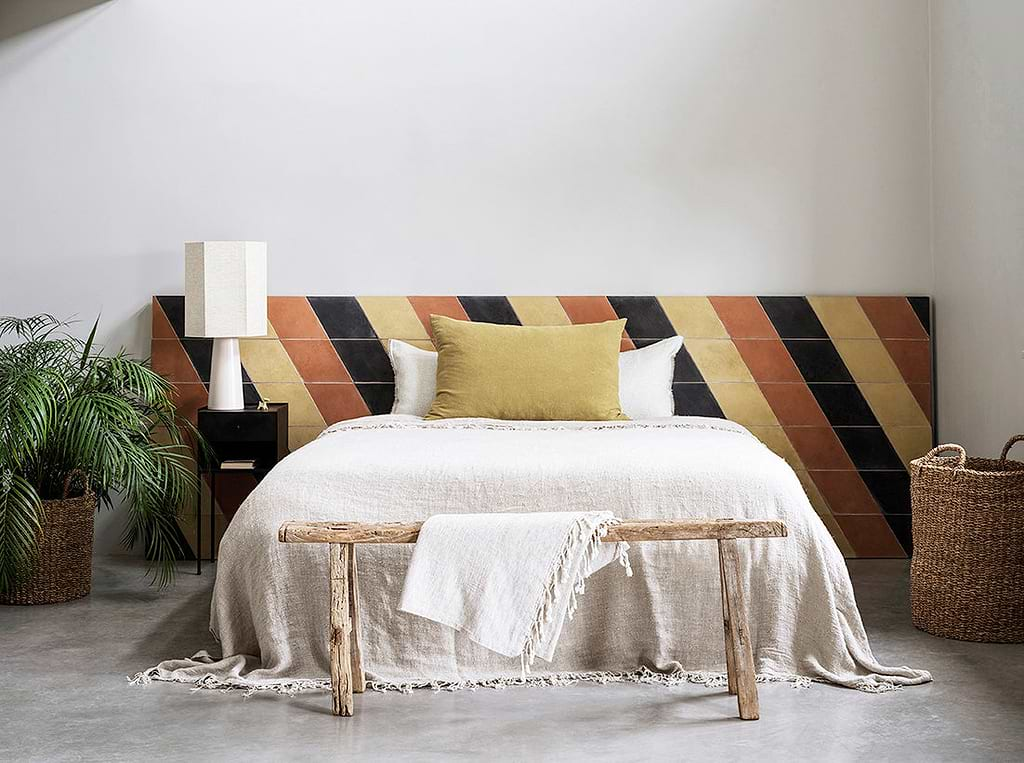 This striking headboard design features Bert & May Ebony, Marigold and Sweet Yellow Diamond Wall Tiles from Hyperion Tiles. You can even choose from more colour ways from the Bert & May colour portfolio via Hyperion Tiles to add your own personal style to your bedroom
Consider creating a headboard with patterned tiles or simply use them to create a statement wall in a bedroom. Richard adds: "Patterned floor tiles in a bedroom may be more common in warmer climes. However, our British summers are getting so much hotter, which means a tiled floor could be a welcome benefit underfoot. Make sure you install underfloor heating for the colder weather and you'll be covering all bases."
If, like me, you suffer from allergies, these will make a great alternative to carpets. Allergens can no longer get caught up in carpet fibres and your flooring will be super-easy to keep clean. If you feel the need for some softness under your toes, simply add an area rug. Choose the right size so it can fit snugly underneath and around your bed.
Garden goals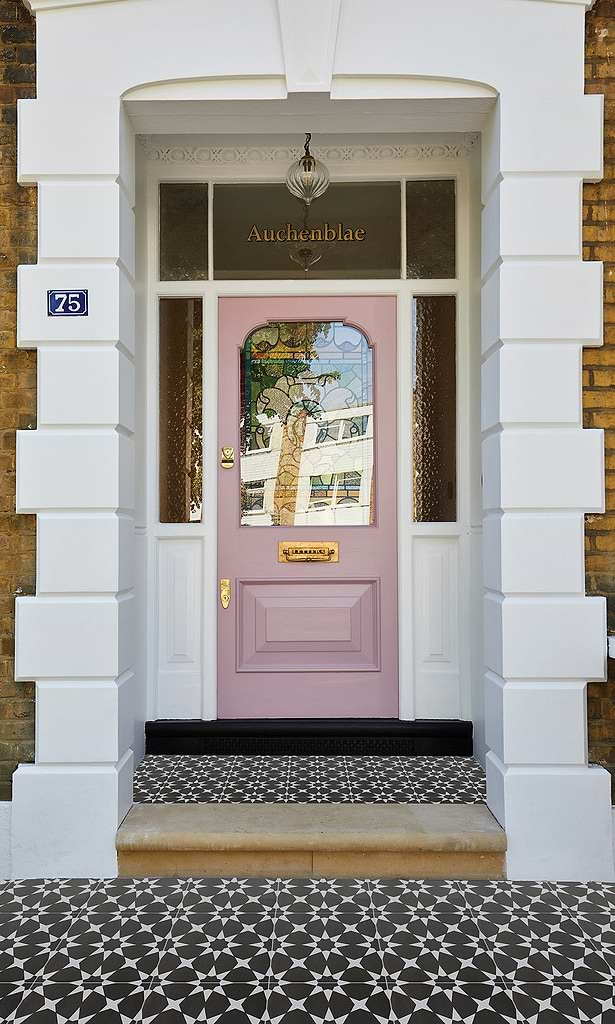 Make a style statement on your front path with Ca' Pietra Atlas Porcelain All Black Tiles from Hyperion Tiles
Outdoor tiles have to cope with a lot. From extreme temperatures to the sun's harsh rays, you'll want some which are durable, safe underfoot and long-lasting. Patterned floor tiles can really come into their own on a front path or patio. These will instantly add the wow factor to your outside space. In addition, they will make a more durable and long-lasting alternative to a patterned garden rug.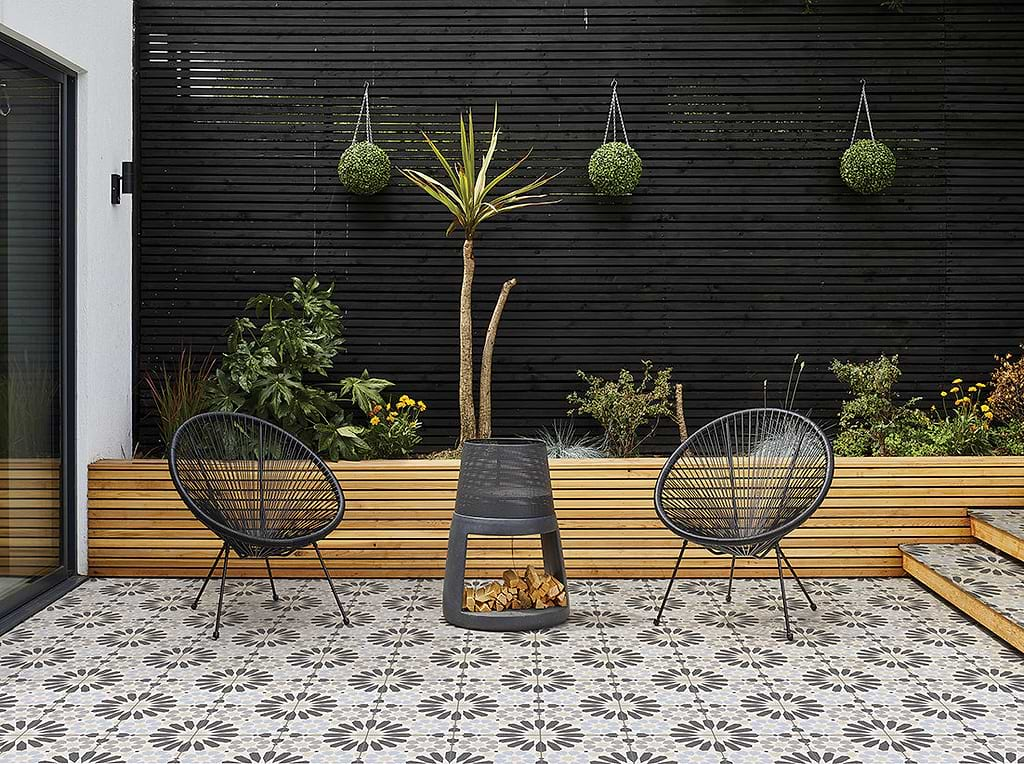 Patterned floor tiles will add instant drama to your patio and I love Ca' Pietra's Avenue Porcelain Rivoli Tiles from Hyperion Tiles
Look for tiles for your patio, which are UV-resistant or they will fade in the sun. Make sure the internal ones you choose are made for outside use, too. If not, you may find some internal tiles come with external options. Here, the tile will be denser than its counterpart to accommodate outdoor use. Some tiles will need sealing, such as encaustic which could stain easily. Also, consider your colours wisely - lighter tiles, for example, are more likely to show up all the dirt. Think about whether you want to create a seamless flow from indoors to outside - patterned kitchen tiles may lend themselves just as well to your outdoor space. Check this with your designer first.
AD: This is a joint collaboration between our director Richard Skeoch at Hyperion Tiles and Sarah Worswick, blogger at Style & Decor.
Hyperiontiles.co.uk – Frequently Asked Questions (FAQ)
How do I ensure a cohesive look when combining different patterns?
Stick to a consistent colour palette and pay attention to scale. If you're using multiple patterns, ensure that they complement rather than compete with each other. Consider using one dominant pattern and smaller-scale patterns as accents. Shop from our range of bathroom floor tiles to find the one that matches your interior design style.