We're best known for our extensive collection of wall and floor tiles, which embraces both current trends and timeless classics. But did you know that we also stock a wide range of bathroom accessories, mirrors and storage options? That's because the right bathroom accessories can be truly transformational.
Little things can make such a big difference in interiors. So it's always well worth taking some time to think hard about mirrors, storage and lighting, in addition to the more obvious bathroom elements, such as tiles and sanitaryware.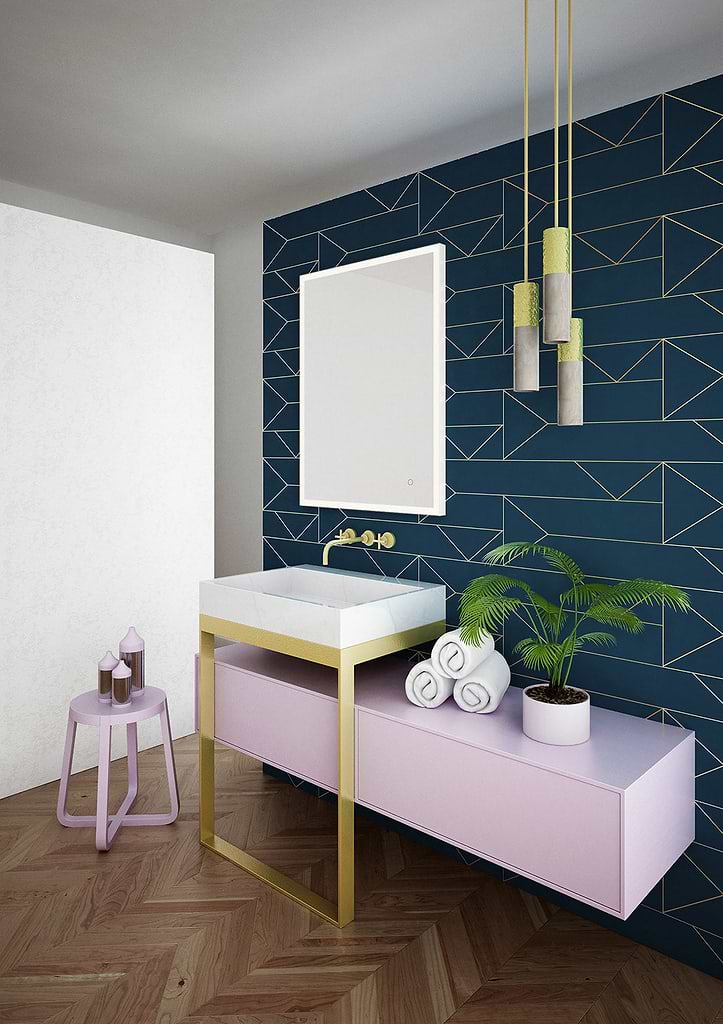 Our Origins Living Tate Light Mirror, from £418.70 for a 60 by 80cm model, is clean, crisp and contemporary with integrated cool white lighting and a demister pad for the bathroom. There's a handy on/off switch on the front of the mirror and this frame is crafted in aluminium with a white finish
Our range of accessories
As with so much in life, however, too much choice can be overwhelming. And with so many different options available, selecting the right accessories for your room scheme isn't always easy. So, I sat down with Origins Living's co-founder Sofia Charalambous, to get her take on how to choose the best bathroom accessories to enhance your personal bathing haven.
Form and function
"Bathroom accessories should play an integral role in the design of your bathroom," Sofia confirms. "Each piece you choose can constitute a significant part of your bathroom design to help you create both a practical yet aesthetically pleasing environment." She also underlines how the best bathroom accessories can be instrumental in creating the right ambience: "The attention you pay to these finer details will help to enhance your bathroom experience, and enable you to enjoy a more inviting spa style retreat in the comfort of your own home."
Putting bathroom accessories first
According to Sofia, the best bathroom accessories are never afterthoughts. She recommends including them right at the start of the planning process. "The accessories you select will allow you to create a more cohesive design in your bathroom," she observes.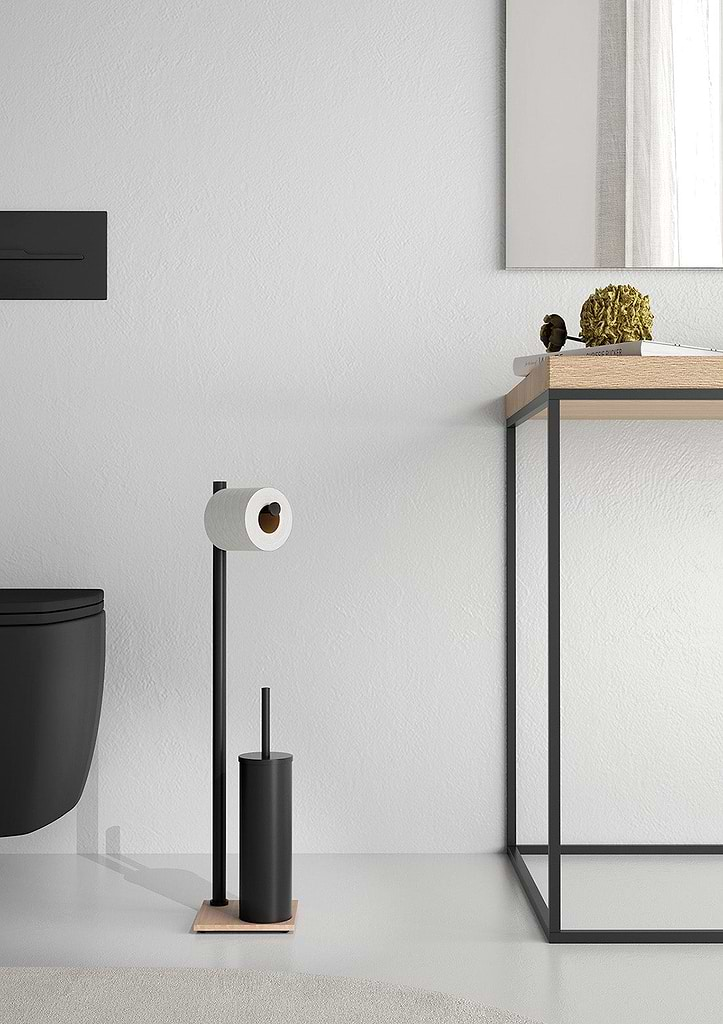 Our Trilly Bathroom Butler in Black Bamboo, £90, by Origins Living embraces the trend for matt black in the home. Super-stylish, this design is multi-functional with a toilet roll holder and metal toilet brush
Bathroom accessory sets
"From key storage pieces to small statement items, such as a towel rail, towel ring, hook, soap dish and soap dispenser, these should no longer be seen as finishing touches." Sofia continues: "Instead, think of how they will play a key role in how you experience your bathroom. Every piece has the ability to transform the space."
The magic of mirrors
Mirrors make a huge difference to any bathroom and we've got a huge range to choose from. They play a practical role, of course. But they should also complement and enhance the colour scheme and design. "The importance of a mirror should never be under-stated," Sofia agrees. "I'm a huge fan of statement mirrors, and consider them to be a must-have accessory. They can truly transform a bathroom, so it's important to factor in one or two in the initial planning stages of your design."
 One of the key bathroom fittings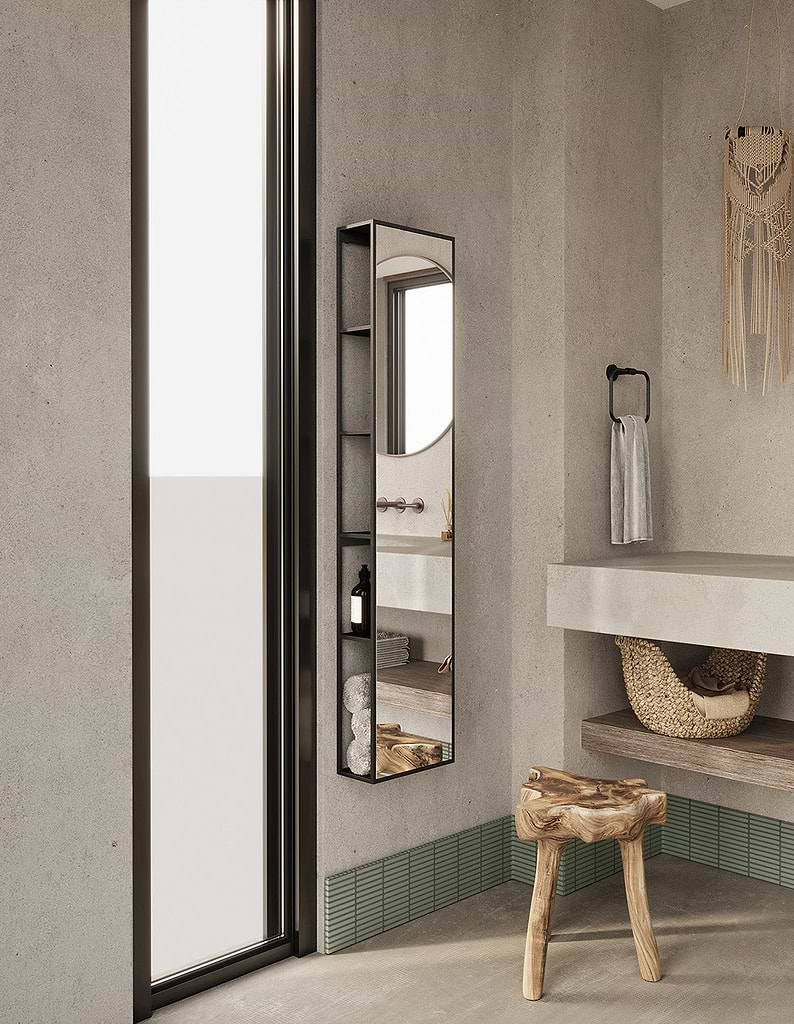 Our Dockside Mirror with Open Shelving in Black, £197.50, offers a slimline solution to storage with an ultra-durable stainless steel frame and three open accessible shelves for easy access
Some of the best bathroom accessories are mirrors which add instant visual interest to a luxurious room. "A statement piece can help to 'break up' a tiled wall, and soften the overall look of your bathroom," Sofia explains. "The right mirror can even double up as a piece of wall art."
Multitasking bathroom essentials
Bathroom mirrors reflect light, often creating the illusion of a bigger, brighter space. An illuminated mirror can take things to another level, creating an inviting ambience, while also playing a key functional role, most notably for shaving and makeup application. Whether you position yours above a bath or basin, it can instantly make a stylish addition to your bathroom.
Specialist selections
When considering the best bathroom accessories to buy, it's important to choose a mirror that's suitable for the environment it's destined for. "Any framed mirrors you choose for your bathroom must be compatible with high levels of moisture and humidity," Sofia advises. "In terms of materials, aluminium is not only durable and lightweight, but also resistant to rust.
 Ideas for modern living
"Headed mirror demister pads will also help to prevent the build-up of steam and condensation, so your mirror stays crystal clear and ready to use as soon as you step out of the bath or shower."
Finishes for bathroom accessories
When it comes to choosing the extras for your bathroom, from mirror frames and soap dishes to shower tidies and rings or rails for towels, the latest trends demonstrate how colour is key.
Add matt black for personality
For example, black bathroom accessories are becoming big news - matt black in particular. So, you can handpick a mirror with a black frame and match this with a towel ring, soap dish and toilet roll holder for a more cohesive finish. At Hyperion Tiles, we can cover a range of bathroom needs which will give you more options for a personal touch.
Feeling all white
If black bathroom accessories don't appeal, why not pick chic white toilet roll holders and shower accessories instead? These examples are just some of the little extras which will set your bespoke bathroom apart. This finish is one of those colour styles, which can stand the test of time, and add a modern touch to every house to make it a more stylish home.
Let's go for gold hues
Although the colour gold may conjure up images of bright bold finishes, at Hyperion Tiles we prefer the more delicate hues. Think of gold in terms of a toned down version or brushed brass colour for a more sophisticated contemporary style. If you choose your bathroom accessories in elegant gold tones, these could instantly add a modern touch to your bathroom scheme.
Feel inspired by silver
If you're looking for accessories in a silver or grey shade, you may find you're spoilt for choice. From chrome to brushed stainless steel, there are a huge variety of silver finishes to suit your needs in a bespoke bathroom. From a tissue box to a towel rail, you'd bound to found accessories which will instantly enhance your home.
Storage shelf-care
The best bathroom accessories should always include suitable storage solutions. "Storage should always be at the forefront of your mind when creating a fully functional, highly efficient and super-stylish bathroom," Sofia confirms. "Open shelving options are ideal for showcasing high-end scented candles or aftershaves." And she's a big fan of "shelfscaping" – where you curate your favourite items on or within shelves/open storage cabinets, to add character and create interest.
Not a fan of clutter? "Closed shelving also has a role to play in every bathroom design," Sofia acknowledges. "It allows you to 'hide' certain items, such as toothpaste and mouthwash, behind closed doors, to achieve what I like to call visual tranquillity."
It's also worth considering multi-purpose storage options – such as towel rails with shelves, and mirrored cabinets – as these are super versatile and highly practical for bathrooms big and small.
Bathroom essentials & cohesive collections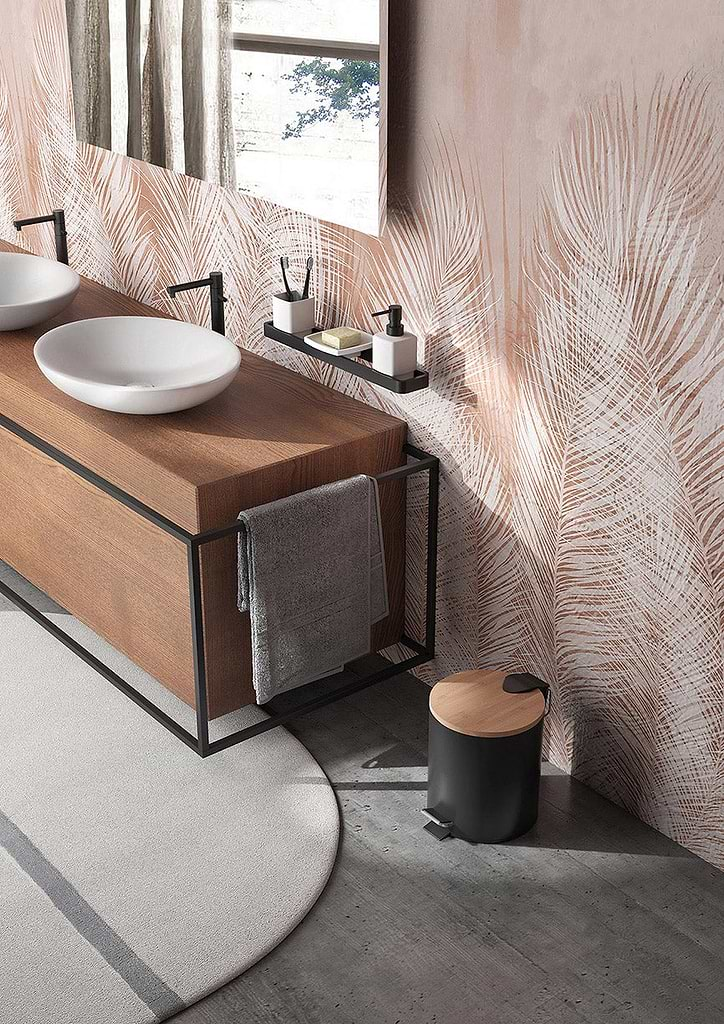 Our Kenta Pedal Bin in stainless steel comes in two sizes in an elegant black finish and bamboo lid, which is soft closing for an elegant touch to this design.  Choose from a 3L or 5L version and prices start from £58
Sometimes, the best bathroom accessories are sourced from one cohesive collection. Matching items add a seamless, sophisticated finish. "Choose high-quality pieces (soap dishes, toilet brushes, toothbrush holders, bins and so on) that have all been designed by the same brand," Sofia recommends. "This helps to create a classy, cohesive design scheme."
Trend-spotting for 2024 and beyond
At Hyperion Tiles, we pride ourselves on offering an extensive collection of both classic and contemporary bathroom accessories, to suit a wide range of personal tastes and preferred aesthetics. But what, in Sofia's opinion, are the key trends to look out for, in 2024 and beyond?
"Organic shapes and sculptural pieces look set to elevate bathroom accessories to the next level," she observes. "Brushed metallics remain popular, and I anticipate that demand for this finish will remain strong. However, there is growing demand for textured finishes too, such as knurled brass, for both residential and commercial projects. Chic white and matt black remain one of the most popular colour combinations."
Ready for some more bathroom renovation inspiration? Click here to discover my latest round-up of stylish bathroom tile ideas for walls and floors.
Hyperiontiles.co.uk – Frequently Asked Questions (FAQ)