Coco Chanel made the little black dress famous, and Henry Ford made no secret of his favourite shade for cars. Now black is increasingly making its presence felt within the world of interiors – and black bathrooms especially are big news.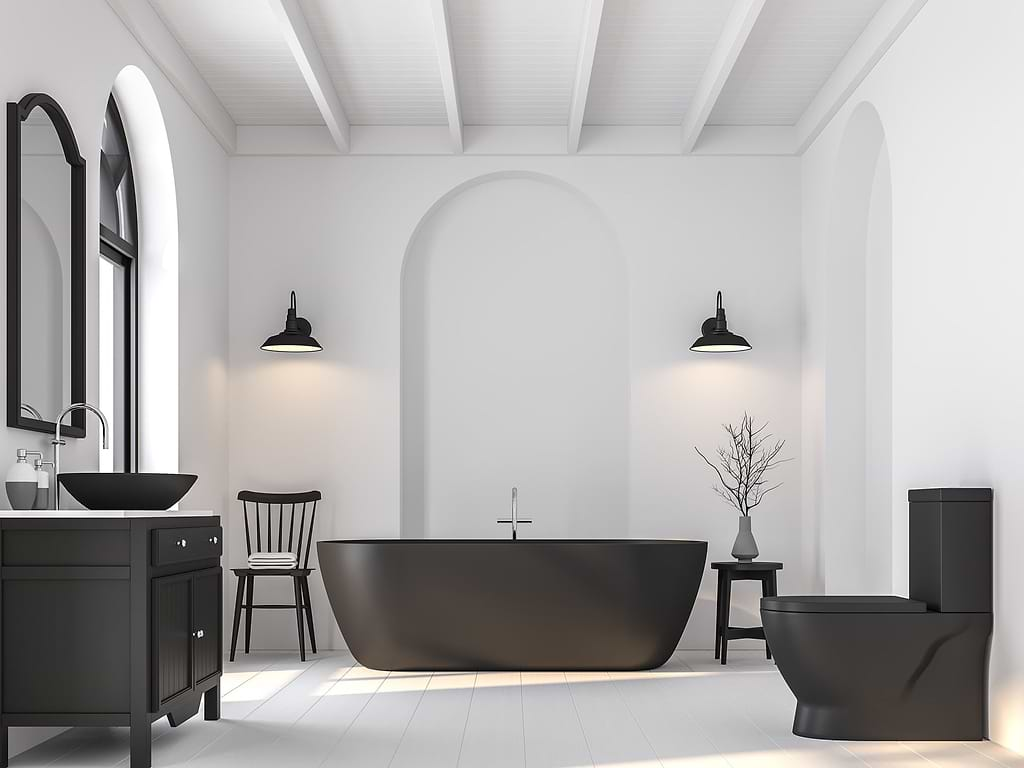 From the black toilet to the matching bath and vanity unit, this is a concept bathroom design for a client who can then choose which tiles they require for the floors and walls
A black bathroom might sound rather daring for a colour scheme, but it's a surprisingly versatile choice. An all-black bathroom is the boldest option, but there are plenty of other ways to incorporate this shade and still keep things stylish and sophisticated. Black bathroom tiles have a key role to play when it comes to designing a black bathroom. So, whether your goal is floor-to-ceiling dark and dramatic, or a mix of black patterns and contrasts, the possibilities really are endless.
The rise of the all-black bathroom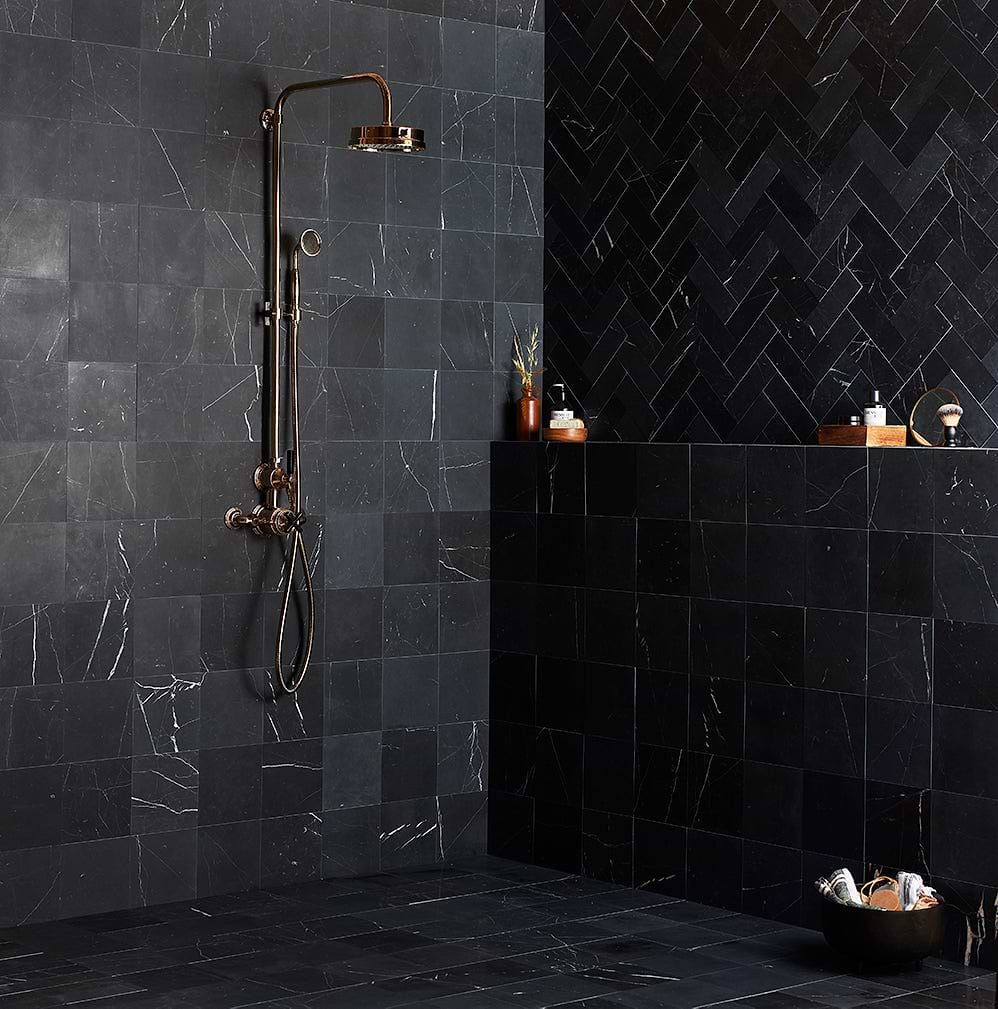 An all-black palette never fails to make a serious style statement. However, black paint or black floor tiles and wall tiles laid together aren't for the faint-hearted. But clever combinations of textures and finishes can create a black bathroom with a stunning contemporary aesthetic. For example, you could add interest and variety by contrasting smaller sized black bathroom floor tiles with larger black tiles on the walls.
Will my black bathroom be too dark?
A common concern in bathroom design is that a black bathroom will feel too small and claustrophobic. So, if your space has little access to natural light, tweaking your colour palette might be wise. But dark colours, such as black walls, can work really well in small spaces, giving rooms a much bigger presence.
Get the gloss
Add a dash of glamour and personality to a black bathroom with some gorgeously glossy tiles. They allow light to bounce around a room, making them an excellent choice for black bathroom walls. Introducing metallics and mirrors to your decor will also help to create depth and dimension in your bathroom design. Conversely, an all-black bathroom colour scheme, with black paint and black tiles can make a bigger space look and feel more cosy.
Black and white bathrooms
There are, of course, plenty of alternative black bathroom ideas if an all-black room scheme feels too intimidating. Black is a timeless neutral that pairs well with a wide selection of other shades in bathroom design. Monochrome (black and white) offers endless design possibilities, and is a perennially popular pick for bathrooms.
Glossy black metro-style wall tiles are the perfect 'frame' for a white bathroom floor. This could create a striking black feature wall which will contrast perfectly against white tiles on your floor. Black absorbs light so why not add white tiles to your bathroom design to offset this?
Or you can use recessed shelving to mix and match your black and white elements in your bathroom design. A set of black tiles can also add an elegant backsplash above a vanity unit and it will tie in well with black fixtures. A statement monochrome floor is another great way to trial the black bathroom trend. Black and white striped tiles work equally well on walls and floors in a bespoke bathroom design.
Patterned black bathroom tiles
Of course, stripes aren't the only patterns to consider if you're planning a black bathroom makeover. Abstract patterns add impact to key areas, and make an eye-catching monochrome backsplash option.
Patterned black bathroom tiles are a great choice for a feature wall. Also known as an accent wall, this is a clever way to dip your toe in your black bathroom trend, without fully committing to the dark side. Feature walls can really refresh an existing room scheme. Depending on the style and size you choose, you can use black bathroom tiles to add an instant high-impact wow factor, or to create a more subtle feature wall highlight.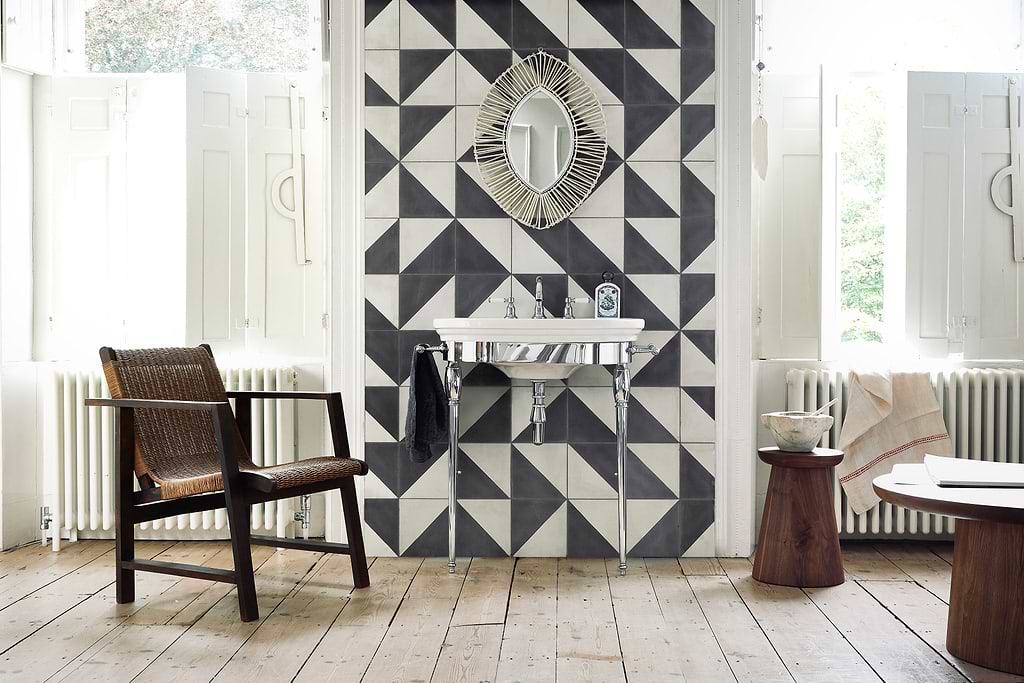 If you want to create a feature wall, our Bert & May Black (and White) Alalpardo Porcelain Tiles comes in a seamless tessellation design offering you endless design possibilities
Patterned black floor tiles
Patterned floor tiles are another popular option for black bathrooms. Black and white florals and star motifs complement white sanitaryware if you want to steer clear from solid black tiles. Choose small patterns if you're worried about overwhelming a small space or cloakroom, and keep your walls plain to let your floor take centre stage.
If you prefer a seamless effect, you could use the same pattern from the floor to the walls and even add a black painted ceiling to complete the look. Or you could create a feature floor, perhaps highlighting the shower or basin area with a black or monochrome colour scheme.
Mosaic black bathroom tiles
Black bathroom ideas don't have to be flat and matt. I'm a big fan of mosaic tiles. They look amazing in a bathroom design, can be used on both walls and floors, and are easy to maintain.
Thanks to the huge range of colours, shapes, sizes and textures available, there's sure to be an option that works with your dream black bathroom decor. Choose a mother-of-pearl effect for your black tiles to offset too much darkness, and add a hint of opulent iridescence. 
If your bathroom design budget allows, top-to-toe mosaics create a luxurious look and feel when it comes to a contemporary bathroom. They work equally well in big and bijou bathrooms. Their structure (small tiles on a mesh backing) means you can cover a large surface area in a new bathroom quite quickly. But mosaics are also much easier to fit around pipes, sanitaryware and all those awkward spaces bathrooms are notorious for. They can even accommodate curves – perfect if you've set your heart on a tiled black bathroom wet room or walk in shower.
As with other types of tiles, you can use mosaics to create a backsplash above a vanity unit or to create a feature wall. And you don't have to settle for single colours in your bathroom design. Monochrome mosaics make a great accent/decorative feature. Or add interest to a black bathroom with a hexagonal or scallop pattern. Modern mosaic tiles don't have to be small and square!
Will black work in a traditional bathroom?
 This colour can help to create a stylish and sophisticated look in a traditional bathroom, so the short answer is yes. You can still have black walls, for example, and even a black painted ceiling, however you could mix this up with a black toilet and matching black vanity unit in a classic design. It's good to consider a few ideas and create a mood board so you can visualise what your bathroom design will look like first.
Choosing the right black bathroom accessories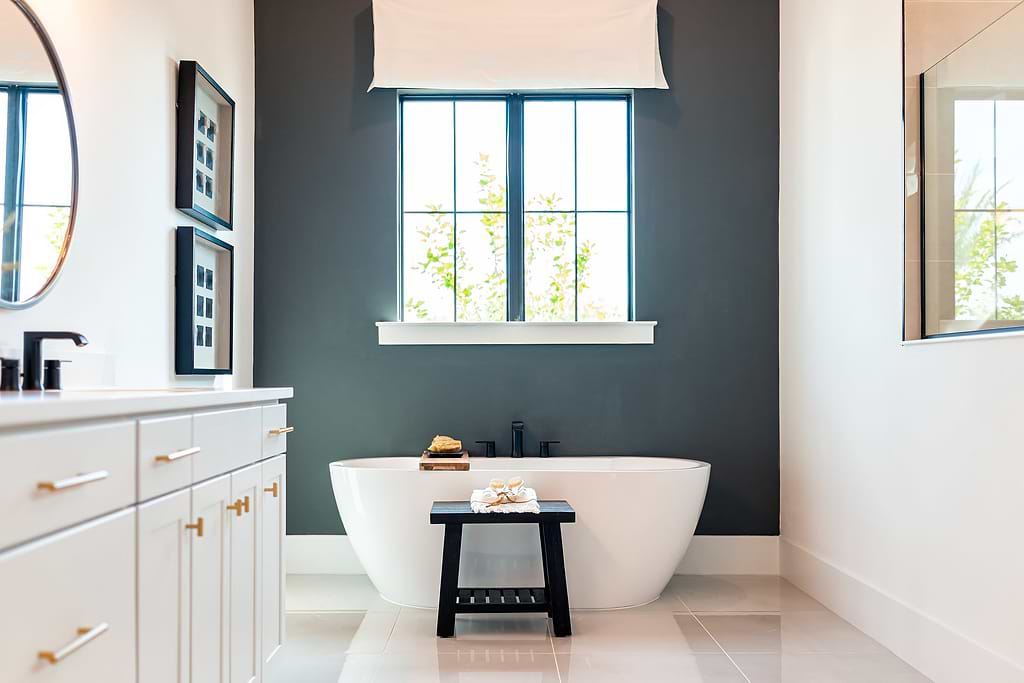 With black fixtures, this bathroom is ripe for matching bathroom accessories such as our comprehensive Origins Living collections
If you're still unsure whether to take the plunge into the world of black bathrooms, experimenting with dark accessories before you make that leap is a sensible compromise. We stock a wide range of bathroom accessories, mirrors and storage options, all of which play a key role in creating a practical and aesthetically pleasing environment.
Creating cohesion in a new bathroom
If you have chosen a black toilet and you already have black fixtures in your new bathroom, for example, why not add matching accessories? A black towel rail will add elegance and depth to a bathroom design next to a freestanding bath, for example. Black fixtures and fittings will instantly add to the look. You can even add small design elements, such as a black soap dispenser and matching tap, which will contrast beautifully with white walls.
The magic of matt black
Matt black has fast become one of the most favoured finishes by interior designers. It's extremely practical and endlessly versatile. Black accessories add instant depth and drama, and suit both classic and contemporary settings. And unlike shiny metallics, matt black is easy to keep clean, as it's less susceptible to fingerprints and water splashes.
Small changes can make a big difference. Add some black hooks or a freestanding towel stand to begin with. If you like the effect, consider updating more permanent fixtures (a radiator perhaps) before progressing to a full black bathroom renovation.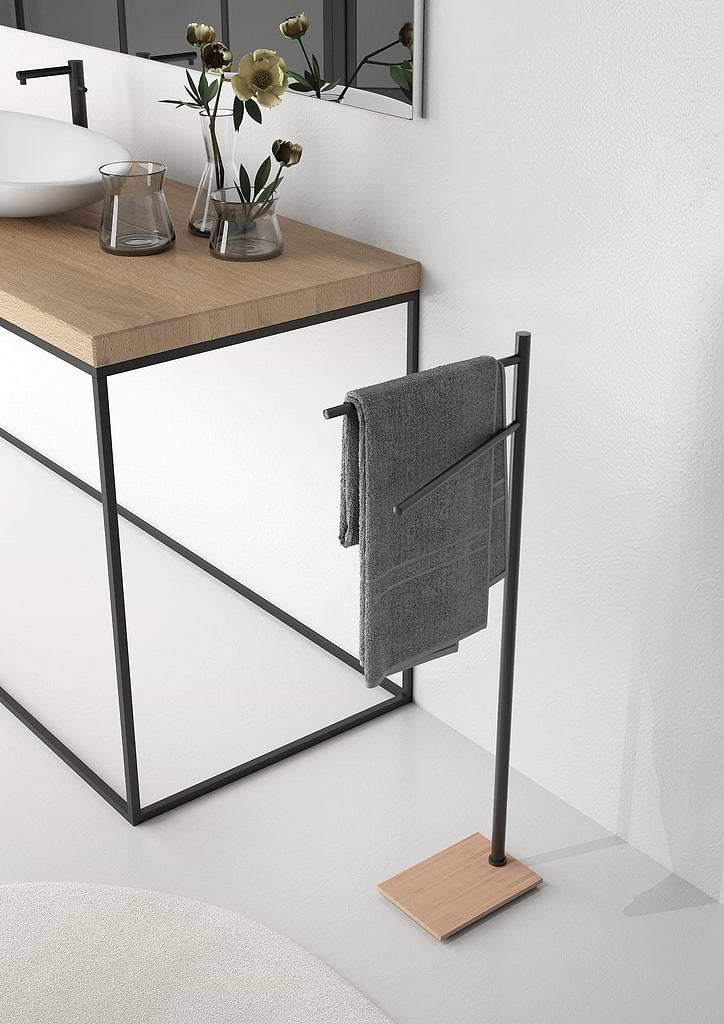 Our Origins Living Trilly Towel Stand in Black Bamboo is freestanding, which makes this a super easy accessory to add to a bathroom for an instant style update  
Bathroom mirrors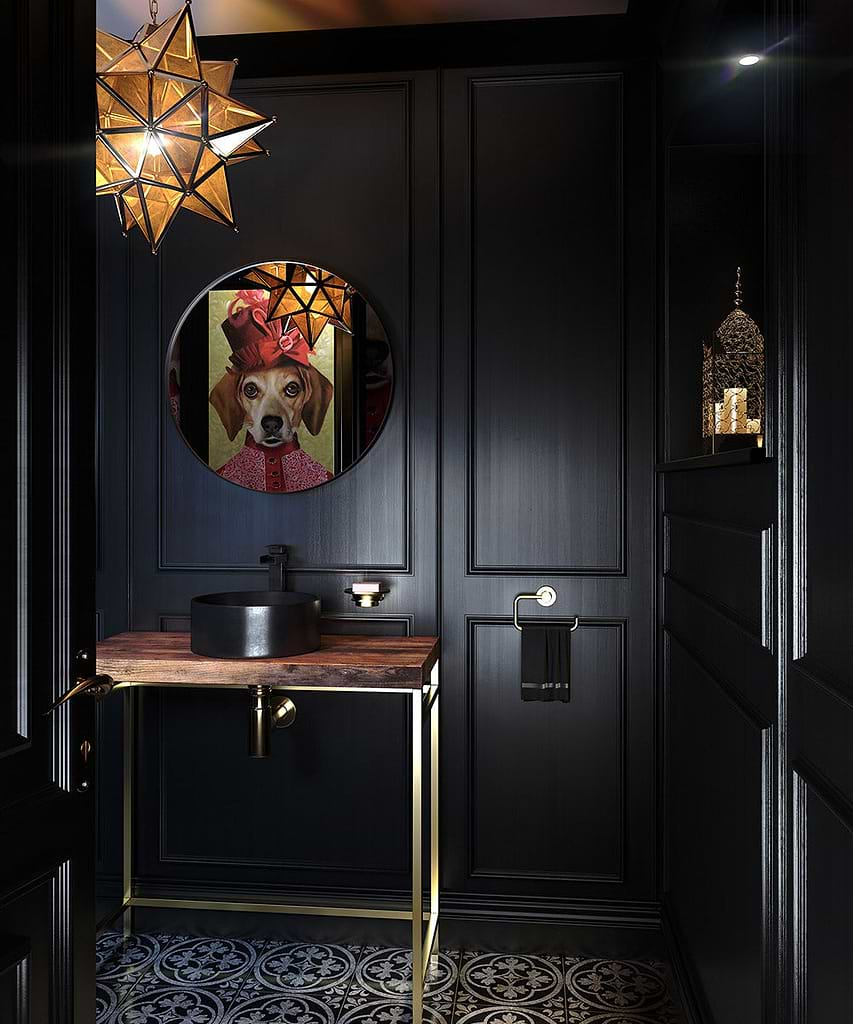 Our Origins Living City Round Mirror 80cmDia Black features a matt black finish in a stainless steel frame - you choose whether to mix or match it with your balck bathroom scheme
The right bathroom mirror is especially important for a black bathroom. Mirrors reflect light, and can create the illusion of a bigger, brighter space in bathroom designs regardless. This is important if you're worried about too much darkness and large mirrors will instantly make a statement. And, on a practical level, I think everyone needs a decent mirror in their bathroom, regardless of the colour scheme they've chosen for it!
Add interest with an unusual shape (hexagonal or octagonal) more a modern twist or keep things classic with a round or rectangular black frame. A statement mirror is a bold choice, which can even double up as a piece of art for a gallery wall and add depth to your design. Choose an illuminated mirror to add ambience, or treat yourself to a model with heated demister pads to help prevent the build-up of steam.
Create dimension with contrasting colours
You could also try a mirror in a contrasting frame to brighten up a black wall. Think brushed bronze or brass to help add an elegant finish and create a focal point in your black bathroom design. And why not consider two mirrors above double sinks on a black vanity unit for a primary bathroom for two.
Whichever colour tiles you choose for your bathroom, the right grout is just as important. Click here for our expert guide on how to make the best selection.