Here, I showcase a small selection of our new comprehensive collection of LVT flooring
At Hyperion Tiles, we pride ourselves on being a one-stop destination for all your tile needs. Over the years, we've worked hard to curate an extensive collection of leading luxury tile brands, to help you transform every room in your home (and your garden, too!).
To keep our offer fresh and exciting, we constantly monitor new trends and innovations. So we are absolutely thrilled to announce that our flooring portfolio now includes luxury vinyl tiles (and planks), also known as LVT flooring. This new LVT collection by Floorify features a huge range of different tile and plank types to choose from. So whatever colour, style or pattern you prefer, we're sure to have something that suits.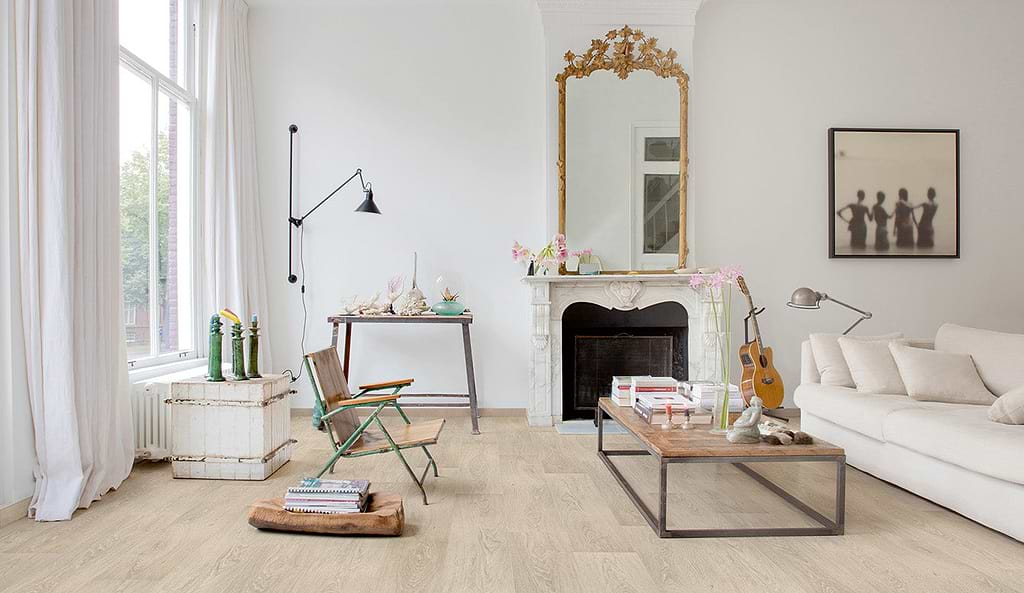 Available in a huge range of designs that convincingly mimic the look of natural wood and stone, LVT flooring is a versatile flooring choice that combines great durability with serious good looks – as demonstrated here by our Floorify Whitsundays F003 Long Luxury Vinyl Planks, which measure 1524mm x 225mm per plank cost £54.95 per sq m 
What is LVT flooring?
LVT is a printed vinyl flooring material that looks just like real wood or stone. It's a highly durable flooring option that's one of the fastest-growing products on the market. Upscale in appearance, LVT tiles are made from a series of layers which, despite their durability, are flexible and thin enough to cut with a knife. Luxury vinyl tiles are usually installed via one of two methods. These are a click system, similar to that used for laminate flooring, or gluedown.
The benefits of LVT flooring
Luxury vinyl tiles have so many advantages. First and foremost, they combine stylish good looks with great durability. LVT flooring realistically replicates the look of natural stone and real wood, but is so much easier to maintain. Compared with wood and natural stone, it's also a far more cost-effective option too – helpful if your budget's being squeezed by the UK's cost-of-living crisis.
In addition to being smart, stylish and virtually indistinguishable from real wooden and stone floors, LVT flooring is waterproof. So there's no need to worry about damage from splashes or spillages.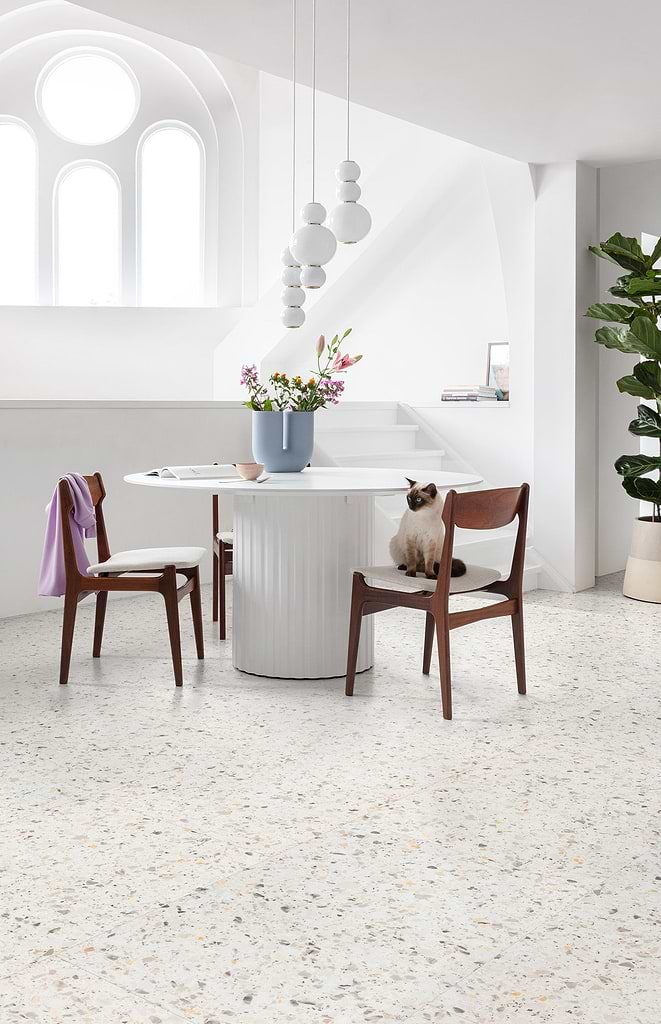 Can you believe these super-stylish Floorify Verona Terrazzo Luxury Vinyl Tiles aren't made from natural stone? Each F023 tile measures 900 x 600m and is priced at £49.95 per sq m
In fact, on every level, luxury vinyl tiles are very hard-wearing. Scuff-, scratch- and stain-resistant, they are highly durable, with plenty of strength and stability. They're easy to maintain and keep clean too. Unlike real wooden floors, for example, there's no oiling or waxing required. But durability doesn't mean discomfort. The synthetic layers of LVT flooring mean it's more comfortable underfoot than other natural materials, and surface sound is minimised too.
Yet another big benefit? Luxury vinyl tiles are the perfect partner for underfloor heating. Conversely, because they have a high level of resistance to changes in temperature, they are also an excellent choice for conservatories and orangeries.
Where can LVT be used?
LVT flooring is suitable for both residential and commercial installations. Thanks to its waterproof qualities, it's especially popular for bathrooms and kitchens. But because it's so robust, practical and easy to clean, it's also suitable for other high-traffic areas, such as hallways, stairs and living rooms.
Need a hardwearing flooring option for a high-traffic area? You can't go wrong with our Floorify F014 Sea Salt Concrete Look Luxury Vinyl Tiles, which measure 9000 x 600mm and are priced at £49.95 per sq m
How to choose the best LVT flooring?
With so much choice available, how do you choose the best luxury vinyl tiles for your home? For most people, it all comes down to personal preferences regarding colour, shape and style. Our new LVT flooring collection incorporates a wide range of options, both classic and contemporary, so there's something to accommodate every interiors aesthetic.
Luxury vinyl planks
Lovers of natural wood should explore our luxury vinyl planks portfolio, which realistically recreates the warmth, texture, patterns and colours of the real deal. What really sets this collection apart from other types of luxury vinyl planks is that we offer them in an extra-long length (2000mm x 240mm). This is more economical – especially for larger spaces – as less product is used during the installation process. Love the look but don't need the extra length? No problem. These luxury vinyl planks are also available in two smaller sizes: 1524mm x 225mm and 1219 x 178mm.
Priced at £54.95 per sq m, these warm, wood-like Floorify Teddy Bear F102XL Vinyl Planks, measuring an extra-long 2000 x 240mm per plank, are absolutely ideal for larger bathrooms and kitchens
Herringbone LVT flooring
Classic herringbone parquet flooring is certainly enjoying a moment, but in truth, this type of rustic/retro flooring never actually goes out of style. Herringbone is a great way to make any room appear bigger (but especially hallways or narrow spaces), because the design pulls your vision to the room's farthest point. Our LVT herringbone flooring options allow you to enjoy all the aesthetic advantages of this eye-catching style, in a more durable, cost-effective, and easier-to-install format.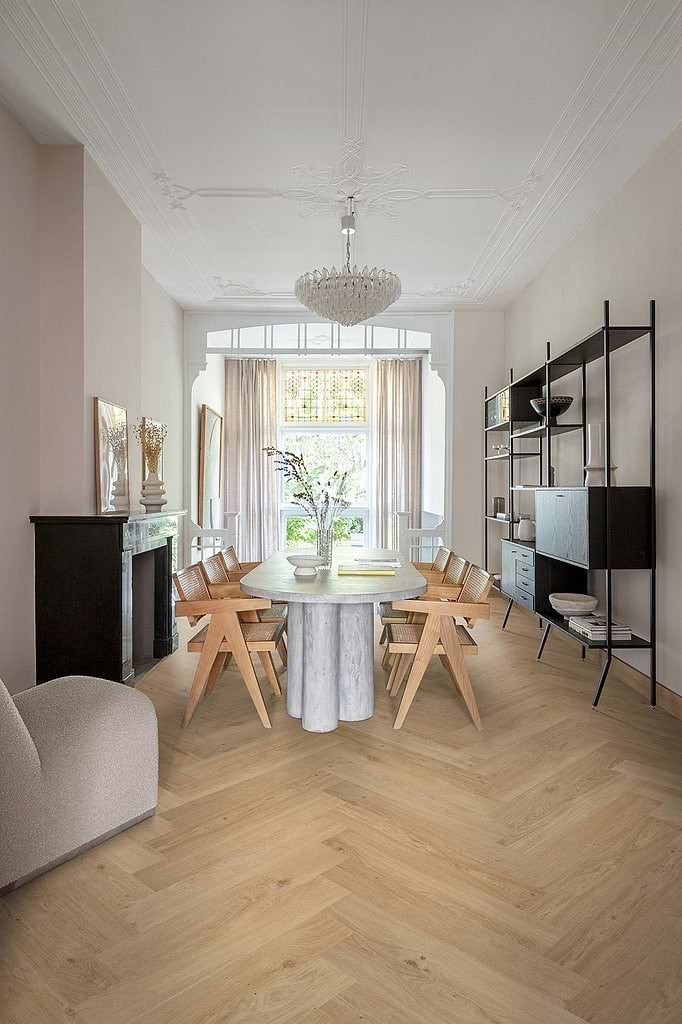 Herringbone flooring is always in vogue, and works equally well in both classic and contemporary design settings. We love how our Floorify Toro F318 Herringbone Luxury Vinyl Tiles (priced at £54.95 per sq m) look in this modern dining room
Vinyl tiles
Our luxury vinyl tiles are available in three key types: vinyl concrete, Terrazzo and Ceppo. These are all available in a large size format: 900mm x 600mm. These dimensions are ideal for creating a contemporary look. The extra-large format also helps to make the joints almost invisible.
Vinyl concrete
As you'd expect from the name, vinyl concrete tiles emulate the appearance of concrete floors, but offer more warmth and softness. Unlike true concrete, they are far more resistant to cracking, corrosion and colour discrepancies. Vinyl concrete tiles are a popular choice for fans of sleek, minimalist interiors and industrial chic.
Modern Terrazzo tiles add interest without overpowering. See how these Floorify F032 Piccolo Terrazzo Luxury Vinyl Tiles help to create a stylish neutral flooring option that doesn't compete with the rest of this room's décor. Each tile measures 900 x 600m and is priced at £49.95 per sq m
A new take on Terrazzo
Terrazzo refers to a composite material that usually consists of marble chips, quartz, glass, granite or shell. An enduringly popular choice for floors, it brings texture, vibrancy, colour and character to any room scheme. Vinyl tiles are a great way to tap into the Terrazzo trend, without worrying about the damage potential and upkeep that comes with versions made from natural materials. As you'd expect, they're more affordable, too.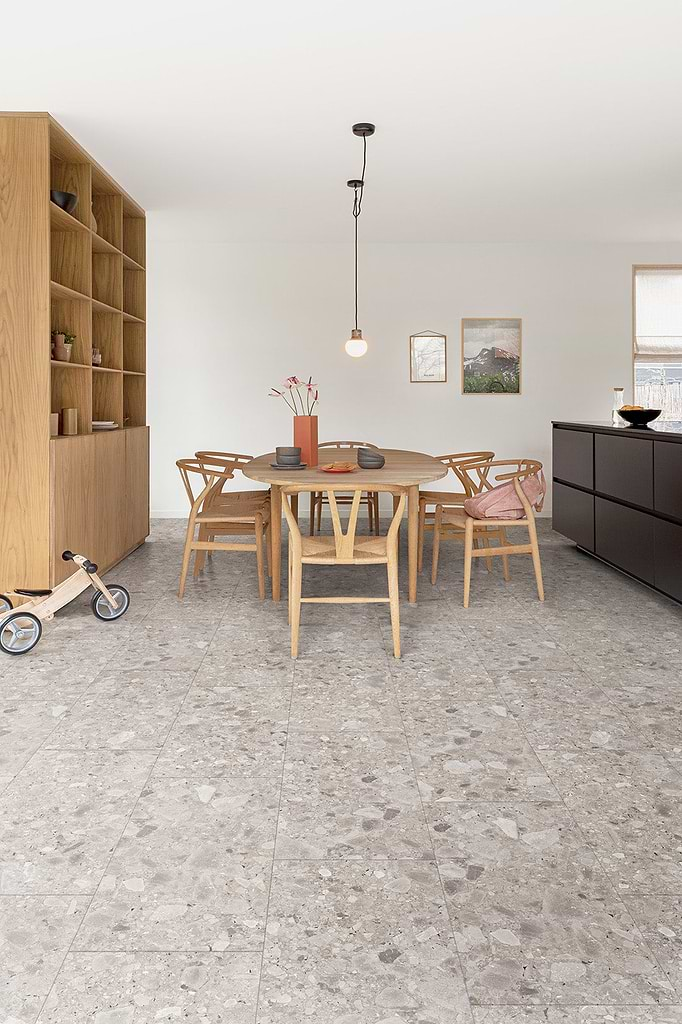 Traditional Ceppo tiles typically feature Italian stone and incorporate a distinctive 'pebble' design. Our Floorify F027 Ceppo-look Luxury Vinyl Tiles (900 x 600mm) look exactly like the real deal. However, they are less expensive and are easier to maintain
Vinyl Ceppo tiles
Have you heard of Ceppo? The word itself means 'rock with pebbles'. In terms of interiors, it generally refers to a grey-blue type of ornamental stone. The original is highly resistant to abrasion and is often found in high-traffic areas. Our LVT Ceppo tiles deliver a similar durability and appearance to the natural stone versions. But, as is the case with all LVT flooring options, they are much more affordable and easier to maintain.
 Are you a big fan of the mosaic tiles trend for bespoke bathrooms? Then read our blog, which is filled with design ideas.
Hyperiontiles.co.uk – Frequently Asked Questions (FAQ)
How is LVT flooring different from traditional vinyl flooring?
VT is typically thicker and more realistic in appearance than traditional vinyl flooring. It often comes in individual tile or plank formats, whereas traditional vinyl is typically in large rolls. Shop from our range of luxury vinyl planks to find the style that matches your aesthetic.