Follow our director Richard's essential guide on how to make the right terracotta tile choices for indoors & out 
Terracotta tiles are a perennially popular design staple, suitable for both walls and floors – and interior and exterior settings. Thanks to their warm, earthy tones, they are instantly recognisable. But many customers are surprised at the variety of terracotta shades available, and the corresponding assortment of shapes and sizes. They can be hand-made, reclaimed, glazed or unglazed. Endlessly versatile, they represent a timeless trend that adds instant charm and character to interiors and gardens.
What are terracotta tiles?
The term 'terra cotta' literally means 'baked earth' in Italian. On a related note, terracotta tiles are made from baked clay. So they are actually a variety of ceramic tile, made from a distinctive red/brown clay that typically incorporates a high iron content.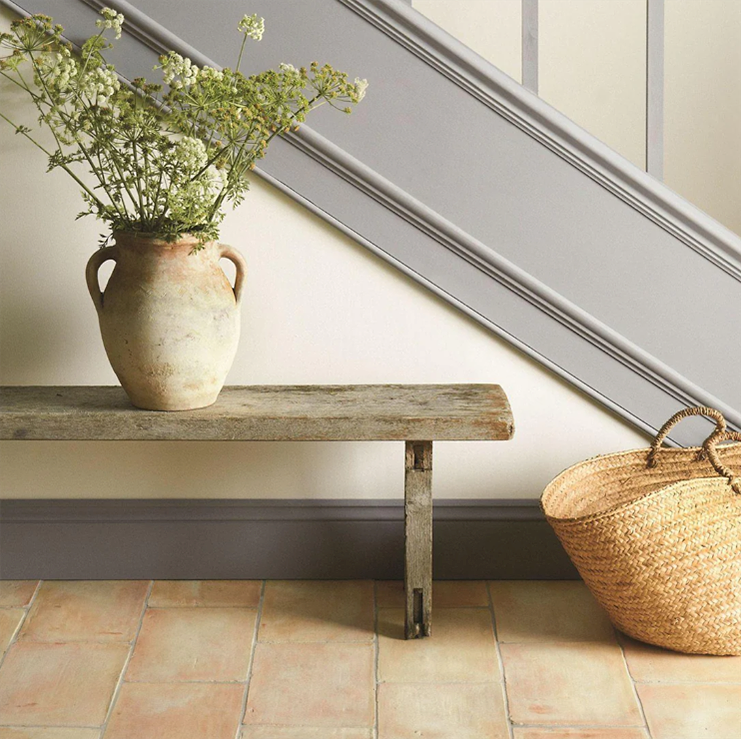 Suitable for interior floors, our Original Style Handmade Terracotta Floor Tiles 360 x 220mm are the product of centuries of quality craftsmanship. They incorporate stunning veining and mottling for a unique finish, and cost £6.01 per individual tile
Terracotta tiles have been a key architectural feature throughout Europe and Asia for thousands of years. Nowadays we tend to associate them with the Mediterranean region, although they are actually a great tile option for a range of climates.
Terracotta tiles – and especially terracotta floor tiles – are often the first choice for traditional/rustic settings and outside spaces. But modern iterations, which incorporate interesting shapes and a spectrum of shades from deep red to tan and toffee, work just as well with contemporary interiors. They also blend brilliantly with a wide range of other natural materials and textures such as wood, cement, linen and whitewash.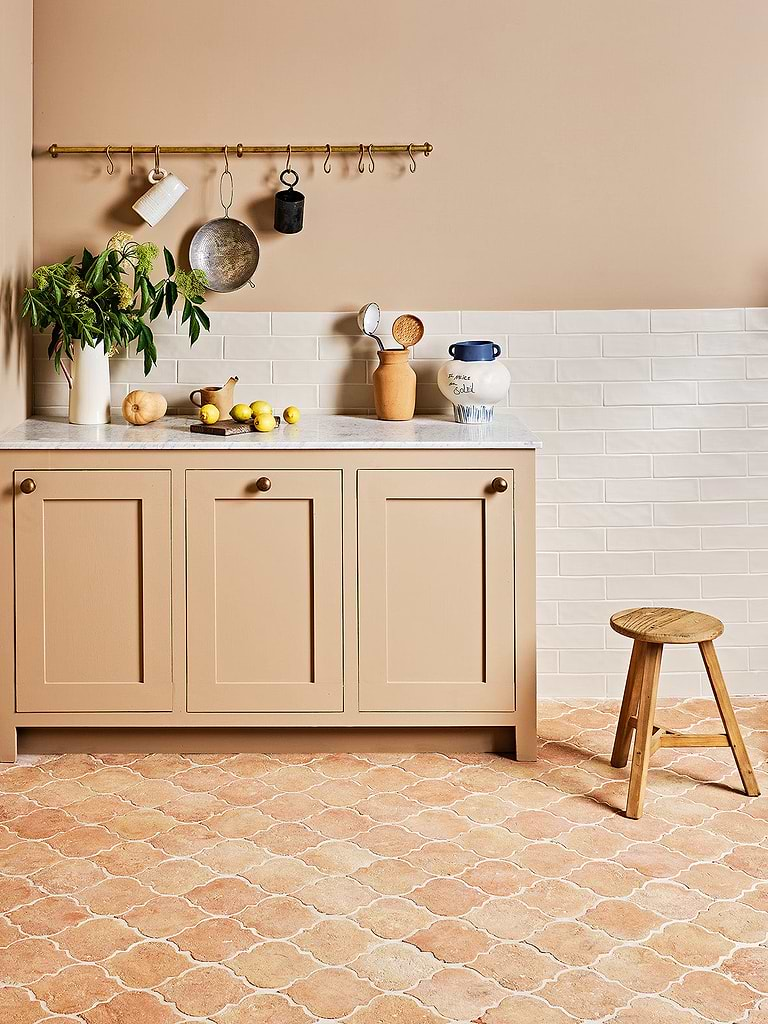 En pointe: The shape of our Ca' Pietra Marlborough Terracotta Arabesque Handmade tiles (£76.50 per sq m) give this classic stone a modern twist. Suitable for indoor floors, they work especially well in bathrooms, hallways and kitchens, thanks to their hard-wearing durability
Their benefits
Terracotta tiles offer many different benefits. When glazed, terracotta floor tiles are highly durable and scratch-resistant. When properly sealed and maintained, terracotta tiles are naturally resistant to mould and bacteria, making them suitable for outdoor use. Additionally, they will not fade due to prolonged UV exposure. These baked clay tiles add virtual warmth to a space, and also feel warm physically underfoot. Their colour and texture provide character and a sought-after 'old-world' charm to both domestic and commercial settings. And because each handcrafted tile is unique, their lack of uniformity makes walls and floors more interesting, and offer excellent scope to unleash your creativity.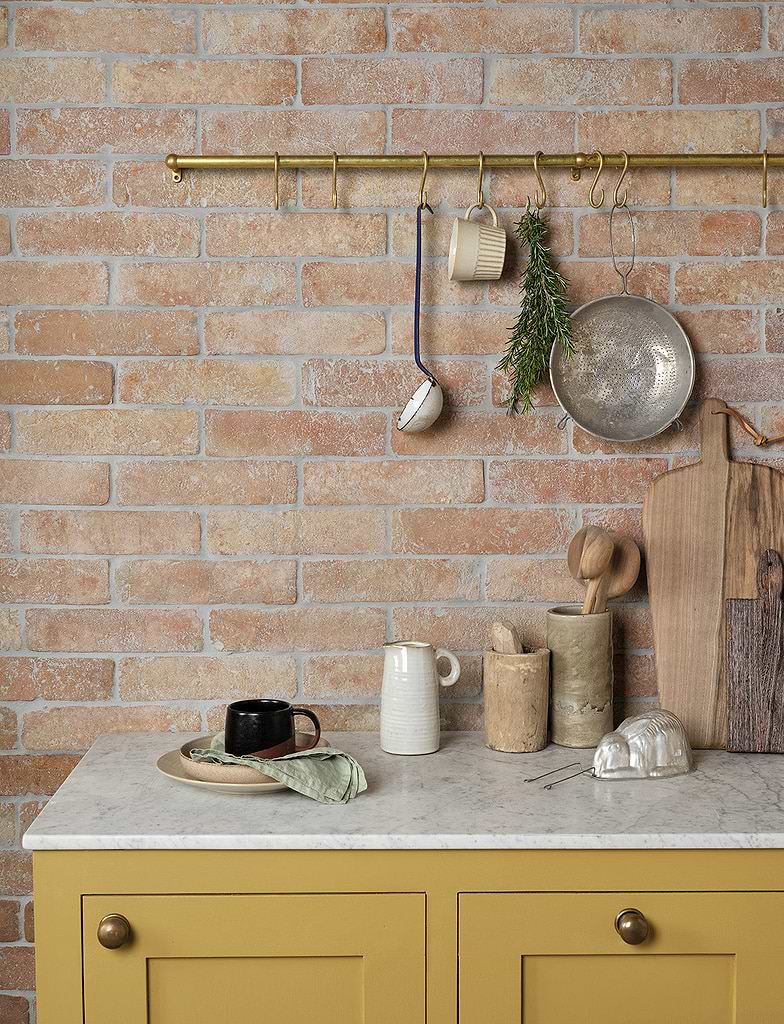 Hooray for parquet: Ideal for high-traffic areas such as kitchens and hallways, our Ca' Pietra Marlborough Terracotta Parquet Handmade tiles (£70.05 per sq m) deliver a modern twist to this classic stone 
Love patterns? We have plenty of parquet options to explore. Terracotta wall tiles also make a stunning backdrop for traditional kitchens. Use them throughout your scheme, to zone certain areas, or to highlight a feature backsplash.
A sustainable solution
Importantly, terracotta tiles are an eco-friendly design option. They are made out of naturally occurring materials, and aren't treated with any harmful chemicals or synthetic materials. Salvaged versions offer even more sustainability, thanks to their recycled element. As an added bonus, in aesthetic terms, they incorporate a sought-after time-worn appearance and patina. So if you're looking for a good-looking green, recyclable option, terracotta tiles are hard to beat.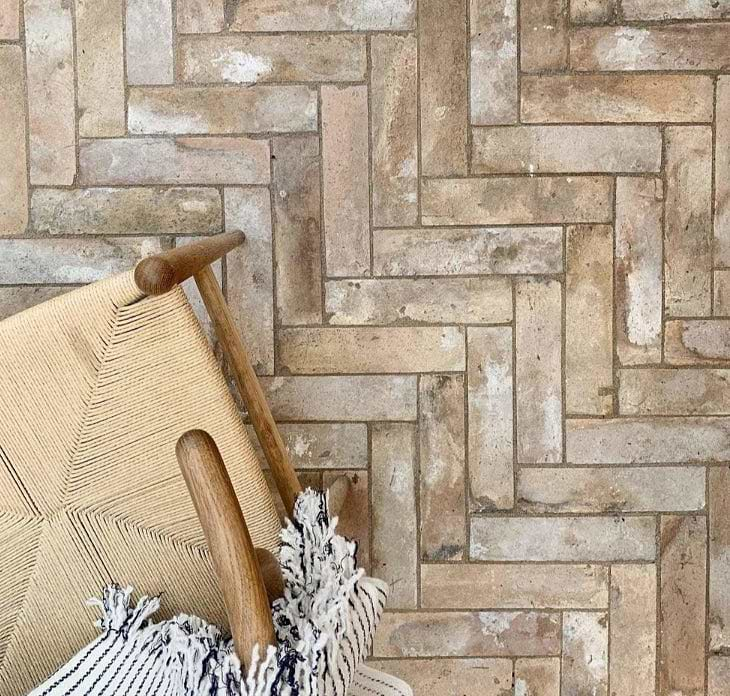 Sourced in southern Europe, our extra eco-friendly Bert and May Reclaimed Rectangle Terracotta Tiles (£164.44 per sq m) offer unrivalled versatility. Suitable for exterior and interior walls and floors, they incorporate a wonderful texture and degrees of colour variation from ochre to grey blue
Take the floor
With so many different types to choose from, it's easy to feel overwhelmed. As always, where you're planning to lay your terracotta floor tiles should dictate your ultimate selection. Unglazed versions are often used for flooring, as they tend to be less slippery. However, unglazed terracotta floor tiles will require sealing when laid, and every few years thereafter. This helps to protect against damage and staining, as unsealed ones are very porous. Many customers mistakenly think that terracotta tiles aren't suitable for underfloor heating. But this is where their porosity is a big advantage. They actually warm up quickly, and retain heat well. So you benefit from fast and efficient heat transfer, saving time, money and energy.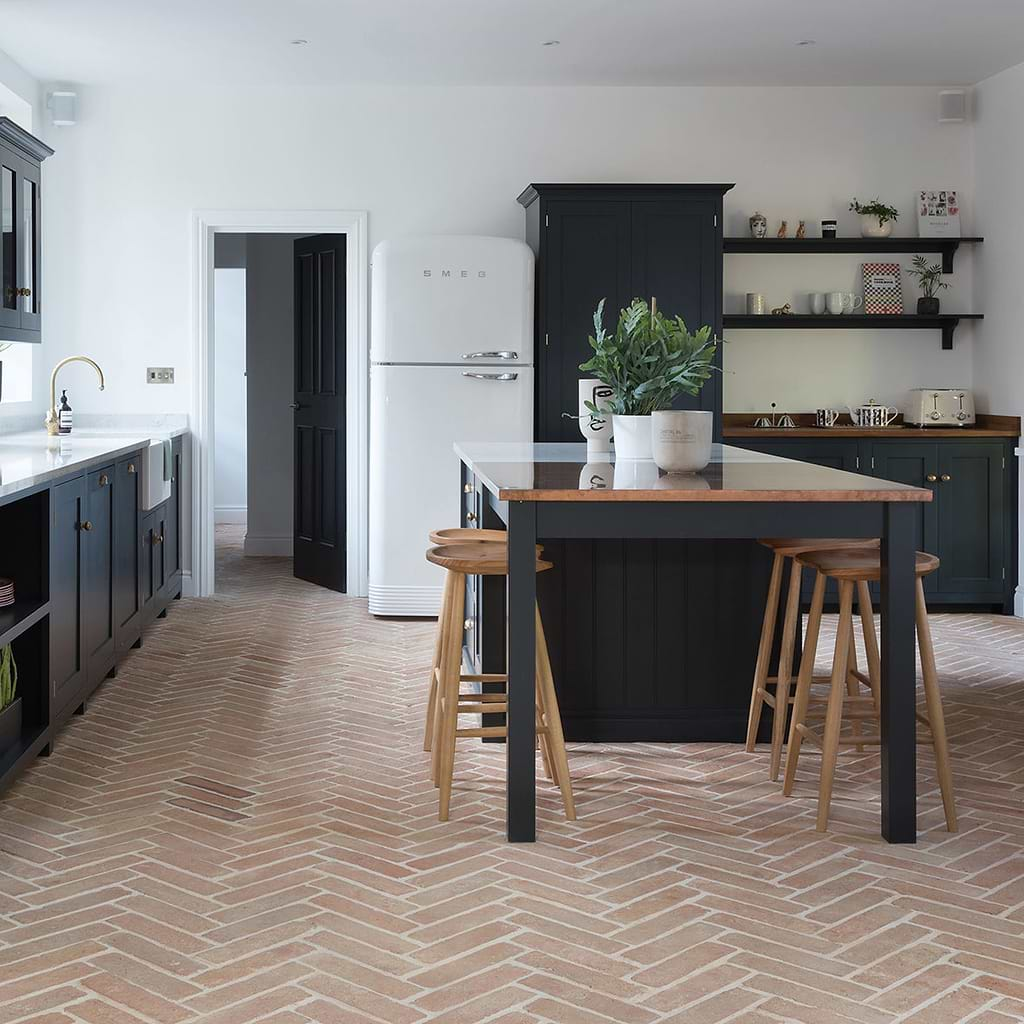 You can lay our Ca' Pietra Marlborough Terracotta Parquet Handmade tiles (£70.05 per sq m) in whichever shapes you choose, such as this striking design showcased here in a traditional kitchen setting. Hard-wearing and durable, they are suitable for both interior walls and floors
Great for gardens
Outdoor terracotta floor tiles are most definitely enjoying a moment. In fact, terracotta pots and garden accessories are a great way to trial the trend. But if you're ready to take the plunge with something more permanent, we have an extensive collection of tiles to choose from. It's important to realise that not all terracotta floor tiles are suitable for exterior use. Depending on the clay blend used, some aren't dense enough to withstand hard frosts, so do check before you buy.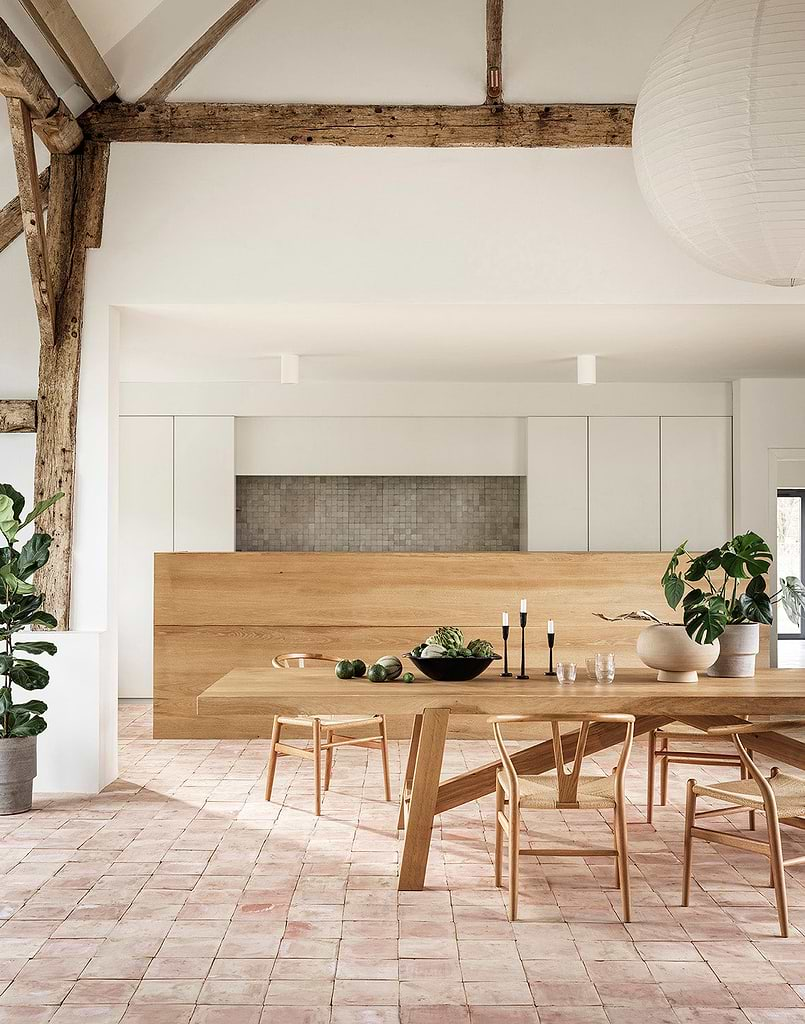 All square: You can lay our Bert and May Reclaimed Square Terracotta Tiles (£134.72 per sq m) inside and outside on both walls and floors, and add a stylish, modern rustic feel to any design setting
You can use terracotta floor tiles to create colourful patios and al fresco entertaining spaces. They pair beautifully with other natural materials such as wicker and cork. In terms of colour palettes, bright blue delivers a perfect, high-impact contrast. Or keep things understated with shades of grey and white. There's more good news. Exterior versions feel as good as they look. They heat up in the sun to deliver welcome warmth underfoot, but stay comfortably cool in shadier areas.
Caring for your terracotta tiles
These tiles are robust and naturally low-maintenance. As previously mentioned, sealing your tiles will help to protect them against staining. Always use a specialist product designed for natural stones, and deep-clean them first, to avoid trapping any dust or grit underneath the sealant.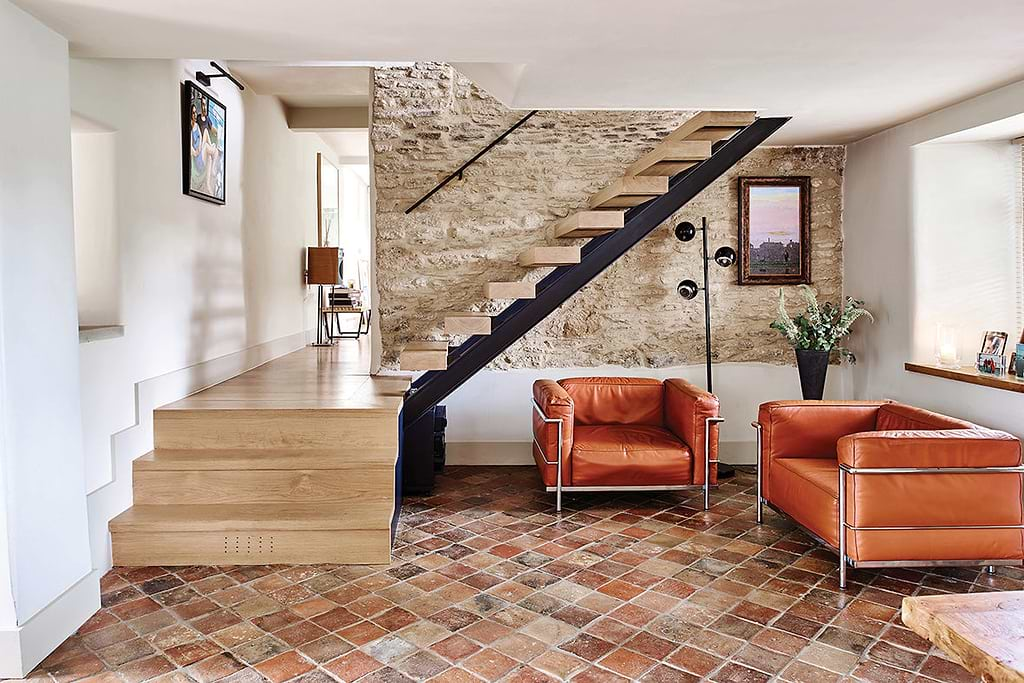 Character act: Our Ca' Pietra Antique Burgundy Terracotta tiles (£216 per sq m) are reclaimed from historic French sites. Suitable for interior walls and floors, each batch varies slightly in size and tone, ensuring your finished result is completely unique.
For routine cleaning, use a gentle product, and clean up any spills promptly, with warm soapy water and a soft cloth. Don't use acids, vinegar or ammonia. Unglazed terracotta floor tiles can get dusty, but can easily be swept or vacuumed, just like your carpet.
Keen to add some colour and character to your latest project? Click here to learn more about the growing popularity of hexagonal tiles
Hyperiontiles.co.uk – Frequently Asked Questions (FAQ)
Can I install terracotta tiles myself, or should I hire a professional?
While it is possible to install terracotta tiles yourself, it's often recommended to hire a professional, especially if you have little experience with tile installation. Proper installation is crucial for their longevity and appearance. Shop from our range of terracotta tiles to find the one that matches your home's aesthetic.