Find out how to make your marble tiles matter by choosing the right style and finish for your bespoke project
If you're looking to introduce a touch of luxury to your home, marble tiles are hard to beat. This sought-after natural stone has long been prized for its elegance and opulence. Associated with quality and sophistication, this material is beautiful, instantly recognisable, and has the power to elevate any living space.
Popular in both commercial and residential buildings, marble tiles are available in a huge range of colours and finishes – and a wide variety of shapes and sizes. Furthermore, they can be used on both floors and walls. But because it's so versatile, with so many different options, it can be difficult to know how to choose the best ones for your home. Read on to discover all the criteria to consider before you make your final selection.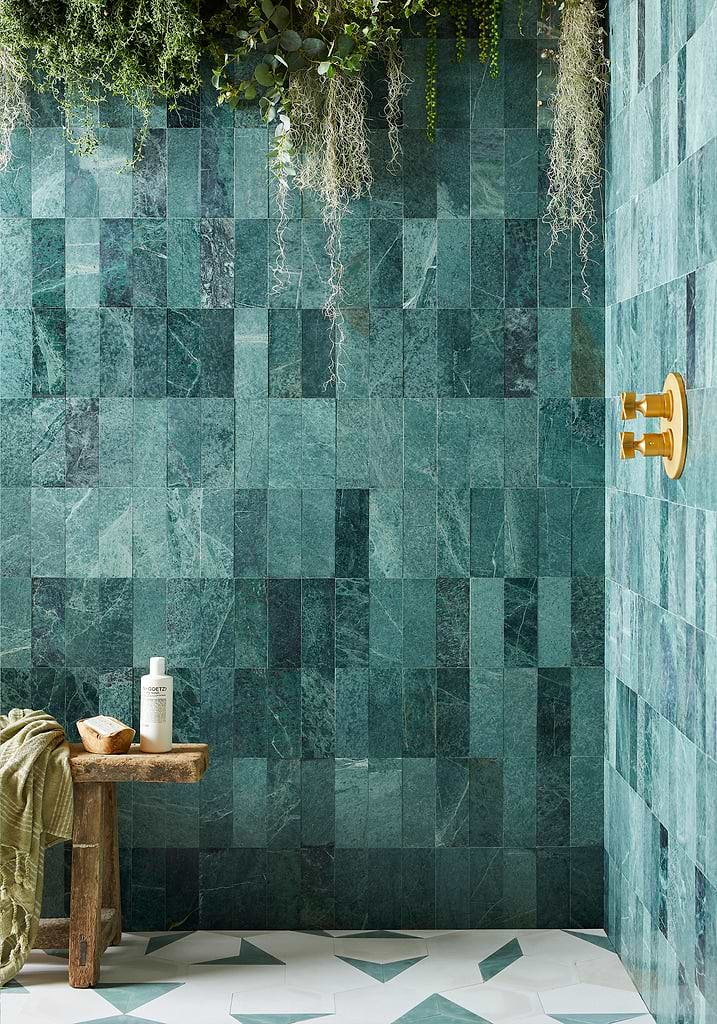 Featuring a honed finish, our 20 x 7.5 x 1cm  Bert & May Fennel Green Herringbone Marble Tile combines tones of teal and pistachio that work especially well with foliage and greenery, and is very popular for bathroom settings. These tiles are priced at £159.20 per sq m
The advantages of marble tiles
The most obvious advantage of this material is the aesthetic appeal. But there are plenty of other benefits, too. They don't just look good. Marble tiles are durable and hard-wearing. And because it's a natural stone, it has much less of an environmental impact than engineered/manufactured stone. In fact, many people consider marble to be the very definition of a sustainable material. It comes straight from the earth, doesn't require other resources to create, and is in abundant supply.
The importance of proper TLC
Another advantage is that each piece is different, with unique patterns and veining. So if you like the idea of creating an interior that's unlike anyone else's, marble tiles are a good place to start. However, these unique properties do mean that extra care is needed to avoid laying tiles that don't match well next to each other. Buying from a reputable supplier – and using a professional tiler – will minimise any mismatches.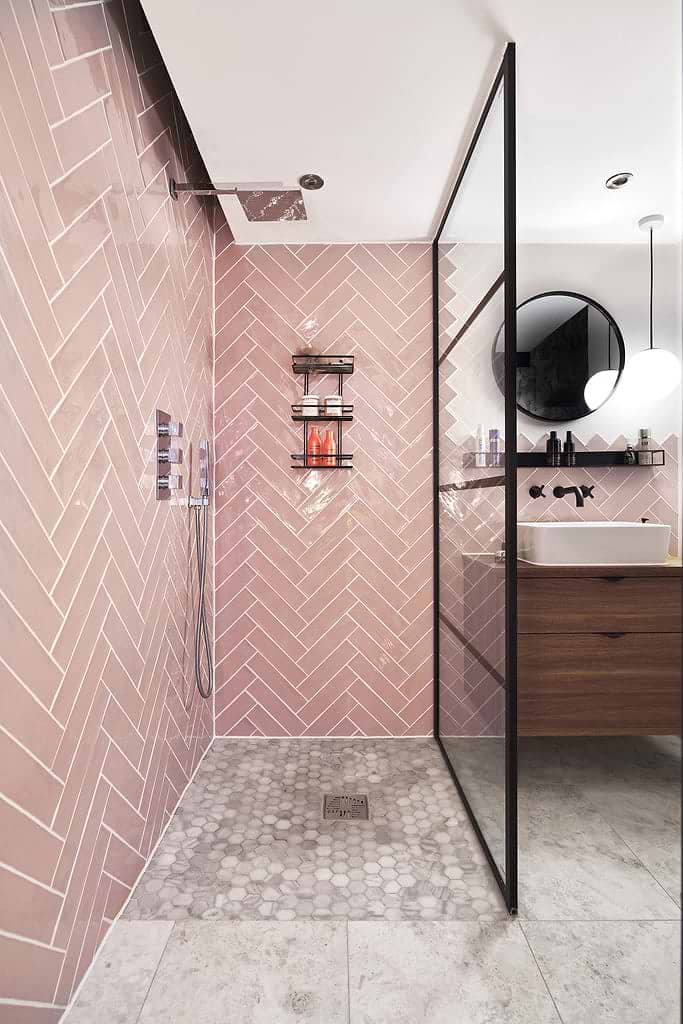 Suitable for both walls and floors, our 30.5 x 26 x 1cm Ca' Pietra Long Island Marble Small Hexagonal Mosaic Tiles incorporate a subtle grey veining, with a honed finish that makes them perfect for modern bathrooms and en-suites. They are priced at £14.13 per sheet.
Another issue to be aware of when choosing this tile material is the maintenance. While marble is hard-wearing, it's also a porous natural stone. Therefore, untreated marble tiles are vulnerable to damage from moisture and acidic materials – something to bear in mind if yours are destined for your bathroom or kitchen. One solution is to seal your marble tiles, before installation and/or after grouting. This protective sealant will need to be reapplied at certain intervals, usually just once a year. And always use specialist cleaning products that are designed for natural stone – never bleach or other harsh chemicals.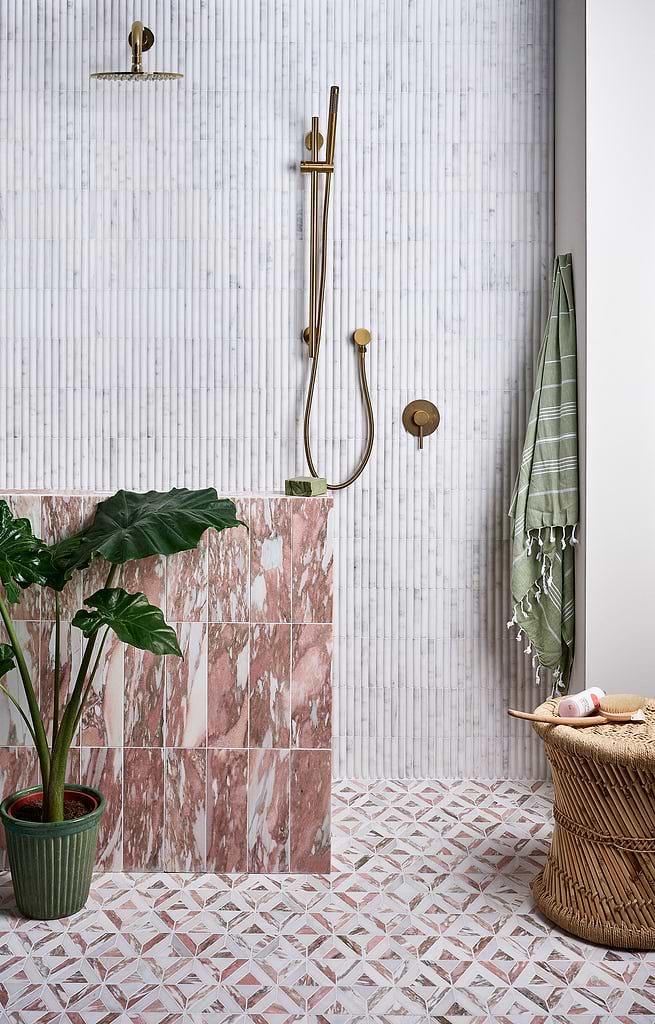 Feeling hot, hot, hot. Make a statement with our Ca' Pietra East Java Flamingo Marble Brick Tiles, which showcase upscale tropical style. Measuring 10 x 30.5 x 1cm, these honed finish tiles are suitable for walls and floors and are priced at £247.50 per sq m
Floors versus walls
Where you're planning to lay your tiles should dictate the type you choose. Generally, floor marble tiles can be used on walls but wall tiles can't be used on the floor. Weight is also a key consideration where wall tiles are concerned. Marble is heavy, especially in comparison to ceramic tiles. So you'll need to make sure that the substrate is capable of supporting the weight. Tile thickness is another issue to consider. Tiles that are 12mm and 15mm thick are recommended for internal use only. 20mm tiles can be laid both internally and outside. 30mm tiles are recommended for external use.
Choosing the right marble tile finishes
The finish you choose is very important. There are three main types: polished, honed and tumbled finish. A polished finish is perfect if you want your marble tiles to look smooth and glossy. This enhances the stone's light-reflecting properties, resulting in a gorgeous, high-end glow. Polished marble can be slippery, however – especially when it gets wet – so this might not be the best choice for a bathroom or en-suite floor.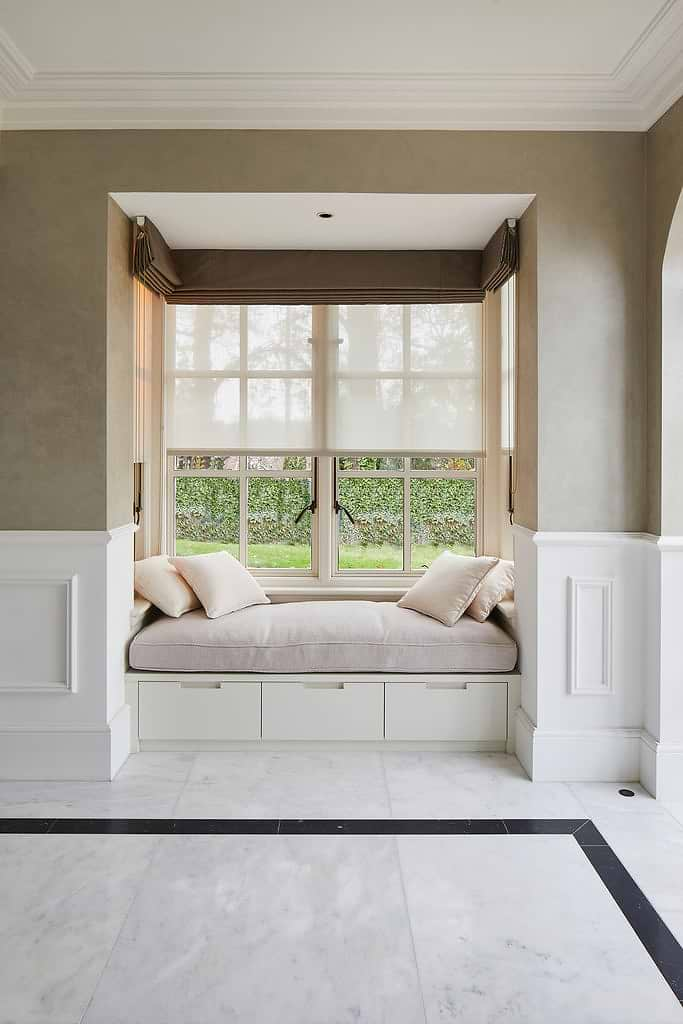 Available in a huge range of shapes and sizes, our Ca' Pietra Long Island Marble Honed Finish Tiles are endlessly versatile. Suitable for both walls and floors, they have a honed finish and are priced at £78.75 per sheet
A honed finish adds a velvety matte look to marble tiles. It also "mutes" the colour slightly, for a more subtle effect. Honed marble tiles retain their smooth finish, but are less slippery than their polished counterparts. The work well in high-traffic areas, as they are less prone to scratching. Finally, a tumbled finish creates a deliberately worn, rustic look, and often incorporates softened edges. As its name suggests, it's created by tumbling the marble with water and sand, to wear it down. This end result is an aged appearance that works especially well in traditional settings or period homes. Like honed marble tiles, tumbled marble tiles are less slippery than polished marble tiles, so are suitable for bathrooms and wet room environments.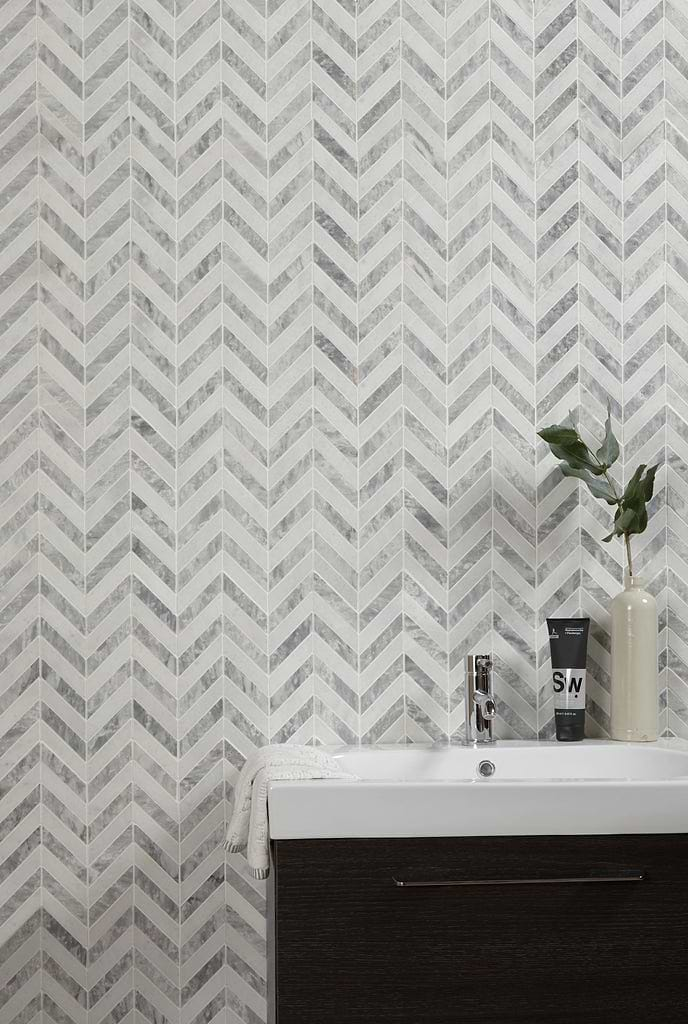 Admirers of the Art Deco aesthetic will love our Ca' Pietra Milan Silver Marble Mosaic Tiles. Available in three colours, they feature a striking herringbone pattern that works beautifully as a decorative backdrop or statement floor section. The tiles measure 28.5 x 30 x 1cm and are priced at £24.67 per sheet
Popular marble tile style trends
Marble tiles offer endless options and combinations in terms of style and shape. Your final choice should reflect your own personal tastes and preferences, and well as functionality. Large-format versions are a great way to make an eye-catching style statement. If subtlety's more your thing, select small tiles instead.
Do you like plain colours or patterns? Have you considered a 'mix-and-match' approach? Mosaic marble tiles add impact and interest, for a floor area or a backsplash. Black and white marble tiles are a classic colour combination that's always in vogue. You could indulge your love of pastels with pink marble tiles, or choose deeper, darker hues for a more dramatic design.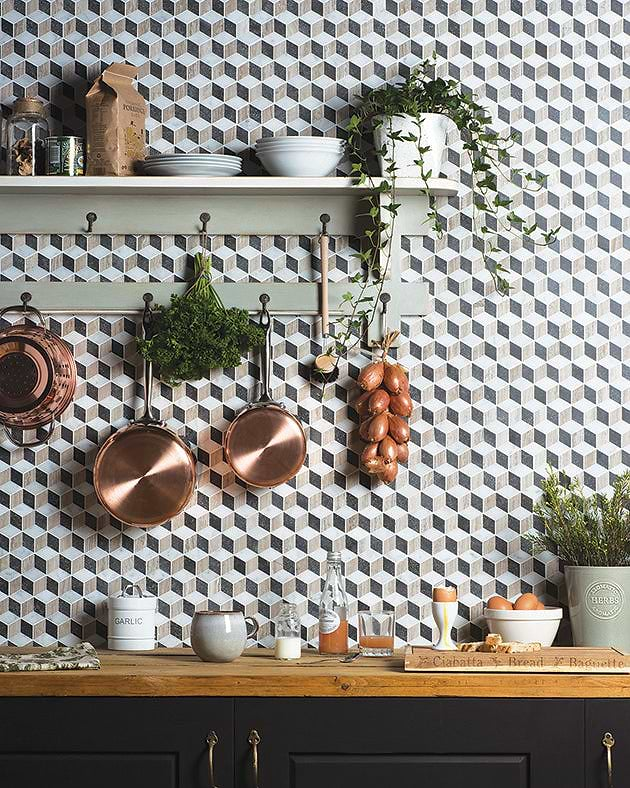 Indulge your passion for pattern with our Original Style Herald Marble Mosaic Tiles, priced at £22.75 per sheet. Measuring 300 x 300 x 10mm, these tiles are the perfect way to add an individual touch to your decor, as a splashback, a shower wall, or an accent within a neutral design scheme.
If your budget allows, you can use matching marble tiles on your walls and floors, for a cohesive, ultra-luxe look. Our use them sparingly – behind a vanity, to clad a bath, or to create a feature wall – to make a little lavishness go a long way.
Need new tiles but still not sure about marble? Click here for our expert guide on how to choose the best porcelain tiles.
Hyperiontiles.co.uk – Frequently Asked Questions (FAQ)
What are the different types of marble available for tiles?
Marble comes in various types and colours, such as Carrara, Calacatta, Emperador, and Crema Marfil. Each type has unique veining and characteristics, making it essential to choose one that suits your aesthetic preferences. Shop from our range of marble mosaic tiles to find the style that matches your aesthetic