The popularity of porcelain tiles 
Porcelain tiles are one of the most popular types of ceramic tiles. It is a natural material used for centuries as an essential part of Chinese art and architecture.
They are available in various shapes, sizes and colours and can be found in indoor and outdoor applications. They are also very durable, which makes them ideal for interior or exterior use.
Porcelain tiles are an excellent choice for any bathroom, kitchen and more. They're easy to clean, durable and affordable. But even better, they add style and beauty to your home. If you want to impress your friends or family with a stunning bathroom renovation project, then porcelain tiles are the best option. 
Here at Hyperion Tiles we can offer you a wide range of tiles suitable for every room in your home, get in touch for more information today!
Why Use Porcelain Tiles?
Porcelain tiles are an excellent choice for interior and exterior applications. They offer a variety of colours, patterns and sizes that lend themselves to a wide range of design options. Porcelain tiles can also be combined with other materials such as wood or glass to create unique designs that don't exist with other types of flooring. Porcelain tiles can be installed directly over existing floors or can be used to cover existing subfloors.
Porcelain tiles can absorb moisture from your home's environment without cracking or splitting under heavy foot traffic or high humidity levels. Because they are made from a single piece of clay material, they will not warp or bend when wet; this makes them highly resistant to cracks caused by extreme conditions like cold temperatures or hot summers, which can affect other flooring materials.
Porcelain tiles are the best choice for indoor and outdoor use. They are easy to maintain and can be used in any home or office. Porcelain tile has many advantages over other types of flooring, such as ceramic tiles, marble and granite.
Porcelain flooring is also durable in high-traffic areas such as hallways or mudrooms. It's easier to clean than other types of flooring, making it ideal for these areas where spills or messes might happen more often than in other parts of your home.
One of the best things about porcelain tile is that it's easy to maintain. You can clean them with a damp cloth or sponge and warm water if necessary. They are also stained-resistant so that they won't show dirt or stains as quickly as other types of flooring.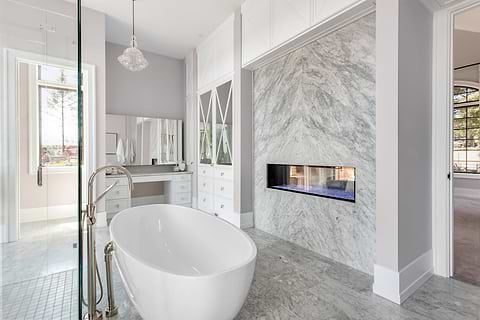 Did You Know Porcelain Tiles Have Been Around For Centuries? 
Porcelain tiles have been used throughout history in many countries worldwide because they are beautiful to look at and last for years without needing to be replaced. They can be used to create any type of design you like, from traditional to modern. 
If you want to get started with porcelain tile projects today, here are some ideas for some great inspiration:
Tile Floors
Tile kitchen floors can be a beautiful focal point for the entire room. Kitchen backsplash ideas using porcelain tiles are easy to install and create an elegant look that's both modern and traditional at the same time.
Many people prefer porcelain tiles because they have great texture and feel underfoot. Porcelain tiles have a smooth finish that feels like walking on air, which makes them perfect for high-traffic areas like kitchens or dining rooms where you want guests to feel comfortable walking barefoot on your floors. Porcelain tiles also work well in hallways since they don't show footprints quite as much as other types of floor.
Backsplash 
A beautiful kitchen backsplash with patterned porcelain tile is a great way to add interest to an otherwise plain kitchen. The look is clean and modern but still has some dimensionality thanks to the decorative detail created by the patterns on the tiles. You can use different colours for different elements of your backsplash — for example; you could use a light colour for the countertop area and another darker colour for the cabinets or prep area behind it. The possibilities are endless!
Wall Cladding
If you want to add a bit of colour to your walls, you can use porcelain tiles as wall cladding. These tiles come in many different colours and textures so that you can match them to any décor in your home. They also have a decorative look that will be perfect for any room in the house.
Flooring
Porcelain tiles make great flooring options because they are durable and easy to clean. They can be installed directly over existing floors or used under carpets as an overlay that doesn't need to be touched during routine cleaning procedures.
Countertops
You can also use porcelain tiles on countertops if you want something simple but elegant at the same time. This is especially true if you want something that complements other elements in your kitchen, such as cabinets or appliances.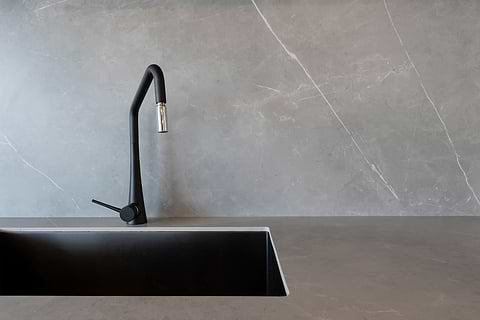 Choose Hyperion Tiles For Porcelain Tiles Today! 
Porcelain tiles are a great way to add style and personality to your home. With so many design options available, it can be hard to know where to start. 
We put together this list of our top five porcelain tile designs for you to consider. If you like any of these ideas or have your design in mind, contact Hyperion Tiles today. We would be happy to help you start your next home renovation project. Thanks for reading!
Hyperiontiles.co.uk – Frequently Asked Questions (FAQ)
Are porcelain tiles suitable for high-traffic areas?
Yes, porcelain tiles are ideal for high-traffic areas, such as kitchens, hallways, and commercial spaces, due to their durability and resistance to wear and tear. Browse our range of porcelain tiles to find the one that matches your interior design style.