Why engineered wooden flooring could be the perfect choice
Wood floors continue to be popular for the warmth and timeless appeal they can offer to your home. However, if you're looking for a more cost-effective solution, you can still emulate the beauty of natural, solid wood with engineered wooden flooring. The top layer is real wood after all. So, this not only captures the inherent character real wood will bring to a floor, but this floor style will offer you more versatility. Engineered wood flooring is more resistant to temperature changes and humidity, and you can even fit it to a sub floor if necessary.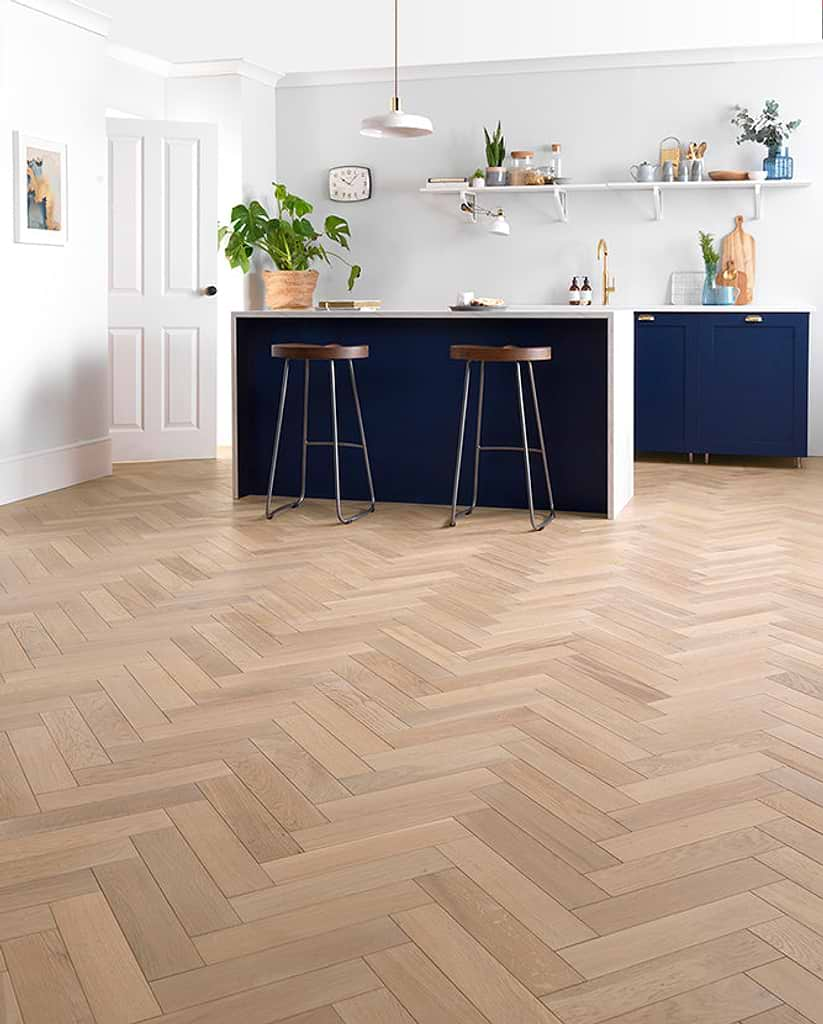 A pale parquet floor, such as our new Woodpecker Goodrich Ecru Oak, (£131.58 for 1.296 sq m) can give a natural feel to a kitchen with its beautifully brushed finish. This helps to highlight the natural texture of the wood. A subtle matt lacquer provides a smooth, hardwearing finish which emulates the appearance of an oiled floor
Emanating elegance
Engineered flooring offers a wide variety of grains, stains, plank widths and natural shades thanks to its a solid wood top layer. So, you can feature this in a variety of key rooms from your living room and hallway to your bedrooms and study. However, engineered wooden flooring is generally less expensive than solid wood boards, which makes it so popular.
Once in-situ, it is often hard to tell the difference between solid and engineered wood flooring. From maple and oak to hickory and walnut, there are high-quality collections to fit every budget. A sanded smooth surface can work well with contemporary designs, for example, while brushed flooring highlights the grain to give natural charm. You can even add a lived-in look if you choose distressed wood flooring, which will be aged and antiqued using time-honoured traditions.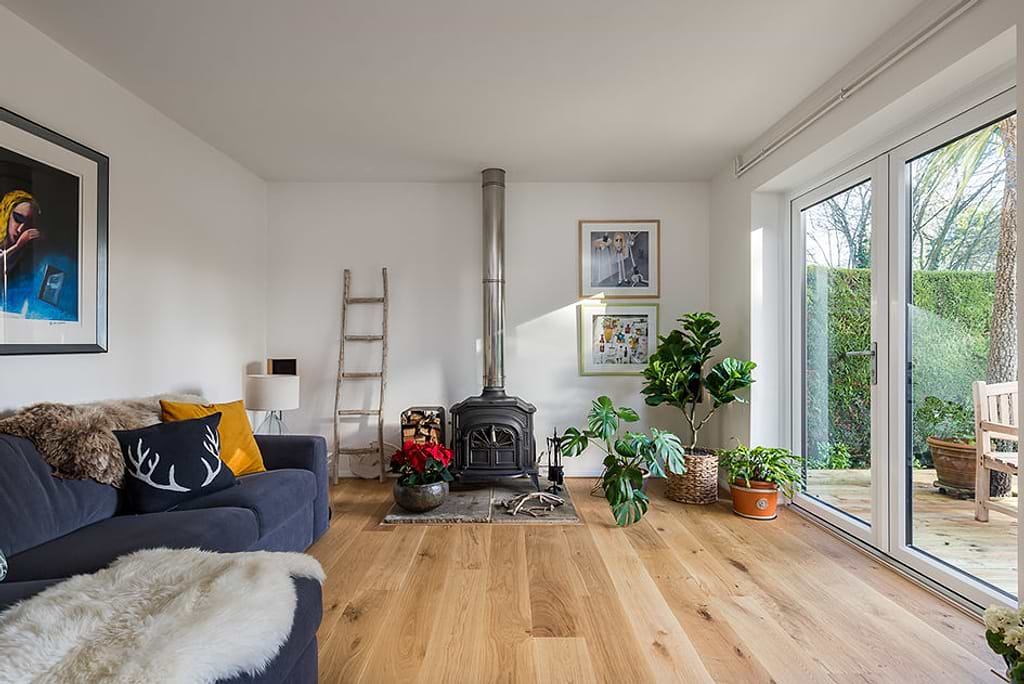 For a contemporary finish in a stylish living room, our Canyon Oak (get in touch with us for pricing information) features thick rustic engineered planks, featuring a strong grain. With a natural hard-wax oil coating, this natural floor is beautifully enhanced and ultra-durable, too. This timber has been responsibly sourced and installation is easy. Choose from a floating floor method or fully bonded with floor adhesive on the sub floor
Creating warmth
Solid wood floors do not tend to work well with
underfloor heating
due to problems with expansion with excess temperatures. Solid wood will contract and can then warp once the temperature lowers and it's also a natural insulator. So, engineered wooden flooring could be your perfect choice.
Designed for wood expansion, engineered wood is resistant to changes in temperature and moisture levels. Increasing the temperature gradually allows this flooring to adapt to the change when turning on underfloor heating for the first time, or if it has been off for a while. This flooring can also suit conservatories well, for example, where heat rates can fluctuate.
Consider this style for basements, where moisture can be an issue, because engineered flooring could work well. After all, it's less likely to warp when compared to solid wood. It's not recommended to use engineered wood floors in your bathrooms or high moisture rooms, however. This is because leaks could damage what is, essentially, a natural product.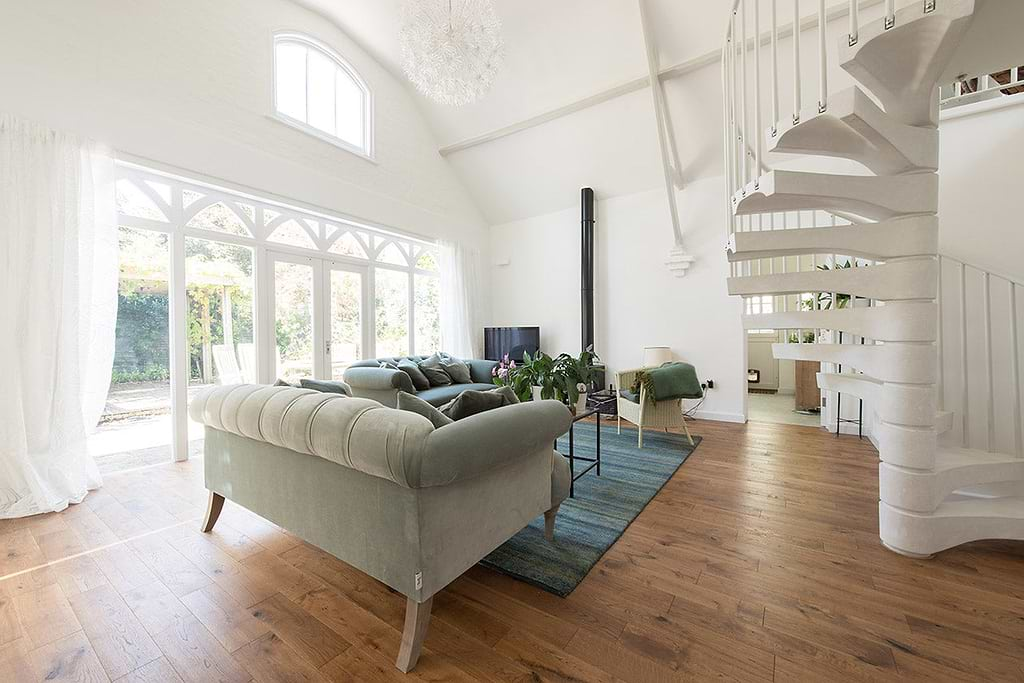 For additional strength and durability, our new Eiger Petit Golden Stained Oak, (£133.10 for 2.2 sq m) features a 5mm rustic oak top layer, with multiple layers of plywood underneath. Rolling steel brushes create an enhanced surface texture on randomly-sized boards for a more authentic, ultra-durable finish. Topped with UV-cured coats of Danish colour oil, this completes the look
Making the connection
If you're looking to install a real wood floor yourself, engineered wood floors are an ideal choice. Between the solid wood surface and the base backboard, the core consists of multiple layers of
fibreboard, softwood or plywood
. This provides stability
,
so it's less vulnerable to shrink or buckle than solid wood. However, this also means you can install it in many ways. You can use click systems at the joints and float the planks over underlay, placed directly onto joists with a traditional tongue and groove system. You then screw or nail these into place, or glue them down with adhesive.
You'll need to acclimatise the engineered flooring to your home before you install it because it's a natural product. They will, after all, still 'move' a little. So, give them a couple of days to 'settle' into the conditions in your home before laying them.
Long life
Wear and tear is a major consideration for floor renovations, particularly in busy homes and spaces. However, engineered wooden flooring is specifically designed to be built to last. As it ages, you can always re-sand and re-finish the top layer, unlike laminate. This, in turn, offers a cost-effective way for you to increase longevity while restoring its original glory. You can, therefore, sand back engineered flooring with a thick top layer several times and finish it with different shades or waxes.
Rich honey shades from our new Woodpecker Goodrich Natural Oak (£122.55 for 1.296 sq m) herringbone floor offer a classic chic that will give a warm, homely feel to every bedroom. Brushing highlights the oak's texture with an elegant satin sheen on the surface from a matt lacquer
Easy care finishes
The thrills and spills of everyday life play havoc with your floor – from fizzy drinks to dog paw prints. This means that not only style but practicality can rank highly too, when it comes to your flooring needs. While this floor type is generally easy to maintain, the finish of your engineered flooring is so important. After all, this will dictate exactly how much care you will need to take to keep it looking tip-top.
If you select a lacquer finish for your hallway or kitchen, this makes for simpler maintenance. This top coat offers better protection for splashes and scrapes than an oiled floor. For this reason, it also suits busy areas, such as dining rooms. However, once worn, you'll need to sand off and apply the lacquered finish again. An oiled finish, meanwhile, allows for a more natural look, keeping the feel of wood. But this does take some maintenance with a top-up oil to prevent the wood from becoming dry. While it can give a lived-in appearance, it may be more vulnerable to marks and spills.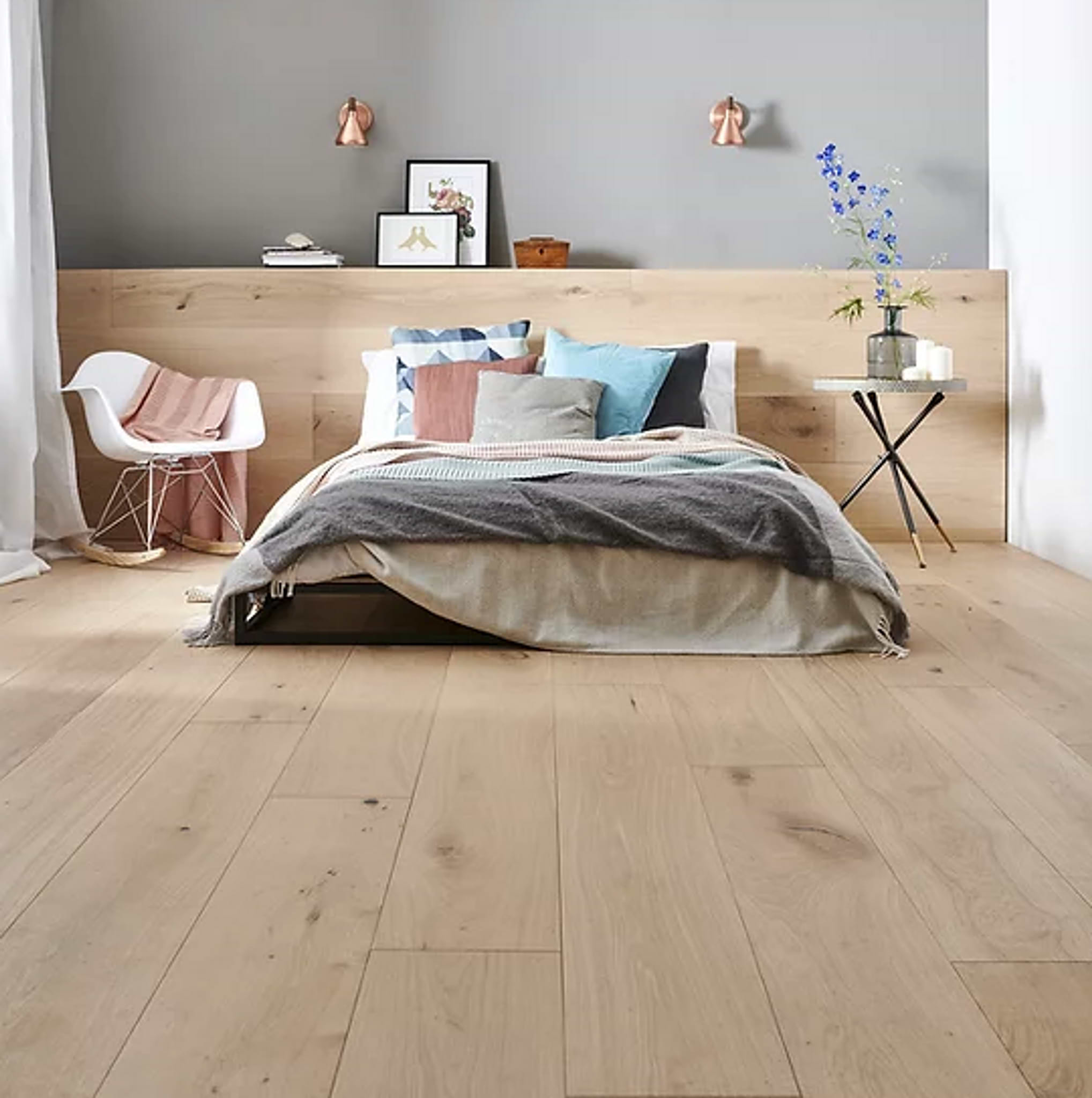 For a 'fresh from the forest' effect, our new Woodpecker Harlech Raw Oak Signature range (£238.43 for 2.11 sq m) can provide a pale, rustic touch to your bedroom. This subtle shade has been brushed and topped with matt lacquer to enhance the natural grain and tones
Adding value
If you're renovating your floors as part of a bigger project, engineered wooden flooring can be a sound long-term investment. In fact, home buyers can be attracted to the appeal of their durability, damage resistance, classic appearance and longevity. This can help to drive a higher valuation for your property compared with houses with carpet or other flooring.
Wood effect
Whether it's herringbone or diagonal patterns you're after,
wood effect
flooring can also add panache to your home. Porcelain wood-effect
floor tiles
are available in a wide range of styles, shapes or colours, just like engineered wooden flooring or solid wood. This way, you can find something to suit the look you're after. Chevron wood-effect porcelain tiles, such as our Minoli Tree-Soul Grey Chevron Matt Tiles can add an ultra-stylish, consistent look to open-plan kitchens. Simply use them to cover the entire floor for a seamless finish.

Our Minoli Tree-Soul Grey Chevron Matt Tiles (£55 per sq m) feature authentic surface prints of tree knots and wood grain patterns for a natural finish in this luxury kitchen
Keen to get garden party ready for summer? Then you'll love our blog on the latest trends for patio tiles whether you prefer classic or contemporary styling.